Letters: Good to see Dodgers chop them down to size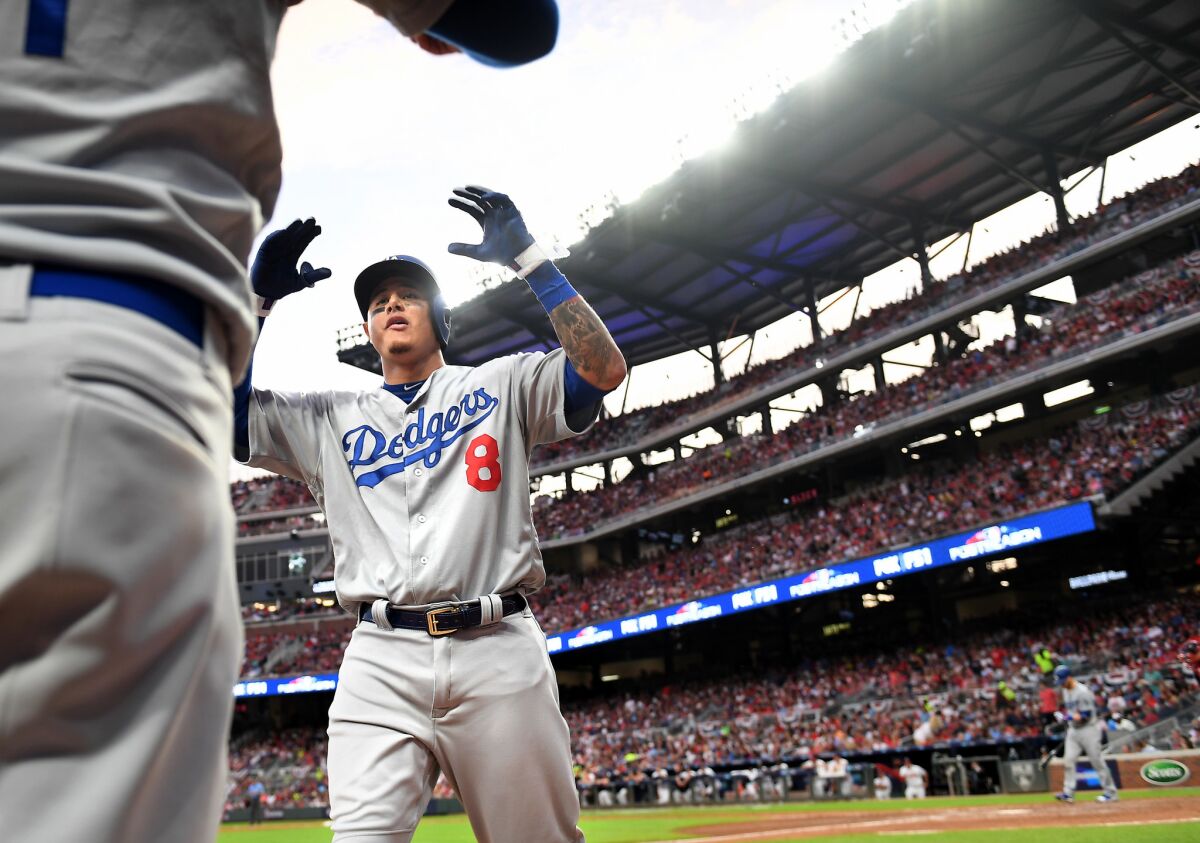 When the Dodgers pulled away from Atlanta during Game 4 of the NL Division Series, thanks to Manny Machado's three-run blast, I could have sworn I heard Braves fans chanting, "OhhhhhOhhhhhhNoooooooooo! OhhhhhhOhhhhhhhhhNooooooo!"
Joe Kevany
Mount Washington
::
How appropriate that the Dodgers finally silenced the obnoxious Tomahawk Chop on Indigenous Peoples' Day. Now, if only that racist tradition can be permanently placed in the trash heap of history.
Joel Elkins
West Hollywood
::
In his NLDS start against the Braves, Clayton Kershaw pitched eight shutout innings with only 85 pitches. The former strikeout king had only three strikeouts in his masterpiece.
If the Sandy Koufax version of Kershaw in his 20s gives way to a Greg Maddux version of Kershaw in his 30s, I think we Dodgers fans will have a lot to celebrate in the decade to come.
Michael Lee Manous
Upland
::
Traditionalist? When you have pitchers who can go seven or eight innings, that's not traditional. That's baseball! Craig Counsell has no one he can depend upon to go deep into a game. Dave Roberts does. Throw the ball, hit the ball, catch the ball. Still a simple game.
Alex Fernandez
Lakewood
::
Don't tell the Dodgers, but the real World Series is going to be between the Red Sox and the Astros in the ALCS.
Andrew Sacks
Riverside
That was dirty
Why did I not hear from game announcers or from anyone from The Times about the hit from Seattle's Tedric Thompson that knocked Brandin Cooks out of last Sunday's Rams-Seahawks game with a concussion? It was a vicious helmet-to-helmet hit on a vulnerable stretched out receiver that should have resulted in a penalty and an ejection. It is galling to see this in an era where you can get penalized for breathing on a quarterback if you happen to have bad breath.
Alan Abajian
Alta Loma
Bonus situation
It's now apparent that the best thing about LeBron James becoming a Laker is that we won't be hearing very much from LaVar Ball anymore. LeBron's presence on the team has rendered LaVar speechless for the first time in his life. It has also eliminated the daily headlines about Lonzo Ball. He's just another one of the Lakers now and his dad is no longer giving news conferences. Sanity has been restored.
Charles Reilly
Manhattan Beach
A real winner
No offense intended, but The Times sports section isn't high on my list of places to seek meaningful life lessons. Then I read about the late John Gagliardi, a fellow I had never heard of until he died. What a great man, and I mean truly great. I suspect a lot of Johnnies didn't moan but rather smiled when they read about his passing. A roster of 159 because no one was ever cut? Wonderful. Tweaking the hard-knocks calisthenics fanatics? Great sport.
And oh yeah, he won more games than any other coach in the history of college football.
No need wishing John Gagliardi RIP because after the life he led, no one could be more at peace.
Dave Riley
Laguna Woods
::
Great article on this special person and coach. Having attended St. John's as a freshman in 1972, I have known about John and his "no" list for a long time and have followed his team over the years. Even got to see them on TV a few times. The best part was the trick plays they always ran. There was no shortage of those. And as you stated in your article, the Benedictine monks were his greatest supporters. God bless his soul. And Austin Murphy, thank you for writing this story.
Chris Tait
Huntington Beach
Mr. Pac-12
     Now it comes out from Pac-12 Commissioner Larry Scott that the conference messed up some video replay reviews in recent football games. How would I know, as I don't get any games from the Pac-12 Networks on TV? I can get the SEC Network, the Big Ten Network, and even the Big Sky Conference on TV, but I can't get the Pac-12 Network. 
     Mr. Scott, how about promoting all your conference teams with a better TV contract, so everyone can see them? Then we can all the see the bad video replay reviews that are made by the conference. 
Chris Sorce
Fountain Valley
A compliment?
Watching JT Daniels last year and after five games this year, it appears that he is still coached by Bruce Rollinson.
David Marshall
Santa Monica
This sport chokes
Watching a few seconds of the UFC match that ended when Conor McGregor tapped out while being nearly choked to death by Khabib Nurmagomedov, I wondered how or when this sport ever became legal in the U.S. Why not drop the pretense of sport and bring back Christians versus lions?
Kevin Park
Mission Hills
Brought to you by ...
Thanks, Tom Hoffarth, for exposing the ridiculous ads on sports radio broadcasts. But you should have included the fact that the Kings are not even on broadcast radio anymore. Maybe those ads would have sealed the deal. The past few seasons the repetition of one or two ads, and PSAs drove me nuts! It seemed like they had no sponsors. Well, I guess they didn't.
Steve Schindler
Glendale
Bad bet
Kenny Gersh, Major League Baseball's executive vice president of gaming, says that MLB should get in bed with the casinos and get a cut on all bets involving baseball games.
Really? Tell me again why Pete Rose can't be in the Hall of Fame.
MLB? Major League Baloney!
Jack Oakes
Santa Ana
::
::
The Los Angeles Times welcomes expressions of all views. Letters should be brief and become the property of The Times. They may be edited and republished in any format. Each must include a valid mailing address and telephone number. Pseudonyms will not be used.
Mail: Sports Viewpoint
Los Angeles Times
2300 E. Imperial Hwy.
El Segundo, CA 90245
Email:
sports@latimes.com
---
Get our high school sports newsletter
Prep Rally is devoted to the SoCal high school sports experience, bringing you scores, stories and a behind-the-scenes look at what makes prep sports so popular.
You may occasionally receive promotional content from the Los Angeles Times.