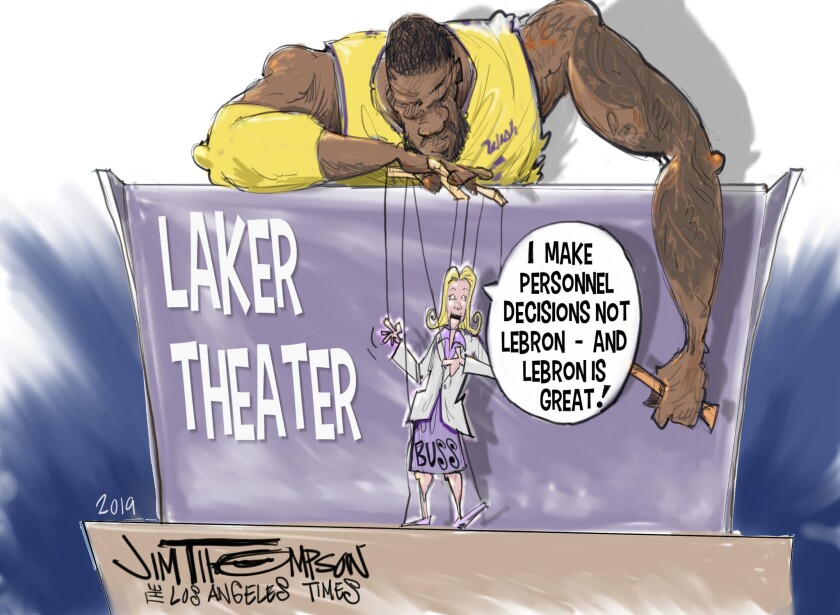 With deepest apologies to Times sports readers, I must confess I thought Bill Plaschke's column on the Lakers' coaching search was excellent. Not only did he illuminate the descent of "the NBA's most celebrated franchise" into the abysmal mess it is today, but he pointed the finger at the root cause: owner Jeanie Buss. Her "friends & family" approach to management has not only failed, but somehow few observers even seem aware of her role.
There has been much fawning over her relationship with Phil Jackson and many kudos over her dispatching brother Jim, but that has simply served to obscure the spiral.
Again, with apologies: Well done, Bill.
Ralph Martinez
Arcadia
::
The chaos now surrounding the Lakers was ensured when Jeanie Buss fired the one person in management who knew what he was doing, Mitch Kupchak. For example, Kupchak picks D'Angelo Russell and Julius Randle are now excelling with their new teams, while the Lakers' front office destroyed team morale despite adding LeBron James.
Jeanie Buss has shown nothing but ineptness in relying on rookies (Magic Johnson included) to restore the Lakers' greatness. She needs to beg Kupchak to come back or find someone who approaches Mitch's experience and skill.
Ray McKown
Torrance
::
Why would the Lakers add Jeanie Buss' half brothers, Joey and Jesse Buss, along with Jeanie's best friend Linda Rambis and her husband Kurt to the coaching search committee? To spread the blame of another wrong decision, of course.
Wayne Muramatsu
Cerritos
::
I was just wondering, what has taken LeBron James so long to select the Lakers next coach?
Chris Sorce
Fountain Valley
Frank talk
Speaking for myself (and I suspect a great many Angelenos and baseball fans worldwide) I ask you: Please, no more picture, articles, or even mentions of Frank McCourt in the sports or any other sections of The Times. I do not care, nor want to hear, anything about the worst person in the Dodgers great history. It's bad enough that the new owners were stupid enough to let him keep the parking lots. Let's not be reminded of him.
Adam Webb
Glendale
::
Mr. McCourt says he takes the long view. Frankly speaking, he means the long con. An update on McCourt owning another sports team tells us what, that robber baron capitalists carry on unscathed? Oh wait, we learned there's been some good will engendered through his new ownership? That's like a thousand monkey capitalists at the keyboard ultimately turning out something good- not by design but by accident.
Craig Rosen
Los Angeles
::
Beware, Marseille, and all of France. The flim-flam man is in town. He has big plans, big dreams, but he stays in a hotel — sound familiar?
I bet he has his suitcase packed, ready to go.
Oh, no! Jamie, ambassador to France — what a double header. Hide your baguettes, croissants, and your Euros!
Richard W. Murphy
Redondo Beach
In the zone
On Monday Tom Hoffarth writes about some issues he has with AT&T-owned DirecTV dropping NFL Network and the RedZoneChannels.
As a longtime DirecTV customer, I am no fan of some of the changes AT&T has instituted since the acquisition. However, referring to DirecTV's refusal to carry SportsNet LA and the Pac-12 Networks as a continued "petty trend of ignoring a marketing pledge to be the place sports viewers were treated as kings" is at least a bit disingenuous.
My understanding is that neither one of those networks are willing to be placed as an "a la carte" option. My regional sports fees are high enough, and I don't care to foster the Dodgers' or the Pac-12's greed, so I am quite pleased with DirecTV's refusal to carry those networks.
Joseph Reynolds
Huntington Beach
Sorry, Reggie
So Reggie Bush would like to patch things up with USC, and Matt Leinart thinks it's a "travesty" that the NCAA hasn't changed its mind. For the first time in my life I agree with the NCAA. Reggie's ego and selfishness personally brought down a football program to its knees. As close to the death penalty as you can get without getting it from the NCAA.
Two comments come to mind. Reggie is still as selfish as ever. I don't think I've ever seen a public apology from him. The second comment is I think Matt got hit in the head too many times. His memory is quite foggy.
Stay banned Reggie. Stay banned.
Mark Schrey
Trabuco Canyon
Not pitching in
When I was growing up in the '60s, I remember Phil Regan, the Dodger reliever who would come in to relieve late in the game, give up the tying or go ahead runs depriving starting pitchers a win. Then, the Dodgers would score and Regan ended up being the winning pitcher, earning him the nickname "the Vulture."
After his recent performances, Kenley Jansen may soon inherit that nickname.
Jeff Hershow
Woodland Hills
::
Troubles have you down? Worries causing needless anxiety? Need some comic relief?
I suggest you watch or listen to Dodgers games and follow the performance of Joe
Kelly on the mound. All the comic relief you'll ever need.
Herb Schoenberg
Tarzana
In Anaheim ...
In the late 1940s, the Boston Braves' slogan for winning was "Spahn and Sain and pray for rain." The Angels' slogan should be "Simmons and Trout, otherwise a rout."
Bruce Miller
Playa del Rey
::
With apologies to Mike Trout for my lamenting it would take 2,840 years for me to earn his future contract salary, Mark Zuckerberg's stock in Facebook rose $4 billion in four hours on Tuesday. Of course, that would only take me 26,666 years to earn. And I thought Dodger parking fees were too high!
Kevin H. Park
Westlake Village
Give him credit
No matter how this season plays out, Doc Rivers has established himself as coach of the year. Taking essentially no players who might start for other teams (but given two sixth-man-of-the-year candidates) he's given the players space and guidance to not only finish with 48 wins but to give the dynasty of the decade more than a run for its money.
Robert Goldstone
Corona del Mar
High school star
Kudos to Eric Sondheimer for his well-deserved induction into the City Section Hall of Fame this week. If it were my call I would throw in a Pulitzer for decades of informative, articulate and sensitive coverage of the often-positive role sports plays in the lives of young people throughout Southern California.
Dave Quick
Santa Monica
::
The Los Angeles Times welcomes expressions of all views. Letters should be brief and become the property of The Times. They may be edited and republished in any format. Each must include a valid mailing address and telephone number. Pseudonyms will not be used.
Mail: Sports Viewpoint
Los Angeles Times
2300 E. Imperial Hwy.
El Segundo, CA 90245
Email:
sports@latimes.com
---