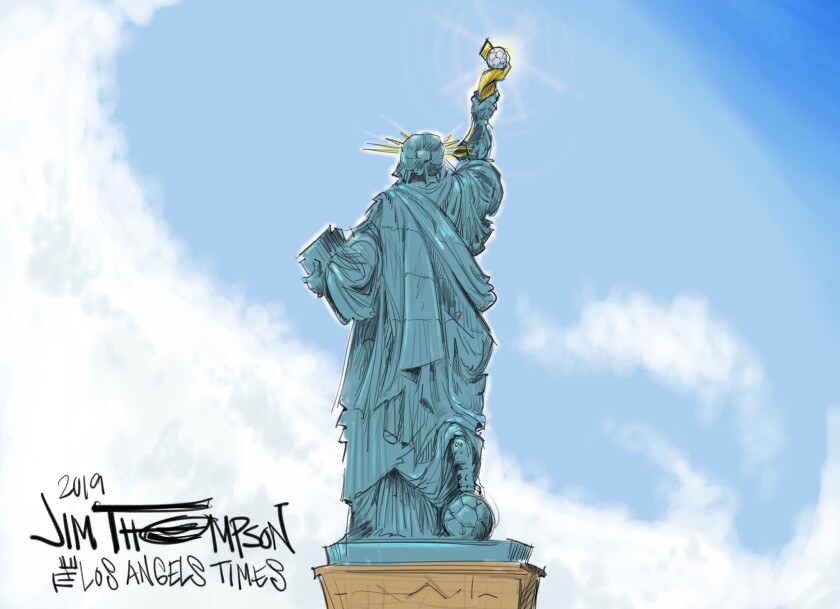 Megan Rapinoe knows the perfect accessory to go with pink hair: a golden boot.
Brian Lipson
Beverly Hills
::
Hopefully the USA women's soccer players and program can leverage their spectacular and entertaining success with excellent compensation, which will help the sport continue to grow. However, comparing their pay to men and filing lawsuits is off target and irrelevant. This is sports entertainment with free market dynamics. Go women, get whatever you can, and stay focused on supplying the best product and creating maximum demand.
Stu Foldez
Malibu
::
The U.S. men's soccer team comported themselves well against Mexico, considering they played in the hostile environment of Soldier Field in Chicago. But the question remains — do the men deserve parity with the women"
Mario Valvo
Ventura
::
I have no idea what the women's World Cup champs get paid, but just like women's tennis, if they draw a lot of viewers they should get paid accordingly. They can help themselves with two words — Rich Paul. I don't know who represents them now, but is there any doubt that the guy that now runs the NBA could get them a better deal?
Jeff Heister
Chatsworth
::
It's time that the Megan Rapinoe bend-the-knee USA occupation come to an end. The USWNT has been relegated to trivia status due to Rapinoe's self-serving political activism, which at present consists solely of Rapinoe convening with and congratulations from her most ardent supporters only. That's not a dialogue; that's back-slapping.
Lack of restraint coupled with zero humility is as unappealing as 13-0.
Karl Zack
Corona
::
Too bad Megan Rapinoe and her band of elitists bungled their attempt at inclusion by dissing the White House. As Michael Jordan once said, "Republicans buy shoes too." Those who tick off half the country shouldn't be surprised when everyone doesn't jump on their bandwagon.
Ken Blake
Brea
Changing the NBA
Can someone please explain to me why Magic Johnson and other executives have been fined by the NBA for just a simple comment on another player, but yet, Kawhi Leonard can actively and outwardly recruit an under contract player and persuade him to bully his way out of that contract? How in the world is this not tampering on steroids? If this is the future of the NBA, the league will fall apart. Quite frankly, this sickens me as a fan. The NBA is no longer about competition.
Geno Apicella
Placentia
::
One has to wonder if Magic was recruiting Kawhi or warning him.
Brian Haueter
Ventura
::
The Lakers did not lose on signing Kawhi because he never wanted to be a Laker anyway. You want players like LeBron and Anthony Davis, who absolutely want to be here. LeBron and Anthony will destroy the league. So many things went right for Kawhi to win last year. That luck will not happen again.
Tom Fertal
Rancho Mission Viejo
::
If Kawhi Leonard wanted to come home, would he be impressed with a boardroom containing Rob Pelinka or one with Jerry West? Letting West go is the most destructive decision in Lakers history, and they continue to pay for it, first with the Warriors and now the Clippers.
Alan Abajian
Alta Loma
::
The Lakers pampered Kobe Bryant for two crucial years, putting an individual star player above the long-term interests of the franchise. They dug themselves into a hole with his huge contract and now they are basically a team cobbled together by Rich Paul, the agent for LeBron James and Anthony Davis.
The Clippers traded Blake Griffin and Chris Paul, putting the long-term interests of the franchise above individual star players. Now they have laid the foundation for an NBA title.
Matthew Heller
Woodland Hills
::
There is a god — and she's a Clippers fan!!
Margye S. Baumgardner
Pacific Palisades
::
Now that the "Anticipation" is over and we know that Kawhi Leonard and Paul George are Clippers, this 50-year Lakers fan is thinking about Tom Petty's song, "Even the Losers Get Lucky Sometimes."
Ken Feldman
Tarzana
::
Kawhi is the first player ever to go from NBA champ to Little Brother in his own town. Sorry, Kawhi, you can't count on the best player on the other team to be injured every time, so enjoy being on the second page from now on and continuing the Clippers' "tradition" of never making the conference finals.
Eddie Miller
La Mirada
::
The thing about the smug is that their karma can sometimes be sudden. Letter writer William David Stone's unnecessarily nasty putdown of Marc Buhaj and his billboards was answered as it was being published when Kawhi Leonard and Paul George agreed to sign with the Clippers.
"Winter is coming," indeed. Here's hoping it's a long, agonizing one while you reflect on your hubris, and watch the Clippers march toward the NBA championship.
Steve Berliner
Venice
::
The Clippers acquired two superstars and are now on the verge of a possible championship. They are still missing the most important piece to 2019-2020 roster — Ralph Lawler! Mr. Ballmer, please make Ralph an offer he can't refuse to come back for one more year!
David Waldowski
Laguna Woods
::
My dream has come true! Los Angeles is now the center of the NBA universe. There is now an across-the-hall rivalry that will be as fierce as UCLA vs. USC.
Hey. NBA! You want the Western title? You want the NBA title? You have to survive the buzz saw that is Los Angeles.
Rick Meyers
Granada Hills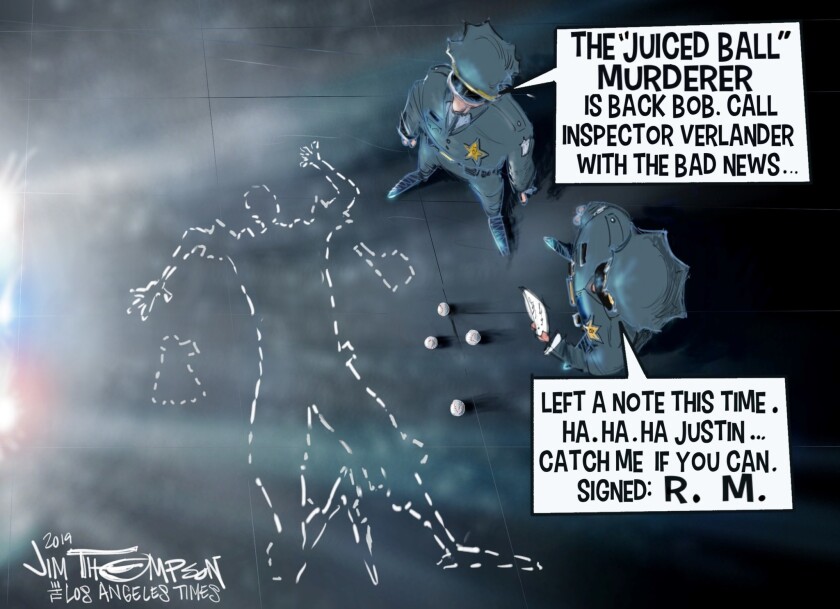 Back to the diamond
Sure, the Dodgers have an overwhelming lead at the break, but their pathetic performance against lowly San Diego demonstrates their vulnerability in a short series. Remember their performance against the Cubs in the 2016 NLCS, against the Astros in the 2017 World Series and against the Red Sox last year.
They could win 150 games and still blow it when the chips are down. But don't tell Dave Roberts. He might worry!
Lawrence Martin Kates
Los Angeles
::
On the evening of July 5, the Dodgers' bats go silent, the bullpen lets them down and they start a three-game losing streak to the fourth-place Padres. Call me superstitious, but when I read lines like the following, I get very nervous and expect the worst to come.
Manager Dave Roberts says on July 4, after a previous night's dramatic walk-off victory "You get to a point where you expect to win." On July 5 Bill Plaschke praises the Dodgers with lines like "this Dodger team might be the best Dodger team in the last 31 years" and confidently states that "they will break the World Series drought no matter who they play."
The so-called 'Plaschke curse', that others have written about, is apparently alive and well.
Richard R. McCurdy
Burbank
::
Now that Bill Plaschke has anointed the Dodgers as the real deal, let me remind him that we still do not have a playoff-caliber 1-2 starting tandem or a reliable closer. Kershaw and Jansen have not performed well in our recent World Series and there is no reason to think that will change. Unless Ryu and Buehler can become the new Price/Sale or Verlander/McCullers and Joe Kelly regains form, I wouldn't start planning that parade quite yet.
Mike Gamboa
Buena Park
::
It was great to see the battle of the titans between Joc Pederson and Vladimir Guerrero Jr. in the Home Run Derby. It was an epic display among a deluge of home runs that rained down on the fans all night. Unfortunately for us baseball purists the whole first half of the season was a home run derby for major league baseball. The players may be no longer juiced but the ball certainly is!
Jeff Lough
Whittier
::
Just looked at the NL All-Star roster. No Bryce Harper. No Manny Machado. I guess $300 million doesn't buy what it used to.
Ron Tom
Pasadena
::
So, do Angels relievers actually get paid?
Jack Von Bulow
Temple City
::
The Los Angeles Times welcomes expressions of all views. Letters should be brief and become the property of The Times. They may be edited and republished in any format. Each must include a valid mailing address and telephone number. Pseudonyms will not be used.
Mail: Sports Viewpoint
Los Angeles Times
2300 E. Imperial Hwy.
El Segundo, CA 90245
Email:
---