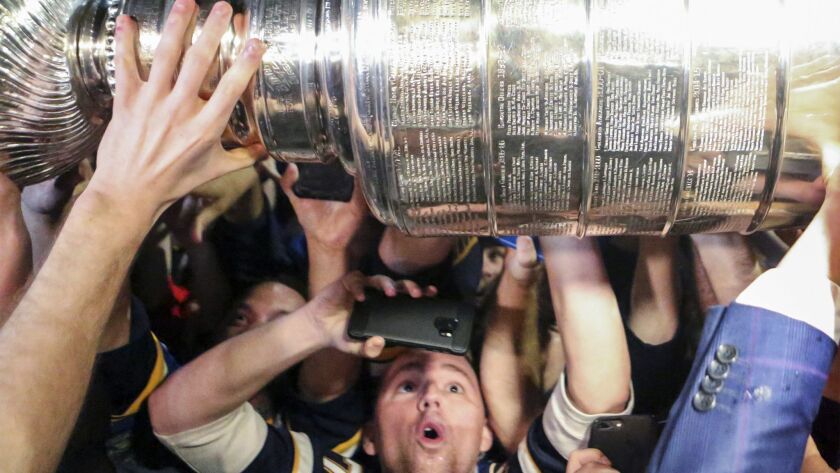 And here's to you, too, Larry Robinson.
Former Kings star and general manager Dave Taylor needed 40-something years of NHL service to secure his name on a Stanley Cup. As the St. Louis Blues' vice president of hockey operations, Taylor goes on the nameplate after the franchise clinched its first NHL title Wednesday night with a Game 7 win in Boston.
Then there's Robinson, hired last September as the Blues' senior consultant for hockey operations and Taylor's close friend. Robinson enters double digits.
"It never gets old," Robinson told NHL.com as the players skated around with the Cup at TD Garden.
In three years as a player and four as a head coach with the Kings in 1990s, Robinson never added to the six Stanley Cup titles he won as a Hall of Fame defenseman with Montreal. He later added three more as a head coach and an assistant in New Jersey after he left L.A.
From his perch near the press box during the Stanley Cup Final, Robinson sent radio information to the bench during the games and then went to the locker room to talk strategy with defensemen between periods.
"It's horrible when you have a big ball in the pit of your stomach just from the stress of being there," he said Wednesday night. "You play every shift. You play every pass and every stop. …. It was nice to be back in the playoff hunt again, but I'll tell you what — I'd rather have my equipment on and be playing on the ice. It's so stressful watching up there because you feel so helpless."
Sign up for our daily sports newsletter »
Robinson also served as an assistant coach and security blanket for new head coach Craig Berube for a month after the Blues made an abrupt switch 20 games into the season.
Robinson's name on the Cup for a 10th time enters rare silver and nickel alloy real estate. NHL research notes Jack Adams and Lester Patrick won Stanley Cups as players, coaches and general managers. Adams has nine total between 1917 and 1955; Patrick has six between 1904 and 1946.
For perspective, Jean Beliveau has his name on 17 Stanley Cups — 10 as a player, seven as an executive. Scotty Bowman has 14 (nine as a coach, five as an executive). Montreal's Henri Richard has 11, all as a player. Jacques Lemaire has nine (eight as a player, one as a head coach in New Jersey — with Robinson as his assistant).
Top dog
Data provided by the Major League Soccer Players Association this week confirmed a report by The Times' Kevin Baxter that the Galaxy's 37-year-old star attraction, Zlatan Ibrahimovic, will receive a league-record $7.2 million this season.
A significant bump from $1.5 million in 2018, Ibrahimovic passes the $7.167 million that Orlando FC paid to Kaka in 2017.
For some perspective, the Galaxy once paid David Beckham a $6.5-million base salary but also added percentages of team revenue that reportedly brought the total to $50 million for his six years from 2007 to 2012.
For what it's worth, LAFC forward Carlos Vela ($6.3 million) is currently the fourth-best paid player. The Galaxy also paid striker Giovani dos Santos a $6.5-million package this season — then released him in March.
Bank with Chase
Recently retired Dodgers second baseman Chase Utley made his debut this week on the team's SportsNet LA as a studio analyst. Need a highlight?
Anchor John Hartung: "Do you really hate the New York Mets?"
Utley, after a short pause: "I do. I do."
You betcha
In the 12 months since the U.S. Supreme Court ruled individual states could take legal sports bets, an estimated $10 billion has been legally wagered in the seven states currently allowing it, according to the Associated Press.
New Jersey, which pushed for the legislation to be overturned, has reported $2.94 billion in wagers since last June from nine casinos and two tracks. Nevada remains the leader with $5.2 billion through April.
---