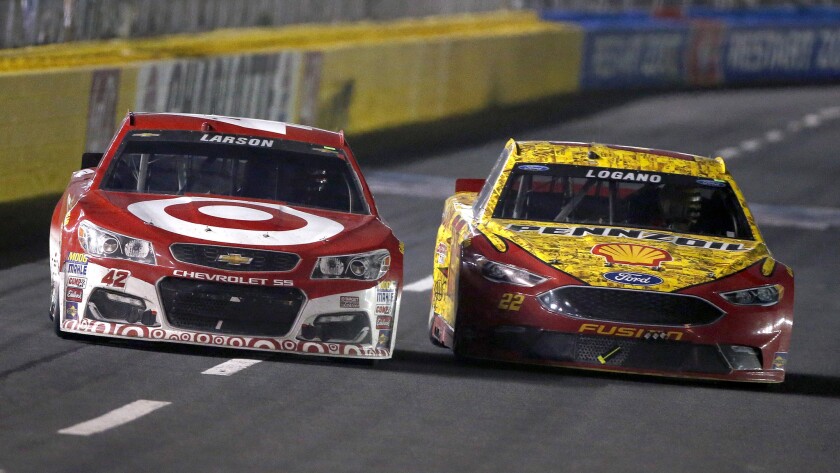 Joey Logano won an entertaining version of NASCAR's annual All-Star race by snatching the lead away from Kyle Larson with two laps remaining Saturday night in the $1-million exhibition event at Concord, N.C.
Larson had raced his way into the main event earlier Saturday by beating Chase Elliott in a stirring last-lap door-to-door battle to the checkered flag.
He then rocketed to the lead in the All-Star race by using four fresh tires to drive to the front on the restart of the 13-lap dash-for-cash.
Logano eventually caught him and Larson tried several times to hold him off, but as the two raced side by side, Larson smacked the wall and the damage took him out of contention.
Logano then cruised to the win ahead of Team Penske teammate Brad Keselowski, who suggested much of Saturday night's format.
"Larson is a hard racer. I watched him in the Showdown earlier today and I knew what I was up against, I knew he was going to run hard," Logano said. "What a crazy battle for a million dollars at the end."
Larson was criticized a week ago for not being aggressive enough while losing to Matt Kenseth at Dover. He seemed conflicted after the Showdown because of how he had to race Elliott to win, and then came up empty despite again driving hard in the all-star race.
"I'm super disappointed. I hate that I keep letting my team down," Larson said. "They did everything right. They worked their tails off after I got all the damage in the Showdown. I'm having fun but this will be hard to get over."
Crafton wins second straight trucks race
Now that he has won back-to-back Trucks Series races for the first time in his career, Matt Crafton is hoping for more.
Crafton beat Kyle Busch by a convincing margin at Charlotte Motor Speedway on Saturday, setting him up for a huge season.
"It feels very good," Crafton said. "Someone brought that to my attention last week that we hadn't won two in a row. It feels very, very sweet to say we have done it back to back. Now maybe we can go for three."
After winning last week at Dover, the 39-year-old Crafton was strong again leading 47 of 134 laps while adding to his series points lead.
Busch finished second, while Johnny Sauter was third. Tyler Reddick finished fourth and Matt Tifft finished in fifth place after starting 18th.
Beating Busch in a Trucks Series race at CMS is no easy task.
Busch had won the last four Trucks Series races he'd entered here, but the veteran couldn't overcome a costly penalty for an uncontrolled tire on lap 70 that forced him to the back of the field. As Busch pitted, a loose tire rolled out of his pit box, causing the penalty.
Hinchcliffe leads Indy 500 qualifying
James Hinchcliffe posted the fastest four-lap average in Indianapolis 500 qualifying Saturday to take the top seed into the pole shootout Sunday.
The Canadian driver for Schmidt Peterson Motorsports hung on after moving past three-time race winner Helio Castroneves in the final 40 minutes. Hinchcliffe finished at 230.946 mph.
Ryan Hunter-Reay, the 2014 Indy winner, moved into second on the second-to-last run of the day at 230.805. Team Penske's Will Power was third at 230.736, and Castroneves fourth at 230.500.
All 33 starting positions will be set Sunday. The nine fastest from Saturday advanced to the shootout.
---