NHL trade deadline lacks sizzle, but Anaheim Ducks add depth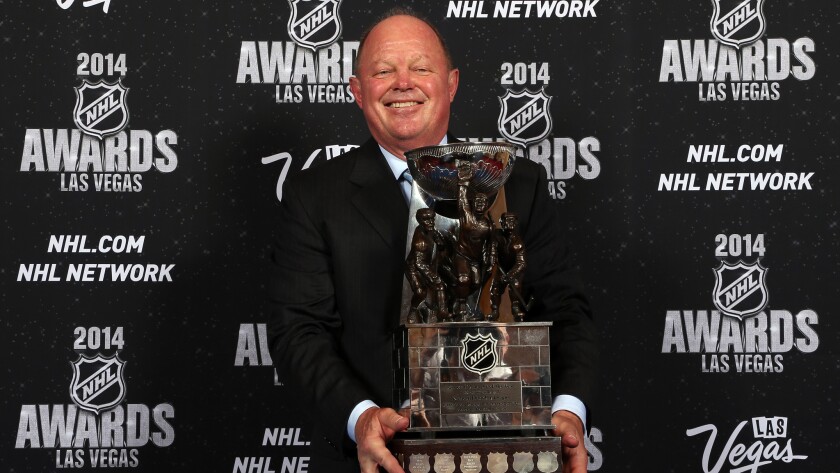 Blame Chicago Blackhawks General Manager Stan Bowman for turning Monday's trade deadline into a dud, with a nod to Florida Panthers GM Dale Tallon for also getting a jump on the trade action and diminishing the drama of the final hours.
Bowman, aiming at a fourth Stanley Cup championship in seven seasons, made his big moves last week by acquiring left wing Andrew Ladd from the Winnipeg Jets and forwards Tomas Fleischmann and Dale Weise from the Montreal Canadiens. Tallon, hoping for a big playoff run while 44-year-old Jaromir Jagr is still young and productive, made a series of go-for-it-now deals last week by trading draft picks for forwards Jiri Hudler and Teddy Purcell and defenseman Jakub Kindl.
Two Sunday deals — the Kings' acquisition of left wing Kris Versteeg from the Carolina Hurricanes to fill a top-six role while Marian Gaborik's injured knee heals, and the New York Rangers' trade with Carolina for forward Eric Staal — also left few impact moves Monday among 19 deals involving 37 players.
Of those mentioned most often in trade rumors only shot-blocking defenseman Kris Russell was traded, sent from the fading Calgary Flames to the aspiring Dallas Stars for defenseman Jyrki Jokipakka, center Brett Pollock and a conditional second-round 2016 draft pick that will become a first-rounder if the Stars reach the Western Conference finals and Russell plays half their games in the first two rounds. "He plays hard. He's a little ball of hate," Stars General Manager Jim Nill told reporters in Dallas.
Defenseman Dan Hamhuis stayed with the Vancouver Canucks. Forward Loui Eriksson stayed with the Boston Bruins. Jonathan Drouin, suspended by the Tampa Bay Lightning in January, stayed at home in Montreal. However, Lightning General Manager Steve Yzerman told the Tampa Bay Times, "If he wants to come back, the door is open. That's up to him."
The surging Ducks got the depth up front they had sought, but their go-for-it run was built on keeping their young defense corps intact — at least for now. They sent a sixth-round pick to the Panthers for Brandon Pirri, who had 22 goals in 49 games last season but has an injured ankle, and got left wing Jamie McGinn from the Buffalo Sabres for a conditional third-round 2016 draft pick. The pick will become a second-rounder in 2017 if the Ducks reach the West finals and McGinn plays half their games in the first two rounds. McGinn is a pending unrestricted free agent; Pirri is a pending restricted free agent.
"Chicago went and made their moves early. Florida did some things early. San Jose did some things early. So I think what we're seeing is that the trade deadline has now been extended," Ducks General Manager Bob Murray said. "Teams are trying to jump early into doing things so it's not just this one big day."
Faced with a logjam up front that will grow with the return of Shawn Horcoff (suspension) and Chris Stewart (fractured jaw), Murray traded left wing Patrick Maroon to the Edmonton Oilers for minor league defenseman Martin Gernat and a fourth-round draft pick. Maroon had two seasons left at a cap hit of $2 million per season, so Murray saved money to spend on retaining some of his impending restricted free agents. He also sent right wing Tim Jackman and a seventh-round pick in 2017 to Chicago for minor league forward Corey Tropp.
"I'm comfortable with not screwing up the chemistry too much," Murray said, mindful that it took months for his team to mesh before its current eight-game winning streak and 15-1-1 push. "I think both are very good kids, get along with everybody and they're both very excited to be coming here. I think this works, this fits. We're deeper and we're very versatile."
Murray said he will have a better estimate on Pirri's recovery after Pirri is examined by team medical personnel Tuesday. McGinn is also due to arrive Tuesday and is expected to play Wednesday.
Kings General Manager Dean Lombardi, who said the goal for Gaborik's return "would be sometime a little prior to the playoffs," praised Bowman's shrewdness but said he didn't feel pressured to match Bowman's splashy moves.
"He's really good at what he does," Lombardi said. "No doubt about it. It didn't surprise me one bit. But is that going to make us go out and say we've got to do this, that? No. I think that's dangerous. You've got to look at your team and it's always been, how good are we? Yes, you look at your matchups but I think you start getting into that, you might be throwing around first-rounders before you know it."
In a trade more interesting than strategic, the Kings acquired minor league center Brett Sutter — son of Coach Darryl Sutter — from the Minnesota Wild for right wing Scott Sabourin. Assistant GM Rob Blake suggested it, valuing Brett's work ethic and influence on young teammates. Genetics helped too. "He ain't going to cheat you, that's for sure," Lombardi said.
That's one of the few sure things about any of Monday's moves.
Slap Shots
The eight teams in the World Cup of Hockey will announce their rosters of at least 16 players Wednesday. ... Nashville Predators forward Filip Forsberg had two natural hat tricks in three games last week to help the Predators build a four-game winning streak and improve to 6-1-3 in their last 10, giving them a solid hold on a West wild-card spot. ... Neutral arbitrator James Oldham is expected to issue his ruling next week on Calgary defenseman Dennis Wideman's appeal of his 20-game suspension for cross-checking linesman Don Henderson.
Twitter: @helenenothelen
---
Get the latest on L.A.'s teams in the daily Sports Report newsletter.
You may occasionally receive promotional content from the Los Angeles Times.