Andrew Whitworth's leadership sparks turnaround for Rams' offensive line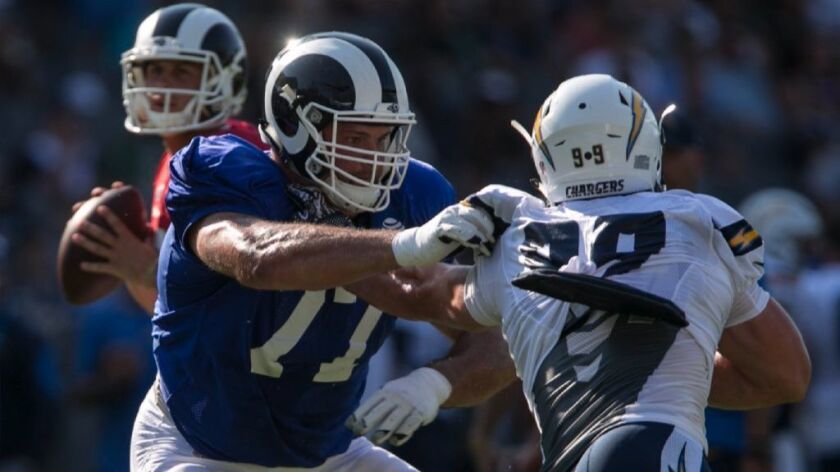 Rams left tackle Andrew Whitworth stood at his locker as reporters approached him, one after another.
When there were no reporters left, a public relations official handed Whitworth a phone. On the other end of the line, another reporter.
And finally, after practice, workouts and meetings, Whitworth connected with a final reporter as he drove his SUV away from the Rams facility in Thousand Oaks.
Whitworth laughed through a slight crackle in a bluetooth connection when asked if he's ever been so popular with the media.
"I've had it happen before," he said. "When we don't play well."
That's not the case these days.
The Rams are 3-1, and in first place in the NFC West as they prepare to face the 2-2 Seattle Seahawks on Sunday at the Coliseum.
The Rams offense ranks first in points scored, averaging 35.5 per game, and fifth in yards, averaging 383.3. Quarterback Jared Goff has completed 67% of his passes, seven for touchdowns, with only one interception. And running back Todd Gurley has scored seven touchdowns, rushed for more than 100 yards in consecutive games, and ranks second in the league in total yards from scrimmage with 596.
The offensive line is getting credit.
"Can't stress enough how important they've been to our success so far," said Goff, who has only been sacked four times this season. "And how important they will be to any future success we'll have."
Said Gurley: "Those guys have been doing an incredible job … Just blocking, pass protecting, just opening up lanes for me … they've been working hard."
Last season, the offensive line carried the burden as the team stumbled to a 4-12 finish. Goff was sacked 26 times in seven starts and Gurley was unable to gain 100 yards in a single game.
"We've definitely grown from last year," right guard Jamon Brown said.
New coaches have sparked improvement, along with addition of new players and a new scheme.
"The room and the whole team in general has been more accountable," left guard Rodger Saffold said. "Guys have really been working the technique diligently and I think, after last year, you just see guys working harder."
Offensive line coach Aaron Kromer has provided a positive impact in meetings, particularly in film breakdown after games. Kromer critiques performances, then emphasizes how players can improve.
"He's really good about getting us into a greater understanding of defensive schemes, defensive fronts, where guys are going and why," right tackle Rob Havenstein said.
The Rams signed center John Sullivan, a ninth-year pro, to a free-agent contract with the hope that he would aid in the development of Goff. Quarterbacks and their centers have special relationships, and Sullivan can answer any question he has.
And Whitworth, a 35-year-old, 12th-year pro, was brought in to protect Goff's blindside and provide leadership for a position group — and a locker room — that spent last season looking for direction.
According to coaches and teammates, Whitworth has delivered.
"He plays well himself," Kromer said, "but he also helps the other guys just understanding the game plan and understand what they need to get done."
Said rookie tight end Gerald Everett: "He comes in day in and day out and does his job to his fullest capability. I'm just trying to become that."
Between plays, Whitworth approaches teammates to provide direction, tips and encouragement. Between series, he works the sideline to keep the offense loose.
"He's given us different things to think about coming out of a series," Brown said. "Going into the next one, he's always got some points as a group."
For Whitworth, it's not about earning extra credit or praise. He wants to provide young teammates with wisdom he's gathered through a long career, with hope it will elevate the team.
"You see guys that have been in the league for a long time and have taken that opportunity to not only make their game better but to make the people around them better," Whitworth said. "And to help them know things that maybe you wish you had known."
Kromer said the goal of his group was to go unnoticed.
"If they don't know we're out there, then we're doing well," he said.
And Whitworth was cautiously optimistic about the 3-1 start.
"It's great," he said. "It's cool when the O-line gets the chance to get some notoriety. But the real thing is that NFL football is quick to humble you."
Follow Lindsey Thiry on Facebook and Twitter @LindseyThiry
---
Get our high school sports newsletter
Prep Rally is devoted to the SoCal high school sports experience, bringing you scores, stories and a behind-the-scenes look at what makes prep sports so popular.
You may occasionally receive promotional content from the Los Angeles Times.