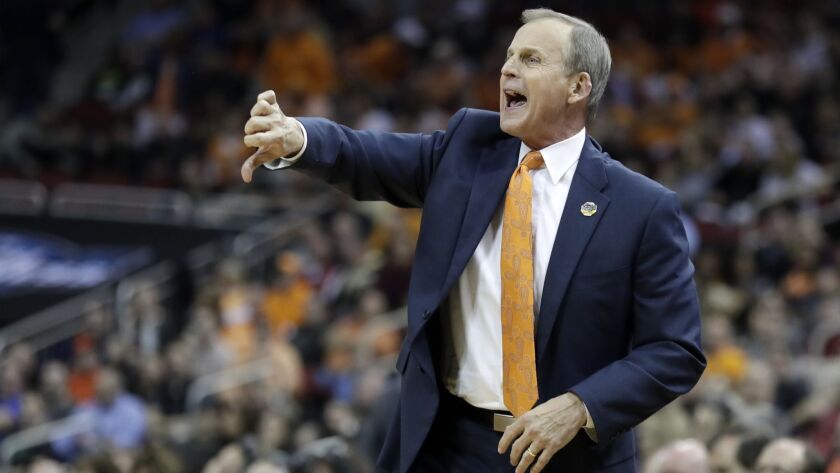 Tennessee head basketball coach Rick Barnes volunteered information that he lost more than five pounds and didn't leave his house for two days earlier this month as he pondered a future move to Westwood to take over UCLA's program.
What if the Bruins boosters thought it was equitable to scrape together the $5 million needed to buy out the last five years of his Volunteers contract?
"I think I would have been the coach at UCLA," the 64-year-old Barnes said during a news conference Tuesday in Knoxville, Tenn.
In the public pecking order that was chronicled, Barnes was the choice after John Calipari and Jamie Dixon, right in there with Lon Kruger, but gone the day before Mick Cronin grabbed it on April 9.
As UCLA narrowed its list of potential successors for Steve Alford, Barnes said he waited out the process and his prayers were answered.
"I asked God for total clarity," Barnes said. "And when they came back with their decision, I knew that I'm not supposed to be the coach at UCLA. As soon as that happened, I'm like, 'OK, I'm good with this,' because I felt like, again, that God had made it crystal clear that I needed to be at the University of Tennessee."
Time to honor a titan
In Time magazine's annual "100 Most Influential People" of 2019, announced Wednesday, the Lakers' LeBron James was included in the "Titans" category with folks such as Tiger Woods, Bob Iger and Mark Zuckerberg.
As financier Warren Buffett wrote in his James tribute: "As great as he has been so far — on and off the court — you're just seeing the start of LeBron."
This is the fourth time James has been on the magazine's list, now in its 16th year.
A new era of NFL L.A. colors
Before the Chargers announced this week they would revert to "iconic powder blue" as their primary jersey color this fall, going back to their original L.A. scheme from 1960, there was some colorful social media consternation about how the team's New Era caps would represent the franchise during next week's NFL draft.
The theme scheme is to have teams show off colors of their city's official flag. For L.A., that's a green-yellow-red combination. The Chargers incorporate the zigzag pattern of the flag in one blue-and-white version. The Rams do the same, but on the cap's bill. Both have a choice on what they'll plop on the head of their draft choices.
Sign up for our daily sports newsletter » »
The L.A. Times' Chuck Schilken has already released his personal choice rankings.
But we do enjoy the clout behind a social media post by Ross Yoshida of RYDesignLA, the Dodgers' senior director of graphic design: "Why would you model the #Chargers draft hat after the Los Angeles city flag? I'm a proud Angelo and Bolts fan, but come on … this was a hare-brained decision if there ever was one."
Odds and endings, redux
We recapped in Wednesday's Morning Briefing how Wisconsin day trader James Adducci cashed in a $1.275-million bet on Tiger Woods' Masters victory, and thanked his "keeper" wife for her support in his $85,000 wager.
Then USA Today reported the 39-year-old had pleaded guilty four times to misdemeanor domestic abuse between 2009 and 2016 and had arrests on suspicion of domestic violence charges that were dismissed or reduced three other times. Judges ordered Adducci to stay away from two different women at least three times each.
Records show he also pleaded guilty to 12 other charges and had a 30-day jail sentence for a second arrest of operating a vehicle while intoxicated in 2015.
"This has nothing to do with" winning the bet, Adducci said when USA Today asked about his arrests. "Check out the years of what you were talking about. OK."
Also, USA Today could find no record that Adducci was currently married.
---