As Ronda Rousey rampages, Miesha Tate thinks she's the one to stop her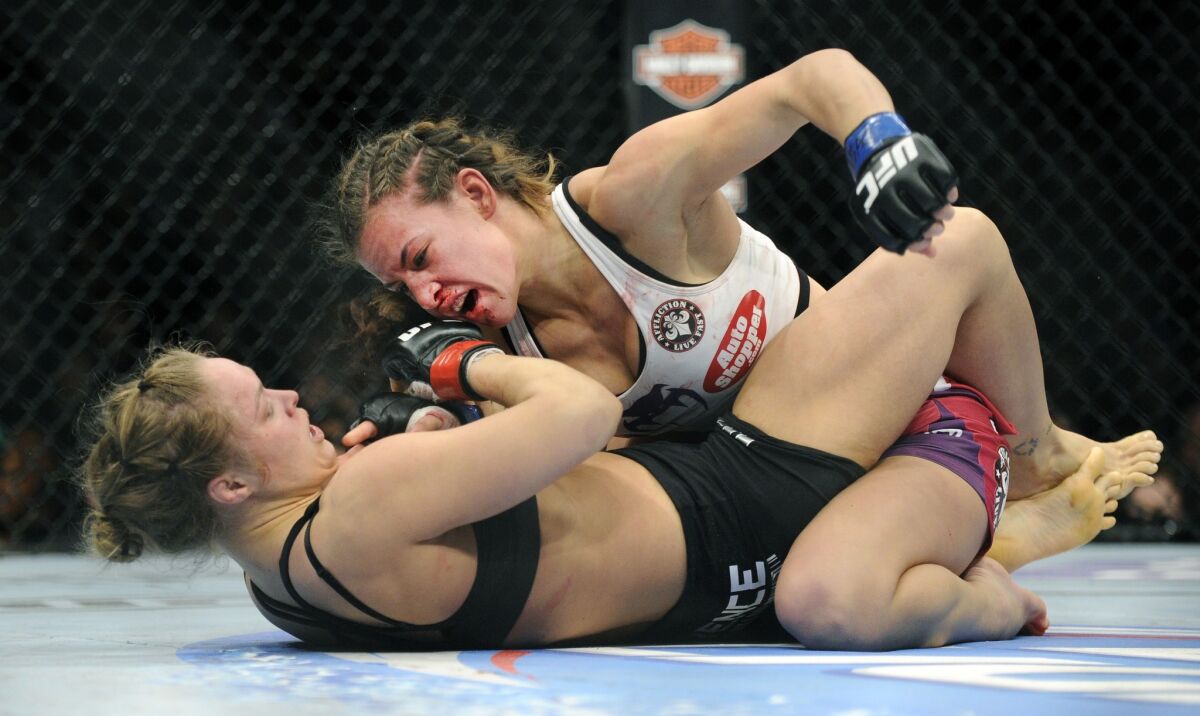 Miesha Tate senses what most Ultimate Fighting Championship fans are thinking about Ronda Rousey's dominant four-fight stretch of stopping opponents in less than 1 minute 7 seconds.
"It was so fascinating to see that happen — domination like that in any division, that's exciting — but then it gets to some point where people start losing interest, like, 'Well, there's no one who can give her a run for her money … we're not going to spend 50 bucks for 54 seconds, there's no one who can hang ... ,'" Tate told The Times on Monday by telephone.
Venice's Rousey (12-0) cast aside her latest challenger Saturday night when she knocked out Brazil's Bethe Correia 34 seconds into the first round of their women's bantamweight championship fight in Rio de Janeiro. A hard left-handed punch to the face set up a fight-ending short right to the temple.
Before Correia, Rousey needed 14 seconds to finish Cat Zingano, 16 seconds to stop Alexis Davis and 66 seconds to beat Sara McMann.
The remarkable run by the former 2008 Olympic bronze medalist in judo has captured the attention of mainstream sports fans.
In addition to the capacity crowd in Brazil, UFC President Dana White said he expected strong pay-per-view sales and Nielsen reported Twitter traffic for Rousey-Correia was nearly quadruple that of the next most popular events — Major League Baseball games.
But Tate, who was identified by both Rousey and White as the champion's next opponent, says she can feel fans tiring of lopsided bouts.
"It's getting to a point where the [UFC] girls need to step up and prove it's not a one-woman division, that others are pretty close, or on the same level, or potentially better," said Tate, 28. "That's what I see my role in this. I just know I have what it takes and I want to show the world that I can become a world champion."
Tate (17-5) has already fought Rousey twice. She became one of Rousey's 11 first-round victims on March 3, 2012, when Rousey applied her famed armbar to end their Strikeforce fight 4:27 into the bout.
On Dec. 28, 2013, Tate returned to face Rousey in the UFC and extended her to the third round before Rousey achieved another victory by armbar 58 seconds into the round.
Since then, Tate has won four consecutive fights, beating three of the UFC's top 10 bantamweights, including an impressive unanimous decision over striker Jessica Eye in a stand-up fight July 25 in Chicago.
"I proved in my last fight I'm a better athlete and stronger than I was before and I beat one of the best strikers in the division at her own game," Tate said. "I added a new strength coach. I've done circuit and cardio training before, but I've realized there's a different level of strength training.
"That allows me to deliver the kind of power for a much longer time. The muscular endurance is a lot better now. I never get flat-footed now. It's something I've worked hard on."
Tate made a point Saturday night to emphasize her newfound fitness after Rousey's victory, tweeting she'd "guarantee" such a knockout would never happen to her against Rousey.
She praised Rousey for improving her striking but would like to test the theory that the third time's a charm.
"I've proven I can take a punch and give a punch," Tate said. "I'm not taking anything away from what Ronda did. But Bethe went down so easy, she was just in over her head. I know I wouldn't go down in that kind of situation."
In fact, Tate said she believes she can progress to another level from the second fight and beat Rousey.
"Yeah, absolutely. I have no reason not to believe in myself," Tate said. "My confidence is at an all-time high, especially with what I was able to do in my last fight."
Rousey, who has remained in Brazil on vacation this week, is expected to discuss her next bout with UFC officials upon her return.
Rousey told reporters after beating Correia that she'd like to fight Tate on the same card as the anticipated Jose Aldo-Conor McGregor featherweight title bout that the UFC is working to place at AT&T Stadium in Arlington, Texas, on Dec. 5.
UFC Chairman Lorenzo Fertitta told The Times in text messages Saturday that he too wants Rousey-Tate with Aldo-McGregor, creating a card that would probably break UFC live-gate and pay-per-view records.
"My management has yet to get confirmation that this fight is happening next," but she's hoping it does "so I can be the best in the world," Tate said.
Twitter: @latimespugmire
MORE ON RONDA ROUSEY:
Ronda Rousey needs 34 seconds to knock out Bethe Correia

Poll: Would Lolo Jones last one minute in the Octagon with Ronda Rousey?
---
Get our high school sports newsletter
Prep Rally is devoted to the SoCal high school sports experience, bringing you scores, stories and a behind-the-scenes look at what makes prep sports so popular.
You may occasionally receive promotional content from the Los Angeles Times.