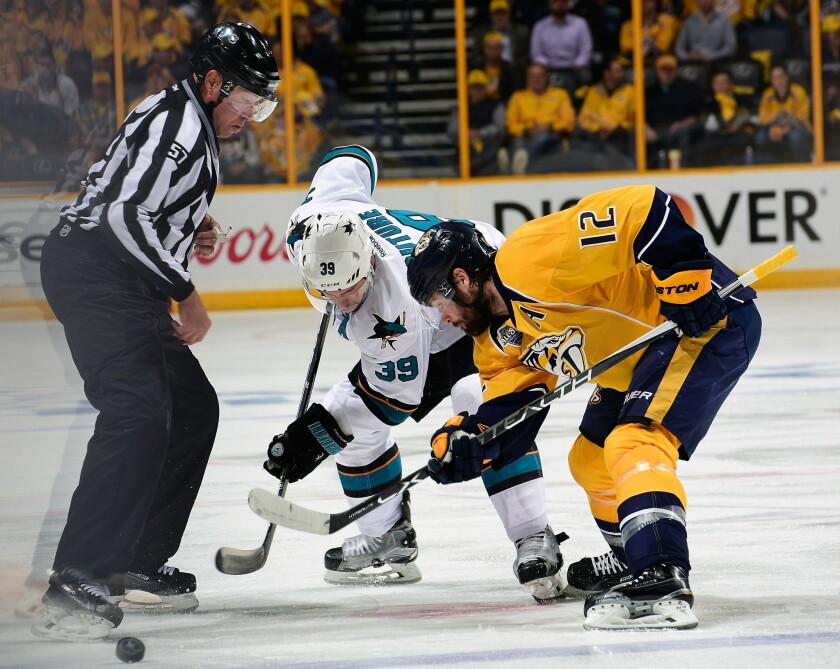 reporting from SAN JOSE —
San Jose Sharks forward Logan Couture triggered a firestorm in the middle of the Stanley Cup Final when he said Wednesday that Pittsburgh center Sidney Crosby cheats on faceoffs, moments after a faceoff play orchestrated by Crosby set up the decisive goal in the Penguins' 2-1 overtime victory in Game 2.
But Couture said Friday that he wasn't speaking out of frustration over losing the first two games of the Final, and he doesn't think his comment should have caused any controversy, because cheating on draws isn't unique to Crosby.
"Our centers do it. [Anze] Kopitar does it. [Jeff] Carter does it. Everyone does it. I do it," Couture said after the team practiced Friday at Sharks Ice in San Jose to prepare for Game 3 on Saturday at SAP Center. "Some guys get away with it. Some guys, the ref will stop it. That's what happens on faceoffs."
See the most-read stories in Sports this hour >>
Who's the best at getting an edge on draws? "Jumbo's pretty good," he said, referring to teammate Joe Thornton. "He gets caught a lot but he's pretty good at getting away with moving early."
The Sharks had Thursday off after traveling home from Pittsburgh but had a full practice on Friday. Tomas Hertl, left wing on the top line with Thornton and Joe Pavelski, skated lightly on his own and didn't practice with the team. Coach Peter DeBoer said Hertl has "a little something," and was kept off the ice for maintenance. However, DeBoer wouldn't say if Hertl would play Saturday in what will be the Sharks' first home Stanley Cup Final contest.
"We'll make all lineup decisions the day of the games, so we'll see how everybody is [Saturday] morning," he said.
He also said he hopes his team will capitalize on the many advantages of being at home, beyond the obvious edge of having the last line change.
"Home crowd, sleeping in our own beds, those things are important," he said. "We've got to just keep playing our game. We were better in Game 2 than in Game 1, and I think we'll be better [Saturday] than we were in Game 2."
MORE SPORTS NEWS
Moto2 rider Luis Salom dies after crash during practice
Beholder faces strong competition in Grade I Vanity Mile at Santa Anita
Copa America Centenario: While Brazil struggles, Ecuador appears poised for a long run
---