Fairfax center Sidney brings complete set of skills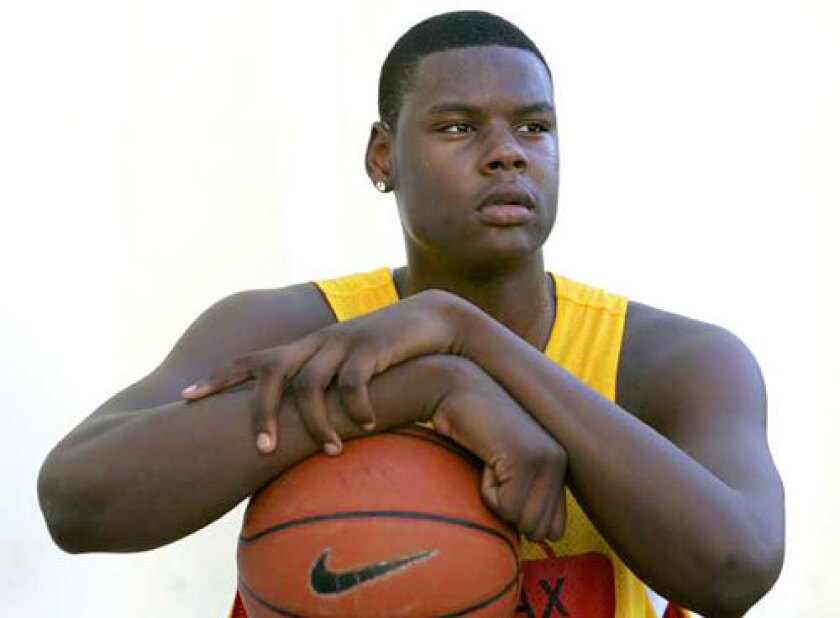 At 6 feet 10, 235 pounds, with the ability to dribble like a point guard, dunk as if he were Shaquille O'Neal and shoot three-pointers with relative ease, Renardo Sidney is no ordinary high school basketball player.
He arrived in the Southland in the summer of 2006 from Mississippi, enrolled as a sophomore at Lakewood Artesia and led the Pioneers to the state Division III championship.
In September, he transferred to Los Angeles Fairfax, the defending City Section and state Division I champion. Harvey Kitani, entering his 27th season as coach of the Lions, is quickly discovering he has never had a player as talented as Sidney.
"What's amazing about the guy is he has a lot of skills," Kitani said. "I'm impressed with the fact he has a pretty complete game."
Sidney's arrival at Fairfax has already changed the balance of power in Southern California basketball, giving the City Section three teams -- Fairfax, Westchester and Woodland Hills Taft -- that can stick out their chests and dare anyone to beat them.
"I think the top three teams in the City can arguably play with anyone in the state, and we could be the top three on any given night," Woodland Hills Taft Coach Derrick Taylor said.
Gary McKnight, longtime Santa Ana Mater Dei coach, provided an obvious clue as to what he thought of Sidney's impact, switching Fairfax's scheduled opponent in the Nike Extravaganza on Feb. 2 to New Jersey St. Patrick's, one of the top-ranked teams in the nation.
Westchester and Taft could face each other in the second week of the season in the championship game of the Westchester tournament Dec. 8. And Westchester gets to take on the best in the Southern Section on Dec. 10-15 in the Ocean View tournament, which includes Compton, North Hollywood Campbell Hall, Pasadena, Santa Margarita and North Hollywood Harvard-Westlake.
True centers are rare, and when they show up, they're program changers. It happened in 2004, when 6-10 Amir Johnson went from Los Angeles Verbum Dei to Westchester. Johnson had to sit out most of the season but came back in 2005 and led the Comets to City and state titles.
"He brings a size and presence that we haven't seen since Amir Johnson," Taylor said of Sidney. "He could have the same effect, and his offensive game is far more advanced. He's a matchup problem for anybody who has to deal with him."
Sidney is considered the No. 1 center prospect in the nation for the class of 2009, but the challenge for Kitani is to get him to play hard and play consistently.
Perhaps that's why in Sidney's first appearance in a Fairfax basketball class the second week of October, after taking a month off because of a knee problem, he faced an immediate challenge from Kitani, who made it clear what he expected.
"I was breathing hard and getting frustrated," Sidney said of the practice.
That didn't prevent Kitani from getting his point across, stressing fundamentals. "Coach Kitani is a hard coach," Sidney said.
Kitani is almost certain to challenge Sidney to put forth the work ethic of past Fairfax standouts, Josh Shipp, Chace Stanback and Jamal Boykin. If Sidney comes close to doing that, coupled with his talent, the opposition will be in deep trouble.
Not that Taylor is conceding anything to Fairfax, which began official practice last week and opens its season Nov. 27 against Reseda in the Redondo tournament.
"I think he brings matchup problems, but I think we're more than capable of beating them," Taylor said.
High expectations are nothing new for Sidney.
"It's been going on since seventh grade," he said. "I just try to fit in with the team, try to bond and try to win state."
Moving from the Southern Section to the City Section hasn't been as big an adjustment as going from Mississippi to California. He had to make new friends and acclimate himself to a different environment.
At Fairfax, he was already acquainted with Chris Solomon from travel ball, and the senior guard has tried to help in the transition.
"I've already talked to my guys what he's going to be able to do," Solomon said. "And they're willing to make sacrifices."
His new teammates have clued Sidney in on what to expect in the Lions' rivalry games with Westchester.
"When I went to Artesia, I didn't know the rivalry with Mayfair," he said. "When I came here, I kind of knew about the Westchester-Fairfax game. They said it would be packed, standing-room only, a lot of girls . . . "
USC Coach Tim Floyd has zeroed in on Sidney as an important recruiting target. How else to explain Floyd's showing up for a meaningless junior college basketball game this month in which Sidney happened to be sitting in the bleachers? When Sidney left at halftime, so did Floyd.
Sidney turns 18 on Dec. 6, making him a man among boys. And there's another oddity about him -- he wears only size 15 shoes.
"I got little feet for a big dude," he said.
The biggest dude on Fairfax's campus could be around for two years, and City Section basketball won't be the same.
---
Get our high school sports newsletter
Prep Rally is devoted to the SoCal high school sports experience, bringing you scores, stories and a behind-the-scenes look at what makes prep sports so popular.
You may occasionally receive promotional content from the Los Angeles Times.