Sparks think they've found good fits in WNBA draft with Kalani Brown and Marina Mabrey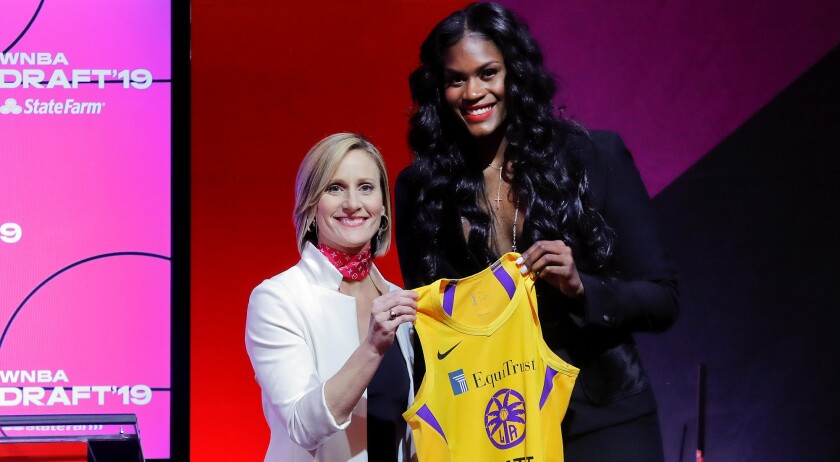 When the time came for the Sparks to select the No. 7 overall pick at the WNBA draft on Wednesday, vice president and general manager Penny Toler was shocked that Kalani Brown was still available.
"When she was sitting there at No. 7," Toler said, "it was a no-brainer."
The 6-foot-7 center, and the Sparks' first-round draft pick, earned a reputation as a fierce competitor for Baylor, helping boost the Bears to the national championship on Sunday. In an interview with ESPN, Baylor coach Kim Mulkey said Brown was willing to do whatever it took for the team to succeed.
To Sparks coach Derek Fisher, that made Brown an asset.
She averaged 15.8 points and 8.2 rebounds for the Bears with efficient shooting as a selfless teammate. The daughter of former NBA player P.J. Brown, she impressed Toler with her midrange shooting and length. She is not in her father's shadow now.
"Just by making it here," Brown said in an ESPN interview, "I think I'm making my own legacy."
Her selflessness struck Fisher, especially since Brown is joining a team with exceptional depth in the frontcourt, led by Candace Parker and Nneka Ogwumike.
Pick-by-pick selections from the 2019 WNBA draft »
Fisher said Brown's mentality made her an ideal addition to the Sparks, whose depth and balanced scoring makes selflessness essential. When asked about her team-player mentality, Brown said she relied on versatility to "do it all."
"Whatever they need from me," Brown said, "I'll try my best to do."
Notre Dame junior Jackie Young was selected by the Las Vegas Aces with the No. 1 overall pick. She was followed by Louisville's Asia Durr, Mississippi State's Teaira McCowan, Connecticut's Katie Lou Samuelson, a former Santa Ana Mater Dei High star, and Notre Dame's Arike Ogunbowale.
UCLA senior Kennedy Burke was drafted by the Dallas Wings with the No. 22 overall pick. A versatile player with shooting ability and length, Burke helped the Bruins reach the Sweet 16 in the NCAA tournament.
Notre Dame's Marina Mabrey was the Sparks' second-round selection. She competed against Brown in the national-title game Sunday. Three days later, they became teammates.
Fisher said he was surprised that Mabrey, a 5-foot-11 guard who averaged 12.8 points and made 40.8% of her three-point shots, was available at No. 19.
Fisher and Toler said the pair's championship experience was an alluring factor for both. The two have practiced and competed against elite players, are fiercely competitive and know what it takes to win high-pressure games.
"When you're in L.A. the expectation is to win and be champions," said Toler, who pointed to the Baylor and Notre Dame pedigrees. "And when you look at both of those teams, those players have played in pressure situations. I think that it's gonna help them at this level.… I think they're gonna fit right in."
Brown said she was eager to learn from Parker and Ogwumike. Fisher said practicing with Parker, "one of the greatest players to ever play the game," was "a gift." With the Sparks' prowess in the post, Mabrey could add a three-point shooting threat.
The Sparks ended their draft by selecting Spanish player Angela Salvadores, who played at Duke in 2015-16, with the No. 31 overall pick.
The conclusion of the draft capped a whirlwind three days for Brown.
"I haven't had much sleep," Brown said. "But I'm a national champion, and I'm getting drafted to one of the greatest teams possibly in the league.…
"It was all worth it, and it was a dream come true."
---
Get the latest on L.A.'s teams in the daily Sports Report newsletter.
You may occasionally receive promotional content from the Los Angeles Times.