Column: MLB makes Mike Trout a scapegoat for its marketing failings
It began with such promise. Baseball was happy. Baseball was human.
On the eve of the All-Star game, in its signature home run derby, the hometown boy made good. In front of a chanting crowd in the nation's capital, Bryce Harper swung for the fences while wearing not a cap but a colorful headband in the image of the District of Columbia flag. We saw his face, we felt his joy, his burly father was the pitcher, we lived through their affection, it all felt so real.
When the competition was complete, Harper gloriously flipped his bat forward with two hands, the fans roared, and in that moment our ancient pastime felt fresh, engaged, connected.
But over the course of the next 72 hours, baseball again lost touch.
The All-Star game mirrored the season, home runs and strikeouts and few opportunities for the stars to display the athleticism that can make this game so breathtaking. And no bat flips. A record 10 home runs and not one exuberant bat flip.
After the game, the sport that has yet to figure out social media suffered a Twitter meltdown when news surfaced of old tweets from All-Star pitcher Josh Hader containing racist, homophobic and misogynistic slurs. Baseball powers reacted not with fines or suspension, but sensitivity training.
A day later, the great Manny Machado was traded to the powerful Dodgers, and it should have been the national headline, but on many sports shows, it wasn't even the lead story. That spot was occupied by the San Antonio Spurs' trade of Kawhi Leonard, a player whose season doesn't even begin for three months.
In the middle of all this, baseball Commissioner Rob Manfred was asked about the sport's marketing issues and took a shot at the understated personality of the Angels' best player. So the Angels organization admirably fired back with a stunning rebuke in a press release defending their earnest and accommodating star.
Yeah, right, like this is Mike Trout's fault.
Baseball indeed has a serious buzz problem, but he's not the reason. Baseball's problem is baseball.
Its culture doesn't encourage players to individually shine. Its union doesn't push players to publicly engage. And the game does little to keep the modern sports fan interested.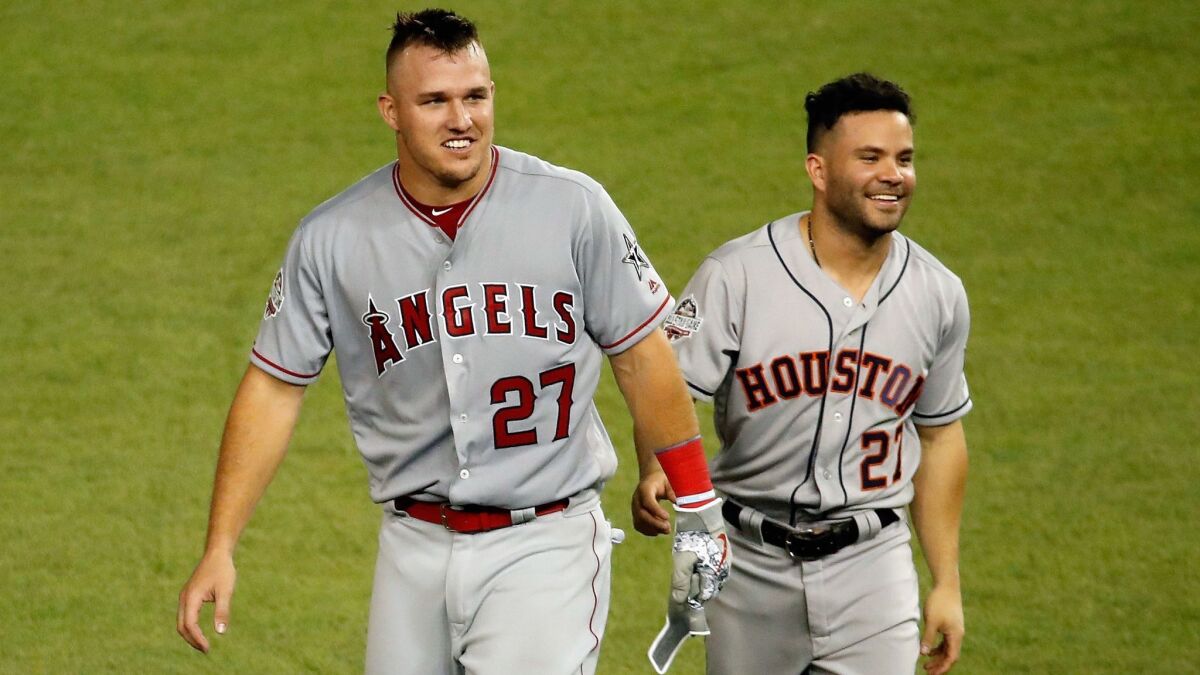 "Baseball may have lost a generation of fans,'' said Jim Kahler, executive director of the AECOM Center for Sports Administration at Ohio University and former marketing boss for the Cleveland Cavaliers. "It needs to do a lot to bring it back.''
Or, not. More than other sports fans, baseball purists preach love it or leave it. If you are bored by their timeless sport and can't appreciate the beauty of its nine-inning evolution and ancient eccentricities, fine, go watch the mindless NBA dunk contest. Your loss.
For the longest time, I was one of these purists. I covered the game as a beat reporter for 10 years, and have followed it closely as a columnist and feature writer for more than 30 years, and I never cared if the sport was increasingly losing its connection with fans. Why should it lower its revered traditions for anybody?
But then, this summer happened, when the sport I love has become marginalized almost beyond recognition by a soap opera known as the NBA offseason. During a time when everybody should be talking baseball, it's difficult to find anybody talking baseball.
Attendance league-wide is trending toward the lowest figure in 15 years. And the television numbers in this town continue to trend near the bottom. How dare Manfred criticize Trout for not promoting the game when the commissioner himself won't intercede in the Dodgers battle with DirecTV? And don't kid yourself, this blackout had on-field implications this month when newcomer Max Muncy was not voted into the All-Star game. Who is going to vote for somebody they have never seen?
The Dodgers blackout is another example of baseball not understanding the importance of maintaining a brand, one being overshadowed here so that it feels as if the Lakers are playing games and the Dodgers are still in spring training.
With one tweet from his agent, LeBron James seemingly wiped out the buzz of five consecutive Dodgers division championships and a World Series appearance. The Lakers haven't been in the playoff in each of those last five seasons, yet they own this town again. How does that happen?
"It all boils down to the NBA players got the playbook that says their personal brand is worth something, and they work at it,'' Kahler said. "Baseball hasn't caught on to this yet.''
Basketball players are adept at twitter engagement. Baseball players are not. Basketball players are unafraid to embrace the personal dramas that captivate fans and summon attention. Baseball players remain mostly bland because they don't want to rock the boat.
Actually, two Dodgers did literally rock the boat last week in a viral Instagram video showing Justin Turner and Alex Wood celebrating the Machado trade while lounging on a boat. The scene was staged but so what? Young Lakers who have accomplished far less than Turner or Wood have become popular by doing this sort of stuff.
"The issue is that baseball lends itself to thinking more about the team than the individual,'' said Orel Hershiser, who has seen the sport from both sides as a player and a current TV analyst. "An individual like LeBron can carry a team, in baseball that's almost impossible. Everyone in that baseball locker room knows they need each other, so nobody wants to stand out.''
Manfred was wrong in questioning Trout because baseball's greatest player is one of its greatest ambassadors in his unassuming way.
But there are guys who would love to show more of themselves. And the baseball culture needs to lighten up and let them do it.
What's wrong with a bat flip? What's the harm in a strikeout fist pump? Why not dance around the bases on a home run trot and then tweet about it afterward?
Some of the most popular moments in basketball that keep it in the national conversation occur when players aren't afraid to be human. Remember this spring when Steph Curry shimmied at Chris Paul? Remember Paul's return shimmy?
This doesn't happen in baseball, a difficult game filled with failure, where many players are afraid that any public display beyond a walkoff home run or no-hitter celebration will lead to them being humbled the next night or nailed with a fastball in the hip.
But there are showmen out there and they should be celebrated, not punished. Why not erase the unwritten rules and allow players to be themselves? Why not encourage pregame Facebook Live broadcasts? Why not mike players during regular-season games? If NBA coaches can be interviewed between quarters, couldn't an outfielder chat on the field between innings?
Part of the NBA's popularity comes from its postseason television tradition of showing players in their street clothes, both walking into the arena before games and sitting on interview stages after games. In baseball, you usually only see the stars during games, as some of them can't even be convinced to come to an interview stage afterward.
Baseball should do whatever it takes to make Los Angeles aware that Machado is in his first days, Clayton Kershaw could be in his final months, the Dodgers are creeping toward the home stretch as the league's best team with another shot at winning their first World Series title in 30 years and …
Wait. Did you hear? The Lakers just signed Michael Beasley! Sigh.
Get more of Bill Plaschke's work and follow him on Twitter @BillPlaschke
---
Get our high school sports newsletter
Prep Rally is devoted to the SoCal high school sports experience, bringing you scores, stories and a behind-the-scenes look at what makes prep sports so popular.
You may occasionally receive promotional content from the Los Angeles Times.