Jose Aldo sees no reason to change his charging style against Conor McGregor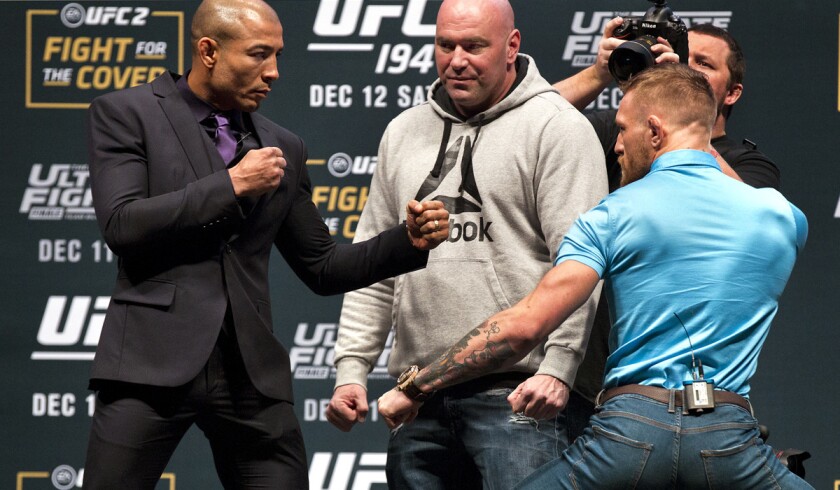 Reporting From LAS VEGAS —
Jose Aldo has found himself reeling at times when confronted by the theatrics of Conor McGregor, his Saturday featherweight title opponent.
There's a difference, Aldo said, between events that occur for the sake of publicity and those that happen in the Ultimate Fighting Championship octagon.
So as Aldo (25-1) counts the hours to his long-awaited confrontation with McGregor (18-2) in the main event of UFC 194 at MGM Grand, Aldo anticipates a continuation of the charging, unyielding approach that has made him the organization's top pound-for-pound fighter.
"That's my style," the Brazilian told The Times through an interpreter. "There's no reason to change it. I'm going to be moving forward like I've always done."
That could make for a classic bout after McGregor followed a victory in Boston this year by rushing outside the cage to confront Aldo, 29, who watched from a ringside seat.
Later, at a worldwide press tour stop in Brazil, the brash Irishman hyped their fight, which was scheduled for July but postponed until now because of a training-camp injury suffered by Aldo.
McGregor has hurled further insults at Aldo, questioning his heart and commitment to fighting, a puzzling claim considering the champion's 10-year unbeaten streak and Aldo's chance to match countryman and former UFC middleweight champion Anderson Silva with his 16th consecutive victory.
"I was in Ireland five weeks ago when Conor told me, 'I'm going to run across the octagon, I'm going to unload and hit him with bombs and I will knock him out in the first four minutes of this fight,'" UFC President Dana White said. "That's what he said to me. And I believe … he will run across the octagon.
"When he gets there, he will meet the only 145-pound champion ever … and [Aldo] will respond. When he does, I think it's going to be total, absolute violence. I think it's going to be like Hagler-Hearns."
White's reference was to the 1985 boxing match that is considered by some the best fight of its generation.
Statistics show that McGregor connects on 5.44 strikes per minute — the highest rate in UFC featherweight history — while Aldo has nine knockouts during his winning streak and leads all featherweights in total significant strikes.
Aldo flashed that punching ability Thursday in a public workout, firing rapid combinations that allowed the smacking sounds of mitts to be heard in the upper deck of the arena.
A look at Aldo's highlights consistently shows the champion in front of and pressing his foe, willing to accept punches in exchange for delivering something more damaging.
Aldo has fight-altering kicking skills, and White believes the Brazilian will aim to shoot at McGregor for a takedown that could lead to a submission.
"Everyone knows about my leg kicks," Aldo said. "We always try to come up with traps to catch people. He's going to come with his strategy, and I'll do the same, and we'll see who has the best strategy. [I] always expect a great fight and I can assure you this is going to be another one."
But will the body of McGregor's ridicule transform the usually stone-faced Aldo into a frenzied aggressor compromised by anger?
"It comes down to when you're in the octagon and touch those gloves, can you get in his head at that moment?" UFC middleweight champion Chris Weidman said. "Jose's too much of a professional to walk in there [upset]: 'I want to take this guy's head off!' It [might] be something that Conor does in the octagon to get [Aldo] upset.
"Jose needs to be calm."
Aldo understands that.
"I've got to keep my mind at ease," he said, explaining that he's driven not to obsess on McGregor's verbal shots but to extend his legacy in mixed martial arts after a childhood spent in the Brazilian ghettos.
"That's what I want to leave behind. For as much as I grow, I will always bring that side with me."
In a small way, Aldo admitted with a smirk, he's appreciative for the attention McGregor has brought to this fight.
"Every fighter … wants to draw attention to themselves and he's helped me do that a lot," Aldo said. "But I've got to keep that out of my mind and just focus on fighting.
"Wherever the fight goes, I'm going to end it."
UFC 194
Who: Jose Aldo (25-1), Brazil, vs. Conor McGregor (18-2), Ireland, for Aldo's featherweight title.
When: Saturday, pay-per-view broadcast begins at 7 p.m. Pacific.
Where: MGM Grand, Las Vegas.
Television: Pay-per-view, $59.99 (high-definition).
Undercard: Chris Weidman (13-0) vs. Luke Rockhold (14-2) for Weidman's middleweight title; Jacare Souza vs. Yoel Romero, middleweights; Urijah Faber vs. Frankie Saenz, bantamweights.
Twitter: @latimespugmire
---
Get the latest on L.A.'s teams in the daily Sports Report newsletter.
You may occasionally receive promotional content from the Los Angeles Times.