Chambers Bay added drama and controversy to U.S. Open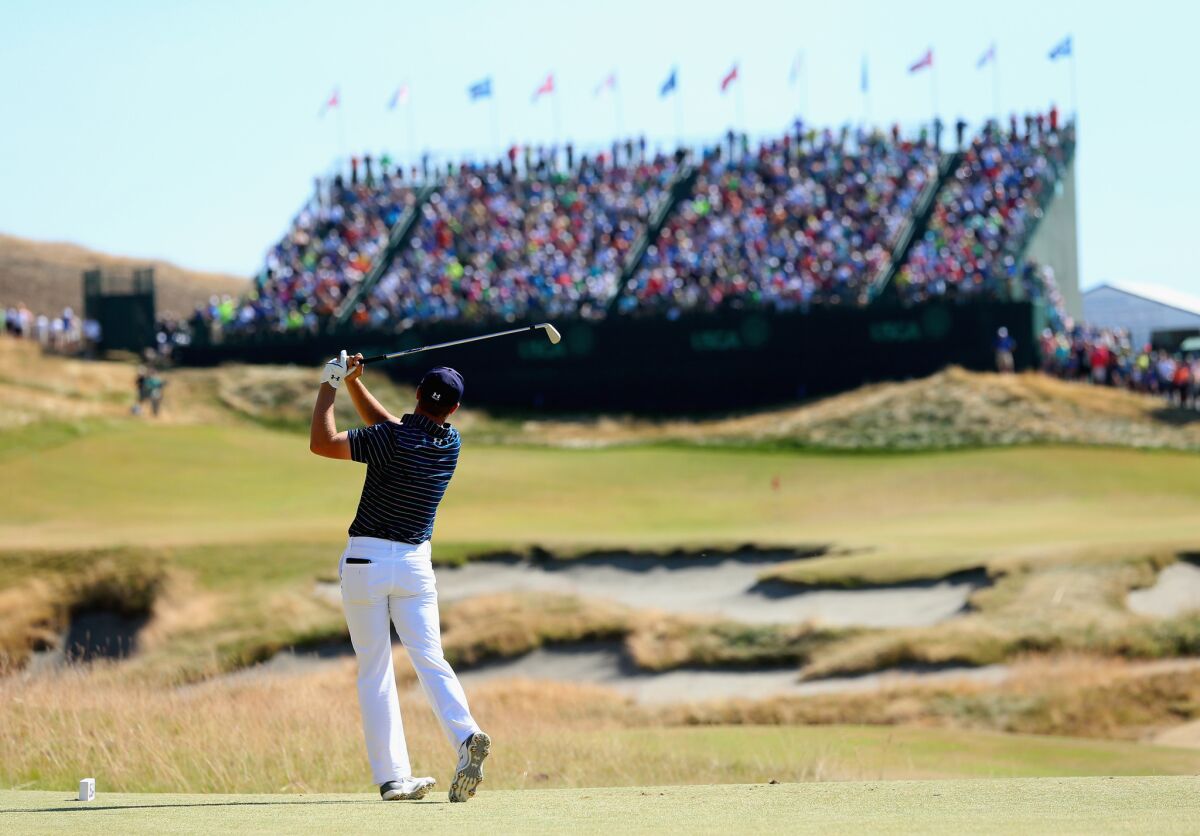 FROM UNIVERSITY PLACE, Wash. —
They won't need to bring a U.S. Open back to Chambers Bay. After all the shots had been counted and the drama documented here Sunday, a lifetime of memories had been left behind for golf and sports fans in Western Washington.
Puget Sound had made its noise.
It is hard to capture it all without some "wows" and "holy cows." Also without some confirmation that, yes, all those things that seemed to happen on your TV screens actually did.
Young Jordan Spieth won again. It was his second straight major.
He is a rock of guts and poise and charm and boyish magic.
He made a double bogey on the second-to-last hole of a tournament that he had in his back pocket by just playing it close to the vest. Other 21-year-olds disintegrate there. They are supposed to. It is written in the life manual of being 21.
Not this kid. He sticks a second shot close enough on No. 18 to have a run at eagle, but is careful enough to make sure he gets his birdie, which he does, so he can put the heat on Dustin Johnson.
Johnson turns 31 on Monday. He is the grizzled veteran. He hits shots that mere mortals can only dream of. He also has a history of not getting it done in the big moments.
Once again, he didn't.
Playing in the final group behind Spieth, Johnson teased the golf world with his usual genius, hitting a glorious second shot 200 yards on No. 18 to 12 feet. Then, with a chance to get the can't-finish monkey off his back, he three-putted and lost by one.
Don't expect to see that a lot in the 72nd hole of a Grand Slam tournament. Nor to see somebody make a birdie on that hole to win. What Spieth did with his birdie to win a U.S. Open was last done in 1926 by Bobby Jones.
When Spieth heard that statistic, he said he was stunned.
You feel for Johnson, who you should be celebrating. You celebrate Spieth, who you should be feeling for.
"I feel very much for Dustin," Spieth said afterward. "This was just an odd deal. He deserves to be holding this trophy as much as I do, for the way he played this week."
Golf is an evil game, except when you are 21, you are Jordan Spieth, and you are about to spend the next month answering questions about your prospects of winning all four majors in a calendar year, the ultimate Grand Slam.
Somewhere, Tiger Woods is grinding his teeth.
Fox Sports, by virtue of its fat checkbook, got first shot at the Grand Slam question after the awards ceremony. And Spieth handled it as he handles everything else — like a 15-year veteran of these golf wars.
"The sole focus is to go to the birthplace of golf [British Open site St. Andrews]," Spieth said. "But you can't win all of them until you win the first two."
If you haven't now seen the future of golf, you need to get your glasses cleaned.
Besides confirming that golf has a new savant, Chambers Bay also brought us the Jason Day saga. He wasn't carrying ammunition through battle lines or fighting cancer, but his dose of vertigo and his ability to carry on and be competitive set the future bar high in the category of sports courage.
He started the day as one of four players tied for the lead — with Branden Grace, Spieth and Johnson — and shot 74. That got him into a top-10 finish at a time when his best move would have been to stay in bed.
The day also gave us little Louie Oosthuizen from South Africa, who ran off six birdies on the back nine to come out of nowhere and challenge. Before Sunday at Chambers Bay, his career had been notable for running away from the field the last time the British Open had been played at St. Andrews (2010), where it will be played next month.
Also, in the 2012 Masters, Oosthuizen made a double eagle on the second hole on the final Sunday, but ended up losing the tournament to Bubba Watson.
Mostly, Chambers Bay gave us controversy, much of which may drift away with the memory of the 18th hole drama on Sunday, the continued rise of Spieth and the human drama of Jason Day.
The USGA took a chance on Chambers Bay. It gave the best golfers in the world a hard, fast track with bumpy greens that many of the players called un-puttable.
Billy Horschel went on TV, ripped the greens and said he had lost some respect for the USGA. Rory McIlroy, the world's No. 1 player, who made a run Sunday but fell back, said when asked about coming back here to play, that he would be happy to, if the next Chambers Bay tournament was 20 years down the line.
In the end, Chambers Bay was best capsulized by the daily groans of thousands of spectators, looming high above in the massive bleachers that housed most of the fans because the topography of the course was too dangerous to let them wander freely. The grandstand groans came as golfer after golfer hit good shots to the brown and yellow greens and watched the ball roll and roll and roll some more, before plopping into a trap or ugly, gnarly rough.
That's why it was fitting that this all ended on an 18th green that is huge — think two suburban backyards — and rolls like the surf at Huntington Beach. Golfers like to characterize these kinds of greens as having elephants buried beneath.
So when Johnson's final putt slipped past the hole, it came to rest near a lump about the size of a buried tusk.
It was Chambers Bay's final goodbye.
Get our high school sports newsletter
Prep Rally is devoted to the SoCal high school sports experience, bringing you scores, stories and a behind-the-scenes look at what makes prep sports so popular.
You may occasionally receive promotional content from the Los Angeles Times.