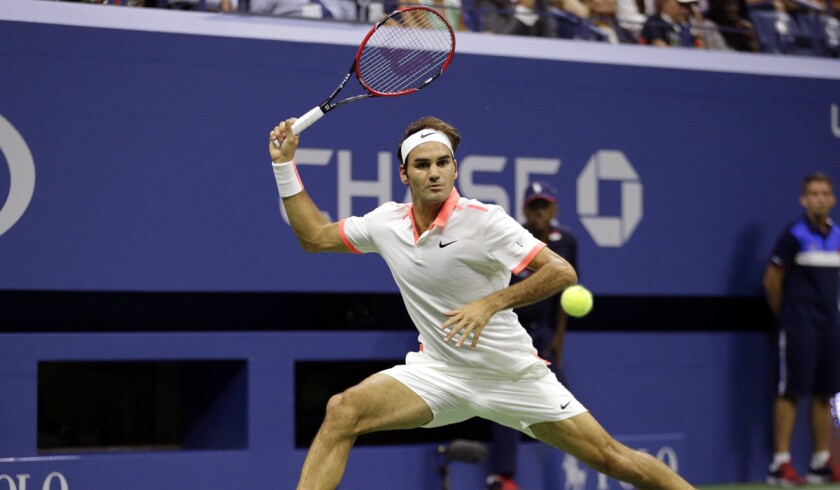 Reporting from NEW YORK —
Friday was a day of great drama at the U.S. Open, and Novak Djokovic and Roger Federer made sure none of it was repeated in their respective semifinals.
Serena Williams lost a shocker in the afternoon to Italy's Roberta Vinci. Vinci's 2-6, 6-4, 6-4 victory was preceded by another upset, although one much less stunning than Williams and her foiled Grand Slam quest.
That was Flavia Pennetta's 6-1, 6-3 steamrollering of second-seeded Simona Halep of Romania. Pennetta, also of Italy, won 15 straight points in one stretch.
The male mega-stars, No. 1 Djokovic and No. 2 Federer, quickly restored order to the day.
Djokovic, playing against defending champion Marin Cilic of Croatia, took just 1 hour 25 minutes to post a 6-0, 6-1, 6-2 victory.
Fededer, playing against his fellow Swiss, Stan Wawrinka, took just seven more minutes to win, 6-4, 6-3, 6-1.
These men's semifinals represented a complete reversal of form from last year's. In 2014, Djokovic was seeded No. 1 and Federer No. 2, just like this year. But in the semifinals, Japan's Kei Nishikori upset Djokovic and Cilic upset Federer.
Cilic came into Friday's match with a sprained right ankle, suffered in his round-of-16 match against France's Jeremy Chardy. He nursed it through a five-set quarterfinal victory over France's Jo-Wilfried Tsonga, but was clearly hampered against Djokovic, a player he has now lost to 14 times in their 14 matches.
"Novak was able to expose me much more today," Cilic said.
He said he played, rather than defaulting, because it was a Grand Slam tournament and he was the defending champion.
"Some other tournament," Cilic said, "I'd probably pull out."
Federer has yet to lose a set in the tournament. John Isner gave him his best match, extending him to two tiebreakers and 7-5. No one else has won more than four games in a set against him.
He is playing so well that this appears to be his best shot at extending his record for major titles to 18. But he also looked sharp going into the last two Wimbledon finals and lost each to Djokovic.
Federer did win their most recent meeting, in the final at Cincinnati last month.
"He's always going to perform on a high level," Djokovic said. "Rarely does he drop his level. He is always going to make you play your best."
Djokovic, of Serbia, was asked about Federer's recent strategy of chipping and charging occasionally on service returns.
"It's an exciting shot for him," Djokovic said. "For the player on the other side of the net, not so much."
Djokovic will be playing in his 11th straight tour final. That includes the finals of all four Grand Slam tournaments this year. He won the Australian Open and Wimbledon and lost at the French Open to Wawrinka. A victory over Federer on Sunday would give him 10 major titles.
This time, that may be an especially tough task. Wawrinka hinted at that.
Federer, he said, "is reading the game well. And he's serving really well, better than I've seen him . . . even since Wimbledon, he has gone up to a different level."
Wawrinka has seen him a lot. They won an Olympic gold medal in doubles. Wawrinka won their last meeting, a French Open quarterfinal, this year. But after Friday night, he has now lost to Federer 17 times in 20 matches.
The women's final is Saturday at noon PDT; the men's final is Sunday at 4 PDT.
Twitter: @DwyreLATimes
---