Column: A continually improving Sam Darnold leads USC past Colorado
Reporting from Boulder, Colo. —
Sam Darnold was in danger of becoming an afterthought, his early-season interceptions and USC's two defeats diminishing the widespread enthusiasm over his breathtaking talent.
In the relative obscurity of what feels like an underwhelming season for the No. 11 Trojans, however, Darnold quietly reinvented himself.
The Sam Darnold who elevated USC to a 38-24 victory at Colorado on Saturday night wasn't the same Sam Darnold who was the hero of the Rose Bowl last season. The Sam Darnold who secured the Pac-12 South division championship for the Trojans wasn't the same Sam Darnold who outshined crosstown rival Josh Rosen last year.
This version of Darnold was better.
The redshirt sophomore quarterback displayed his ever-expanding skill set at Colorado's Folsom Field, making throws he had trouble making earlier this season.
Like the 32-yard throw down the right sideline to Steven Mitchell Jr. in the second quarter, which set up the first of Darnold's two touchdown passes.
Or the consecutive 20-something-yard passes he made to Tyler Vaughns on the opposite sideline, which positioned the Trojans to extend their advantage to 14-0.
Darnold completed 21 of 34 passes for 329 yards. The game was his first of the season without any turnovers.
"We kind of saw tonight, my deep-ball accuracy has gotten a lot better," Darnold said.
This was by design. Improving deep-ball accuracy, especially down the sidelines, has been a long-term project for Darnold, who noticed earlier this season that defenses were crowding the middle of the field and daring him to beat them outside.
"He wanted to work really hard on that," quarterbacks coach Tyson Helton said. "It was good to see it's been starting to show up the last couple games."
This newfound ability to throw to the sidelines has opened up other channels, as was the case when he found Deontay Burnett open down the middle of the field in the third quarter for a 37-yard completion. Later on the same drive, when the Buffaloes double-teamed his primary passing target on a run-pass option, Darnold kept the football and ran through the huge chasm in front of him for an 18-yard touchdown run.
The performance extended a solid stretch for Darnold that started after the Trojans' loss at Washington State on Sept. 29.
Darnold had nine touchdown passes and eight interceptions through the Washington State game. In the six games since then, he has passed for 15 touchdowns and thrown only three interceptions.
The improvement is as much of a reflection of USC's receivers as it as of Darnold. The departures of last season's leading receivers, JuJu Smith-Schuster and Darius Rogers, forced a group of young players to take on added responsibilities.
"The maturity of the wide receivers has grown and it's helped the quarterback," head coach Clay Helton said.
Tight end Tyler Petite went as far to say many of the early-season interceptions weren't Darnold's fault.
"As much as he'll say that it's his fault for all the interceptions, a lot of it falls on the receivers and tight ends," Petite said. "We as a receiving corps need to be on the same page as Sam. It's really hard when you have guys like Darius and JuJu that you've been working with since you were a freshman, guys that you know are going to be making plays. It took us a little bit to get on that rhythm and that same page with Sam. But as you can tell, it's been working out really well."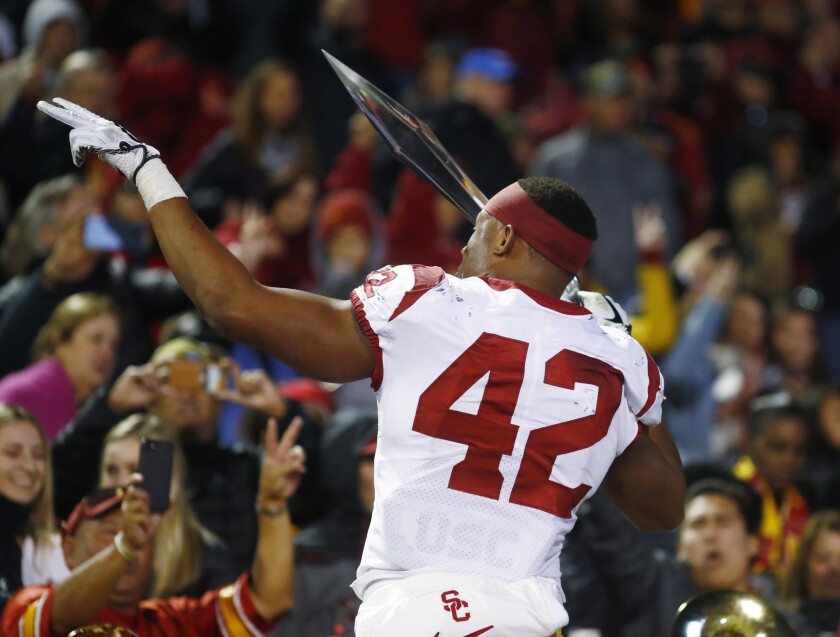 USC linebacker Uchenna Nwosu leads fans in singing the team song after defeating Coloradoon Saturday.
(David Zalubowski / Associated Press)
Erik Krommenhoek pulls in a pass for a two-point conversion.
(David Zalubowski / AP)
USC quarterback Sam Darnold tries to evade the rush of Colorado's Rick Gamboa during the second half.
(Matthew Stockman / Getty Images)
Trojans running back Ronald Jones II breaks into the Buffaloes secondary during a touchdown run Saturday.
(Matthew Stockman / Getty Images )
USC head coach Clay Helton directs his team during a time out against Colorado in the second half.
(David Zalubowski / AP)
Trojans running back Ronald Jones II follows a block during a first-half run against the Buffaloes.
(Matthew Stockman / Getty Images)
Colorado wide receiver Bryce Bobo fumbles the ball after he's hit by USC cornerback Isaiah Langley during the first half.
(David Zalubowski / Associated Press)
Trojans wide receiver Deontay Burnett scores on an 18-yard touchdown reception against the Buffaloes
(Matthew Stockman / Getty Images)
USC running back Aca'Cedric Ware is tackled after a short gain by (from left) Colorado nose tackle Javier Edwards, linebacker Drew Lewis and defensive back Evan Worthington during the first half.
(David Zalubowski / Associated Press)
Colorado quarterback Steven Montez scrambles as he's pursued by USC linebacker Jordan Iosefa during the first half.
(Matthew Stockman / Getty Images)
USC wide receiver Tyler Vaughns, front left, is tackled by Colorado defensive backs Isaiah Oliver, back left, and Trey Udoffia after making a reception during the first half.
(David Zalubowski / Associated Press)
Four Trojans had four or more receptions — Burnett (six catches, 79 yards), Vaughns (five catches, 90 yards), Mitchell (four catches, 91 yards) and Michael Pittman Jr. (four catches, 59 yards).
Petite credited Darnold for being the kind of leader who could help the group develop confidence. Clay Helton said something similar.
"I've really enjoyed his leadership, through whether it's good times or bad," the head coach said. "Just the poise and the character. When you're the quarterback at USC and to have that much pressure on you and to do it with so much class and character on a weekly basis, whether things are going good or bad, and perform for his brothers, he's the definition of believing in the team's success over the individual success."
Darnold thinks he has grown into the role, mentioning how much more comfortable he has become pulling aside a teammate or addressing the entire offense.
Darnold's 24 touchdowns and 11 interceptions this year mark a statistical decline from last year, when he had 31 touchdowns and nine interceptions. But in Tyler Helton's mind, Darnold is a superior quarterback than he was last season.
"In my opinion, he is," the quarterbacks coach said. "Fans are going to evaluate stats. As a coach, you have to evaluate every situation."
He's right. And with the Trojans guaranteed a place in the Pac-12 championship game, Darnold will have a chance to showcase that on a major stage.
Follow Dylan Hernandez on Twitter @dylanohernandez
---
Get the latest on L.A.'s teams in the daily Sports Report newsletter.
You may occasionally receive promotional content from the Los Angeles Times.