Age-defying Venus Williams can't stop Garbine Muguruza in Wimbledon final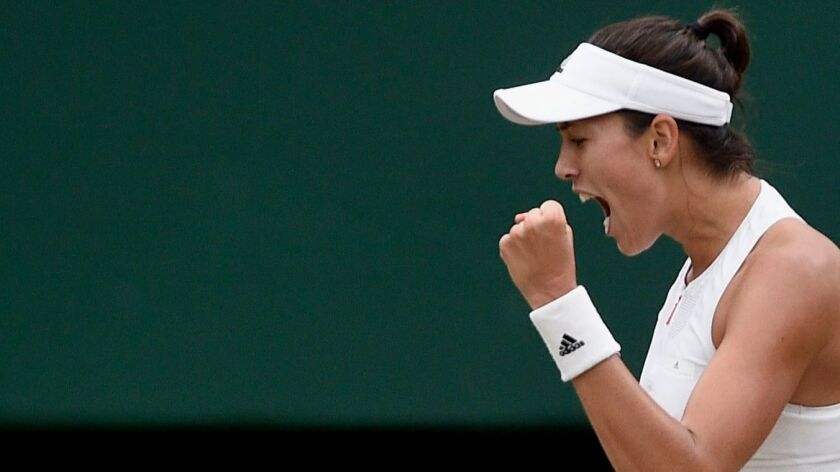 Reporting from London —
The comeback took years. The farewell took minutes.
After a hard-fought opening set Saturday, a listless Venus Williams saw her bid for Wimbledon history end with a whimper. She lost to Spain's Garbine Muguruza 7-5, 6-0 under the closed roof at Centre Court.
The second set lasted just 26 minutes, and the crowd grew quiet as Williams, 37, offered less and less resistance, and the loss looked increasingly inevitable.
Across the net was a fresh and steady Muguruza, who wore down her legendary opponent with relentless groundstrokes and precious few mistakes.
"I was just very composed," said the smiling and charismatic winner of last year's French Open. It was the second Wimbledon final for Muguruza, who lost here in 2015 to Serena Williams, Venus' younger sister.
"I let my racket do the talking."
Williams had a chance to become the oldest woman to win a Wimbledon title in the Open Era, which began in 1968. Serena set that record by winning Wimbledon a year ago at 34 years, 287 days.
"Yeah, definitely would have loved to have converted some of those points, but she competed really well," Williams said. "So credit to her. She dug in there and managed to play better."
Williams was gracious in defeat and said all the right things but looked exhausted in the interview room, speaking softly and propping her hand under her chin. She didn't look devastated — she has the perspective of riding the Wimbledon roller coaster for 20 years — but she appeared to be running on fumes.
Asked whether she was feeling the effects of age or her Sjogren's syndrome — she was diagnosed six years ago with an autoimmune disease causing chronic fatigue and muscle soreness — she batted away the question at the net.
"She played really well," Williams said, answering a question that wasn't asked. "I mean, she played top tennis, so I have to give her credit for just playing a better match."
A pivotal point came late in the first set, with Williams leading 5-4 and Muguruza serving. The Spaniard was down 40-15, one point away from losing the set. A long rally followed, ending with Williams' hitting a forehand into the net. Muguruza got to deuce when Williams was long on a forehand, then won the next two points to dig her way out of the hole.
Williams wouldn't win another game.
"When I had those set points against me, I'm like, 'Hey, it's normal. I'm playing Venus here,' " Muguruza said. "So I just keep fighting. And I knew if I was playing like I was playing during the two weeks, I was going to have eventually an opportunity. So I was calm. If I lose the first set, I still have two more. Let's not make a drama."
The match ended in less-than-dramatic fashion — with a replay review. On the final point, a deep forehand by Williams that initially was called in was overturned on a challenge.
When the reality of the moment sunk in, Muguruza dropped to her knees and buried her face in her hands. She emerged with damp eyes and a wide smile.
"Once you step on the court, you see the crowd, you see the final, you see I'm here playing another Wimbledon final," Muguruza said. "So very satisfying the way I handled it."
Likewise, this will be remembered as a remarkable tournament for Williams. That she was playing in her 20th Wimbledon is mind-boggling to many in professional tennis, a sport in which many players are finished by their late 20s.
To put that longevity in perspective, she played her first Wimbledon the year after Kobe Bryant entered the NBA, and the year before Peyton Manning got to the NFL. A year after Williams made her debut at the event, future Swiss star Roger Federer — now, at 35, regarded as an ageless force of nature — still was playing in the Wimbledon boys' tournament.
Federer, who is playing in the men's final Sunday against Croatia's Marin Cilic, has a chance to win his record eighth Wimbledon singles title.
"People don't grasp how huge it is" that Williams is still playing at 37, said former Wimbledon winner Lindsay Davenport.
"You're kind of almost desensitized to that number," said the 41-year-old Davenport, now a Tennis Channel analyst. "It's outrageous. I remember being here when Martina [Navratilova] was playing at, and everybody knew it was her last Wimbledon, and she was really hanging in there just to try to play one more year.
"Now you get this generation of Venus, and Serena, and Roger are such crazy-good athletes, there's no end game for them."
In the aftermath of Saturday's loss, Williams wasn't ready to commit to anything.
A British reporter asked: "Presumably, you're coming back next year, right?"
"Presumably, yes," she said, slowly standing from her chair then walking out the door.
Follow Sam Farmer on Twitter @LATimesfarmer
MORE IN SPORTS
Lonzo Ball faces pressure that no L.A. rookie has ever experienced
When Mike Trout plays, baseball wins, even if the Angels do not
Conor McGregor, Floyd Mayweather Jr. spar — but only verbally — in London
---
UPDATES:
10:50 a.m.: This article was updated throughout with additional details, including comments from Muguruza and Williams post-match.
This article was originally published at 7:35 a.m.
---
Get our high school sports newsletter
Prep Rally is devoted to the SoCal high school sports experience, bringing you scores, stories and a behind-the-scenes look at what makes prep sports so popular.
You may occasionally receive promotional content from the Los Angeles Times.