Goaltending goes according to backup plan for Kings, Ducks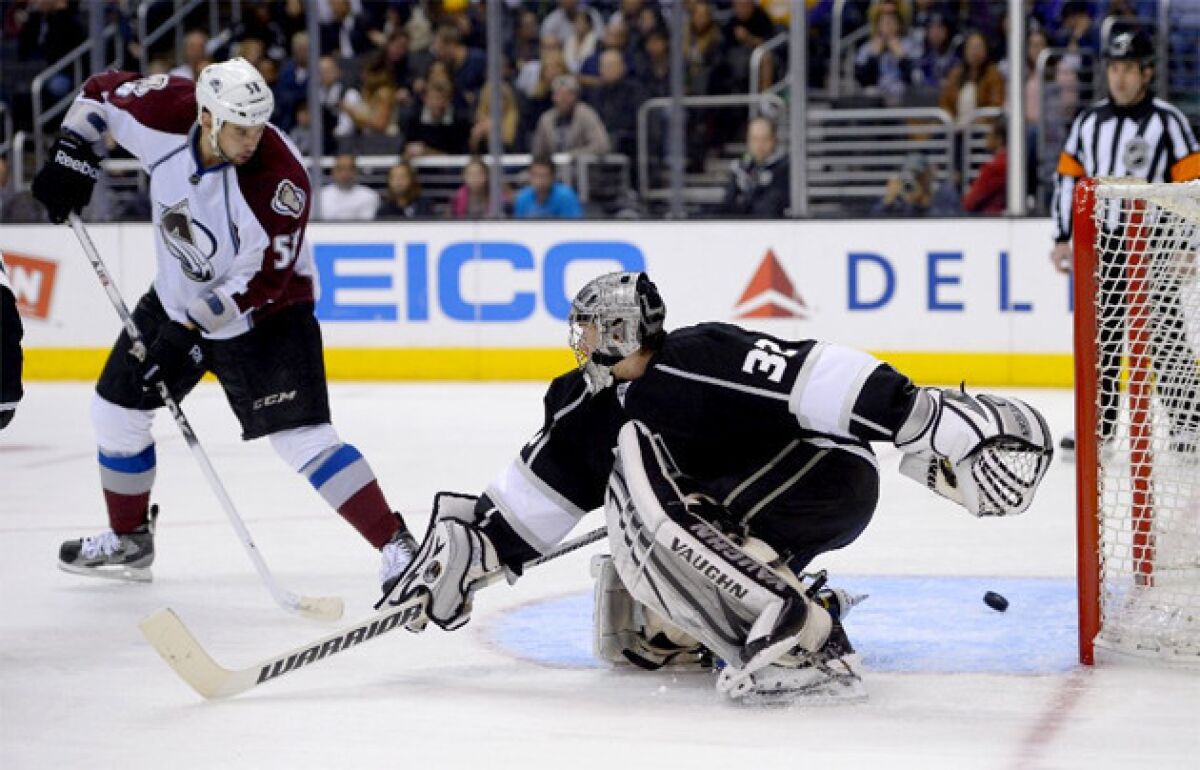 Clearly and unequivocally, baseball fan and Kings Coach Darryl Sutter once dismissed the notion of a "pitching rotation" when asked about handling his goalies in a 48-game season.
Move ahead to April and Sutter has managed goalies Jonathan Quick and Jonathan Bernier with the same aplomb and finesse of, say, pitching guru Roger Craig in his heyday. This is a strategy Ducks' Coach Bruce Boudreau has used as well — and as successfully — with veteran Jonas Hiller and newcomer Viktor Fasth.
It is hard not to see Saturday's Kings-Ducks game at Staples Center as anything but a battle of the goalies. But which goalies? Neither coach ever says who will start, but with seven games remaining for both teams, it's worth examining how their respective seasons have been affected by the emergence of the backups.
"I had no idea how good Viktor was, so we changed the equation a bit," said Boudreau, who like Sutter, once thought his No. 1 goalie would start as many as 40 of the 48 games. "Hilly's had tremendous numbers in the last month, and Viktor has played equally well. . . . I just want at least one of them to be great."
The best-laid plans for both teams were scrapped for different reasons. Last season, the Kings rode a single goalie, relying on Quick to get into the playoffs and relying on him more in the postseason, where he won the Conn Smythe Trophy as playoff MVP in their Stanley Cup run.
Quick had off-season back surgery and the lockout gave him additional time to recover, but when the season began Jan. 19 he hadn't had the benefit of an extended training camp. Sutter rarely issues mea culpas but he did earlier in the season, accepting blame for not having his goalies ready.
Adapting in midstream has not been limited to Los Angeles or Anaheim. "It's probably the same thing that everybody who has a clear-cut No. 1 would have said too," Sutter said. "It still has got to be based on performance. Once you saw Jonathan [Quick] couldn't handle the workload, then we said we knew we had to play Bernie more and he responded."
Playing 48 games in 99 days required him to deploy his goalies differently. Other successful teams in the West have had to do the same, including front-runner Chicago, which has used Ray Emery to spell starter Corey Crawford.
Sutter's history would indicate he prefers to ride one goalie, but this season he couldn't. Bernier rose to the challenge and it was basically when Sutter involved him more that the Kings started to get back on track.
"When you do that with the goalies, we'd better be able to make that adjustment, or what the hell are we doing?" Sutter said. "We have to be able to adjust. Who knows? Maybe at the end we're going to say, well, it cost us two or three games. Or it won us two or three."
The Ducks didn't have much of a fallback option until Fasth showed up in Anaheim, and it cost them dearly last season when Hiller didn't get comfortable in net until Christmas.
In fact, their three backups — Dan Ellis, Jeff Deslauriers and Iiro Tarkki — combined to win five games last season. So they signed Fasth, a late bloomer who had been voted top goalie in the Swedish league for two years running.
Fasth has been everything the Ducks hoped he would be. He tied an NHL record for consecutive wins by a goalie in his first season (eight) and, though he's cooled off since that start, has allowed Boudreau to keep Hiller fresh.
Most expect it'll be Quick for the Kings and Hiller for the Ducks once the playoffs start. But the presence of meaningful backups is what makes Saturday's contest a battle of contenders who have a chance to get home-ice advantage in the playoffs. And who saw that coming?
Greene update
Sutter said Friday that defenseman Matt Greene has not yet been cleared for contact. Greene had hoped to resume limited contact earlier this week. "Quite honest, if he's not ready to play three or four games and if we made the playoffs, I'd have trouble putting him in," Sutter said.
When: 8 p.m. Saturday.
Where: Staples Center.
On the air: TV: Prime Ticket, KDOC. Radio: 1150.
Kings vs. Ducks: 1-1-1.
Etc. The Ducks clinched a playoff spot Friday when Detroit, eighth in the West with 45 points, lost in a shootout to Chicago. It is their sixth postseason berth in the last eight years.
Twitter: @reallisa
Get our high school sports newsletter
Prep Rally is devoted to the SoCal high school sports experience, bringing you scores, stories and a behind-the-scenes look at what makes prep sports so popular.
You may occasionally receive promotional content from the Los Angeles Times.