Clippers' Chauncey Billups and DeAndre Jordan use the buddy system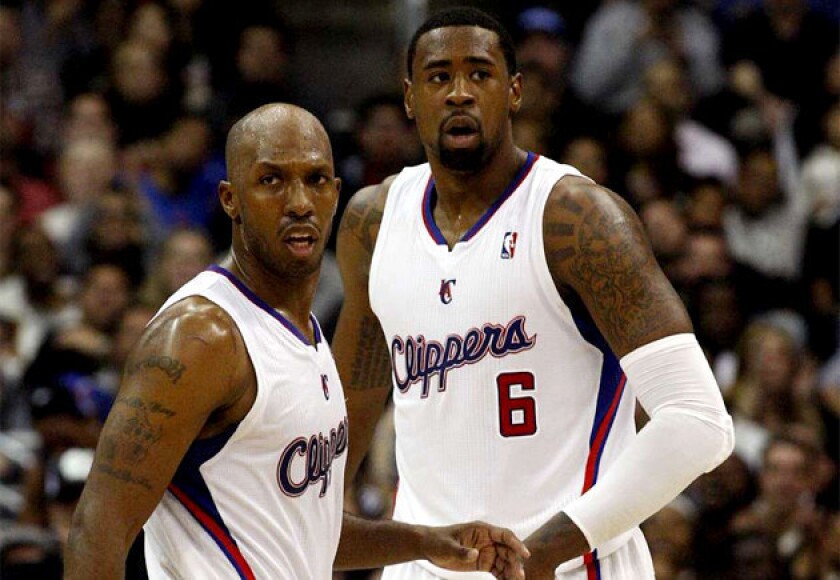 The teacher and the student still are in the classroom this late in the season, the lessons of how best to play this game of basketball being taught.
Whether it's during a game or at practice or riding the team bus or flying on the Clippers' chartered jet, sage veteran Chauncey Billups has bestowed his wisdom upon young DeAndre Jordan.
Jordan, 24, and Billups, 36, have developed a bond that has benefited the center and the Clippers.
"I look at him a lot," Jordan said. "No disrespect to our coaches, but I'm looking at him and he's like, 'Get over there' if I mess up. He'll tell you. He doesn't care if you get mad at him. But at the end of the day, I know he's telling me the right thing."
There are nights such as Saturday night at Memphis when one can see Jordan has gotten Billups' message. Jordan had a double-double with 16 points and 12 rebounds, four on offensive. He had three blocked shots, a key one late in the Clippers' victory over the Grizzlies.
Jordan was so active that he played 36 minutes, the most he has played since Feb. 4, when he played 40 minutes at Washington.
"I'm always telling him what I see and what's going on during the game," Billups said. "Not only that, but what I need him to do. If I see him make a mistake on a play, I tell him what happened."
There were times during Saturday night's game in which Jordan would come off the court and seek out Billups, who missed his eighth consecutive game with a strained right hamstring.
Billups is a 16-year veteran who won an NBA championship in 2004 with the Detroit Pistons, when he was named the Finals' MVP.
Asked what it has meant to him to have Billups to lean on, Jordan repeated the word "huge" three times.
"He keeps me locked into the game," Jordan said. "He's done it, man. Chauncey is like a sensei, know what I'm saying? He's going to tell you, 'No, you [messed] up. You need to do this.' When you do it right, he's going to tell you, 'All right, that's not your fault. You did that right.' "
Clippers turning corner?
There was a time recently when the Clippers had lost three consecutive games, eight of 14. They looked out of sorts and nothing like the team that won 17 consecutive games earlier in the season.
Now it looks as if the Clippers have gotten their game back in order.
The Clippers have a five-game winning streak with two regular-season games left, against the Portland Trail Blazers on Tuesday at Staples Center and the season finale at Sacramento on Wednesday night.
"I think it's our energy," said Clippers Coach Vinny Del Negro, who gave his team Sunday off. "I think it's just overall concentration, mental toughness. I think we're staying in the moment a little bit more. We're getting a lot of contribution from a lot of guys and that's how you win."
twitter.com/BA_Turner
---
Get our high school sports newsletter
Prep Rally is devoted to the SoCal high school sports experience, bringing you scores, stories and a behind-the-scenes look at what makes prep sports so popular.
You may occasionally receive promotional content from the Los Angeles Times.