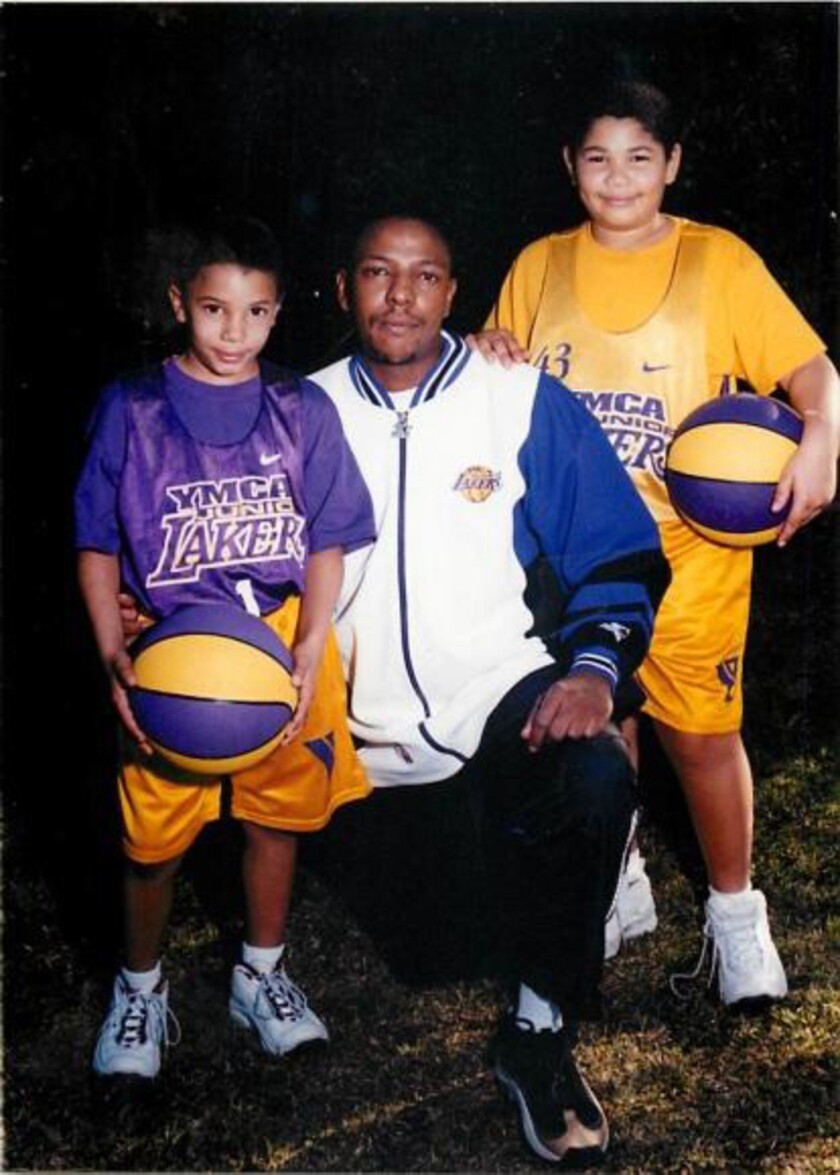 The people of these worn, winding Pasadena streets still aren't sure exactly who he is, this kid whose bullet tore through their community's soul on Christmas morning, leaving them with an emptiness felt from the faded bungalows of Garfield Avenue to the mansions of Linda Vista.
But they are absolutely certain who he is not.
The kid who killed Victor McClinton in his front yard just steps from his glittering Christmas tree shortly after his Christmas breakfast never, ever played in a sports league run by Victor McClinton.
This would not have been the uncoordinated child who was so unbowed, McClinton once devised a special play to allow him to score a touchdown from his position on the offensive line. This would not have been the shy child whose basketball coach was confronted at halftime by McClinton with orders to get him the ball, again and again, until he finally experienced the joy of making a shot.
This would not have been a child whose team finished in last place, because every child on every team in every McClinton league received the exact same size trophy every season. This would also not have been one of his league's stars, because McClinton did not allow them to act like stars, every kid forced to pass the ball, hand it off, give it up, help the helpless, share the glory, build the community.
There is no way that whoever gunned down Victor McClinton in the middle of his neighborhood, at the height of his influence, on one of the holiest of days, was one of the thousands of children that McClinton molded with the express purpose of rendering them incapable of such horror.
"It is beyond all irony that Victor built his sports program so what happened to him would never happen," said Jymm Adams, a longtime friend. "The last person you would think it would happen to, it happened to."
What happened next was also beyond all imagination. While McClinton lay dead in Huntington Hospital on Christmas day, his cellphone rang incessantly until deep into the afternoon. Many of the calls came from numbers that were not in McClinton's phone book. Many of their voices were unfamiliar, their accents diverse, their languages varied. Upon hearing the voice of McClinton's close friend Danny Bakewell Jr., many of the callers believed they were speaking to McClinton and demanded an explanation for these silly rumors of his passing.
When the phone finally quieted, Bakewell shook his head in awe at the two realizations that were the fundamentals of this great man's life.
Everyone in Pasadena had Victor McClinton's phone number. Nobody in Pasadena could ever imagine him not answering.
Even if you had never heard of Victor McClinton, if you have had children who play recreational sports, you knew him.
He was the guy pouring chalk powder through an upside-down orange cone on a playground football field on a rainy Saturday morning. He was the guy opening the rusty lock on a church gym and dragging in a bag of balls on a cold Wednesday night. He was the guy who is always there with an extra jersey or juice box or safety pin to hold up your toddler's basketball pants.
"You see a guy at 7 a.m. on a Saturday with an Egg McMuffin in one hand and a clipboard in the other hand and a whistle around his neck, that was Victor," Adams said.
In sports-and-kids-crazy Southern California, there were a million guys like Victor McClinton. But there was nobody like him.
Many parents volunteer in youth sports programs, but McClinton actually started one, the Brotherhood Crusade Youth Sports League, which has served Pasadena-area boys and girls for 18 years. It wasn't his job, as he was a service technician for the Los Angeles County Sheriff's Department.
He wasn't much known outside of musty middle school gyms and overgrown park fields. He gave away thousands of trophies but was never honored with one himself.
The 49-year-old lived with his wife and two children on a street of barred doors and broken fences. Outside of his trademark black sweatshirt, blue jeans and Nike Cortez shoes, he was unremarkable and unrecognizable.
But for the last 18 years, Victor McClinton was the richest man in town. Few have touched as many lives, as more than 20,000 kids have come through his program. Few have built a stronger sense of community, as his leagues evolved into the one place where this quietly fractured town could act as one.
The faces on his football, basketball, T-ball and track teams were a multitude of colors. The voices among the lawn chairs and aluminum stands spoke a variety of languages. The school sweatshirts ranged from public elementary to private prep. The cars in the pot-holed parking lots included both shiny Mercedes and rusted Buicks.
McClinton arrived in Pasadena nearly 30 years ago as a skinny guy from South Los Angeles who liked to coach kids. He departed as a king who had brought together a tiny nation, one dribble, one dash, one swing at a time.
"I was, like, 'Victor, you're a guy from Watts trying to communicate to white, black, Asian, Latino. … There's no way you're going to do this,"' recalled close friend Jacques Bolton. "Well, he did it."
McClinton did it by communicating through the universal truths of fairness and compassion. Growing up without a father, he viewed his coaches at L.A.'s Verbum Dei High as fathers, and so that is how he coached and led the kids of Pasadena.
"He saw the best in every child he worked with," said Bakewell. "I would say, 'That kid's no good,' and Victor would say, 'Oh no, we can figure out a way to make him good."'
His leagues were conducted wherever he could beg or borrow space, in middle-school fields and church gymnasiums. Some of his kids wore shoes he would give them out of a camper attached to his Dodge Durango. Some of his kids were playing the sport for the first time. Yet all of his kids were stars.
For all the paperwork involved in the league, nothing was more important than the participation chart. Every kid would not only play at least half of the game, but every kid also would have a chance to make big plays.
Candace Lacy, a Pasadena singer who sent three children through the Brotherhood league, remembers when her son Israel, now a star running back at La Salle High, was the best player on his Brotherhood basketball team.
"He was scoring all the points in the first half, then Victor pulled him aside and said, 'I know you can make all the baskets, but let's pass the ball around and see who else can make the baskets,"' Lacy remembered. "Even now, Israel remembers that story as his most important lesson in teamwork."
This teamwork was stressed to the point where the gifted kids were expected to not only share with the others, but help mentor them as well.
"You would walk into a practice where the coach was late and you'd see the older kids working with the younger kids," said Pamela Simmons, who has had two children in the program. "The program was filled with this kind of warmth."
When the coaches bent the rules — as youth league coaches sometimes do — that warmth became heat. If the coaches fudged the participation chart, McClinton would publicly challenge, scold or even suspend them. If they yelled at the referees, they would be immediately embarrassed. More than once, folks remember McClinton running down out of the stands into the middle of the court or field while shouting, "Everyone shut up!"
"At first glance, he could be real prickly, with no bedside manner," said Tim Genske, a Pasadena businessman who had three boys go through the program. "But then it became so clear, this all worked because he had such a big heart."
Genske remembered when his oldest son Grant's team played in a championship game, McClinton sat at the scorer's table and shouted out play by play over the loudspeaker.
"Even when the last kid off the bench touched the ball, Victor would announce it with all kind of hyperbole," he said. "He made everyone feel special."
In the saddest of testaments to this legacy, on Christmas morning, Victor McClinton died while making someone feel special.
One of his Brotherhood coaches was visiting McClinton with his two grandchildren. The visit last about 30 minutes. As they were walking to the door, McClinton insisted on finding two large candy canes for the children. Then the group headed outside, as McClinton always walked his guests to their cars.
The coach buckled the children in the car and was conversing with McClinton on his front lawn when two cars roared down the street in alleged gang activity. Shots were fired, and a stray bullet pierced McClinton in the skull, dropping him to the sidewalk.
His wife Shelly and sons Kristian, 22, and Kameron, 19, rushed outside from the Christmas celebration to find him unconscious and unable to speak, leaving them unable to say goodbye. He was soon declared dead at Huntington Hospital. Three men have since been charged in connection with the murder.
The sudden senselessness of the act sent shock waves through an entire community. Hundreds of weeping mourners showed up two days later for a candlelight vigil on the steps of Pasadena City Hall. Later, at Pasadena's Assumption Church, more than 1,000 attended a funeral in which people were standing on the street. Clearly, by taking care of their children, this unassuming man had captured a city's heart.
"My husband would have been stunned by all this," said Shelly. "He didn't want recognition or applause, he just wanted every kid to have a fair chance to be a kid."
There are no plans for a permanent memorial for McClinton other than a proposed banner that will hang in a middle school gym. But his mark will remain in this town forever. You can find it there next weekend. Walk into the most unassuming church or school gym where kids are playing basketball. Pick out the most unathletic child on the floor. Watch him anxiously hold the ball. See him fearfully throw up a shot. Listen to his coaches and teammates shouting for the ball to find the basket. Feel the triumph that was Victor McClinton.
You can contribute to the Victor McClinton Family Fund through JPMorgan Chase, Cheryl McMurray, branch manager, 1405 Fair Oaks Ave., South Pasadena, CA, 91030.
twitter.com/billplaschke
---