Rest or rust? That's the question for Dodgers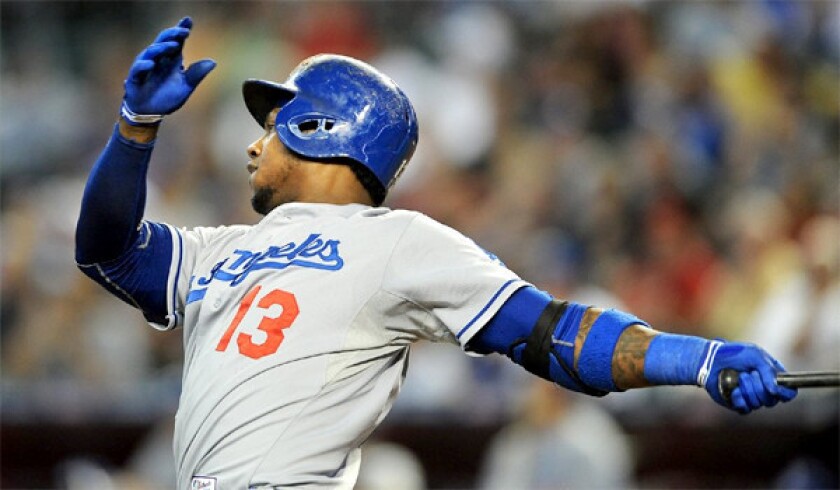 SAN DIEGO — Now that the heavy lifting's over, it's time to sweat the details.
So a day after the Dodgers clinched the National League's West Division title, Manager Don Mattingly began resting his aching and weary regulars, starting a lineup in Friday's 2-0 loss to the Padres that included three rookies and six players who weren't on the roster three weeks ago.
For Mattingly and pitching coach Rick Honeycutt, the final eight games of the regular season will be something of a guessing game: How much time do players need off to recover their strength versus how many games must they play to stay sharp?
"That's the balancing act always," Honeycutt says. "The focus is still to win. But at the same time be smart with their usage. So it's a time where we've got to be very focused on each guy, what we feel like he has to have."
Making things more difficult for Mattingly, who will be managing in the postseason for the first time, is the fact there is no template to follow. When the Detroit Tigers clinched a division title with two weeks to play in 2011, Manager Jim Leyland— whose seven playoff appearances are the most among current managers — used slugger Miguel Cabrera in this team's final 13 games anyway. Cabrera hit .488 over that span, then batted .314 in 11 postseason games.
Then last season, after the Cincinnati Reds clinched with 11 games to play, Manager Dusty Baker sat second baseman Brandon Phillips twice in the final 10 games. A rested Phillips hit .375 in the playoffs.
"It just depends on each individual," says first base coach Davey Lopes, who reached the postseason six times. "Some guys need the rest. That will take precedence over just staying sharp. Because if you can't play it doesn't make any difference whether you're sharp or not."
In the case of the Dodgers, some players will get more time off than others. Mattingly said shortstop Hanley Ramirez, who has missed six of the Dodgers' last eight games with an irritated nerve in his back, probably will play only two or three more times in the regular season. First baseman Adrian Gonzalez (quadriceps) and outfielder Carl Crawford (back) probably won't play much more.
But outfielder Andre Ethier, who missed his seventh straight game Friday because of a sprained ankle, and outfielder Matt Kemp, who has only 18 at-bats since the Fourth of July, probably will see more action in an effort to get their timing back.
"I want to get these guys as healthy as they can [be] and keep them sharp. And if they can play and it's no risk and that's the best thing, we're going to play," Mattingly said. "But not at the risk of when medical says, 'Hey, Hanley's a little tight.' Well, I'm not going to go 'I'm going to use him anyway.' We're going to be more safe than sorry later."
Complicating things a bit is the race for the NL's best record, which would assure the Dodgers of home-field advantage in the division and league championship series. After Friday's loss, the Dodgers are 3 1/2 games behind the Atlanta Braves in that competition.
"We just have to prioritize how we do that," Mattingly said. "We feel like we can win anywhere. I'd much rather have home-field advantage, but do I want home-field advantage and not have Hanley or Adrian in the lineup? No."
There's less guesswork on the mound. The Dodgers will almost certainly go with a postseason rotation of Clayton Kershaw, Zack Greinke, Hyun-Jin Ryu and Ricky Nolasco, all of whom will have extra rest before their first playoff start. But in the bullpen the Dodgers have two relievers — Paco Rodriguez and Ronald Belisario — who have appeared in a league-high 74 games. They're likely to work sparingly down the stretch.
"Physically, at this point we're all a little tired. The main thing is mentally," says reliever J.P. Howell, who will be pitching in the postseason for the third time. "You can check out. I've done it. When you clinch, you're like, 'Oh, we're here!'
"It's just the beginning. It's nothing. We've expected to make the playoffs for two months now. So it's not really a shock."
Twitter: @kbaxter11
---
Get our high school sports newsletter
Prep Rally is devoted to the SoCal high school sports experience, bringing you scores, stories and a behind-the-scenes look at what makes prep sports so popular.
You may occasionally receive promotional content from the Los Angeles Times.