Angels' David Freese is trying to get his bat going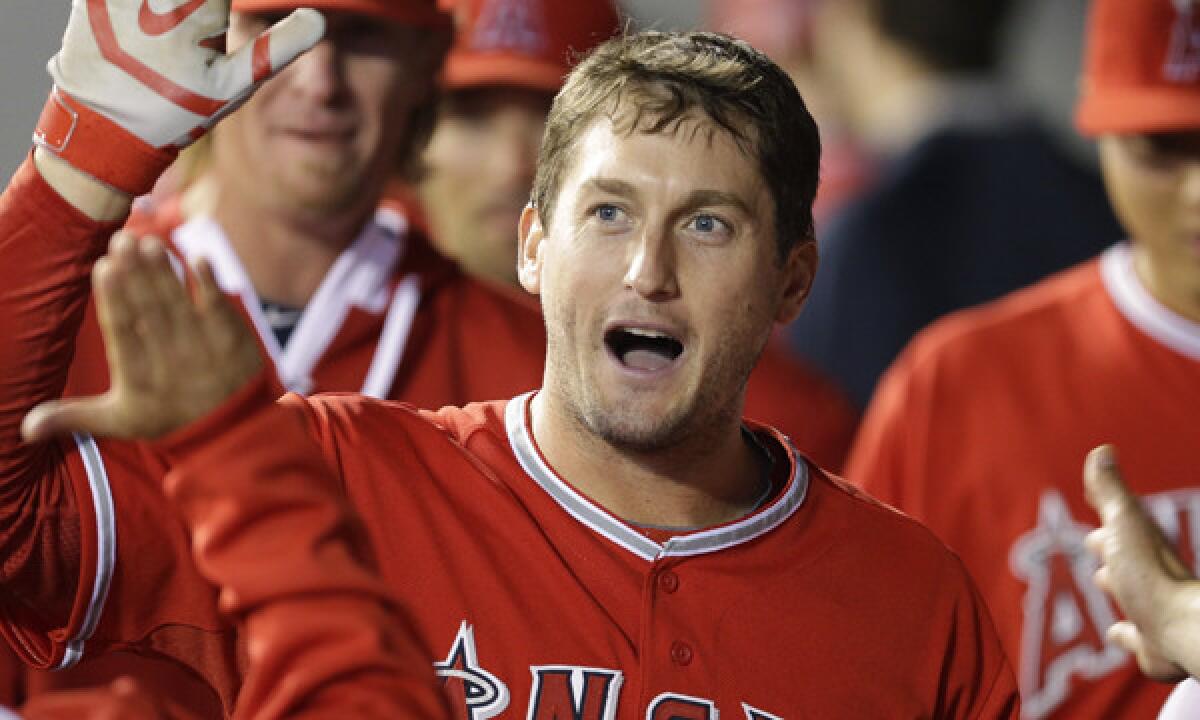 Many players would be thrilled if even a few weeks of their career mirrored that of probable Hall of Fame member Albert Pujols, but David Freese might be following one part of the script a little too closely.
Freese and Pujols have much in common. Both helped the St. Louis Cardinals win World Series titles before moving to Anaheim, Pujols signing with the Angels before 2012 and Freese arriving last off-season in a trade.
Like Pujols, Freese is struggling in his first month with his new team. The third baseman singled twice and drove in a run Tuesday night in the Angels' 10-9 loss to the Oakland Athletics in 11 innings at Angel Stadium but is still batting .170 (eight for 47) with a .231 on-base percentage and .234 slugging percentage.
And, much like Pujols, who downplayed his brutal start in 2012, when he hit .190 with one home run and nine runs batted in through May 8, Freese is not overly concerned by his sluggish start.
"I've been around this game long enough to know it's early," said Freese, who has one home run, four RBIs, 15 strikeouts and four walks in 12 games. "The average is going to sway back and forth this time of year. If a few more balls fall in, we're not even talking."
Freese opened the season batting fifth against right-handers and fourth against left-handers. When Josh Hamilton tore a ligament in his left thumb April 8, Manager Mike Scioscia said Freese would be the primary cleanup hitter.
But Freese has three singles and 10 strikeouts in 21 at-bats in five games since Hamilton went down. Scioscia dropped Freese to the sixth spot Monday and to the seventh spot Tuesday, when Freese had a run-scoring single in the eighth inning to cut the Angels' deficit to 9-7.
"We have to get David in a comfort zone, and sometimes changing the neighborhood helps," Scioscia said. "When David gets going, he's a big part of the middle of our lineup, but he's obviously searching for some things right now."
Could Freese, like Pujols did in 2012, be trying too hard to impress his new club?
"No, not at all," said Freese, who hit .262 with nine home runs and 60 RBIs in 2013. "It's been easy to fit in. This is a good group of guys. It's almost to the point where I feel like I was here last year."
Scioscia wouldn't dismiss the possibility.
"I think he understands he can play better than he did last year, and coming to a new team, there might be an element to that," Scioscia said. "But I think he's very comfortable with his teammates, with his role on the club, and I think he'll start to hit stride."
Freese, 30, is normally quick out of the blocks. He hit .324 with 14 RBIs in April 2010; .365 with 14 RBIs in April 2011, and .333 with five home runs and 20 RBIs in April 2012.
His .163 mark last April could be attributed to a lower-back injury suffered in spring training.
A career .286 hitter, Freese has been studying video and spending extra time with hitting coaches Dave Hansen and Paul Sorrento in an effort to find a more comfortable stance that allows him to use his hands more effectively and drive the ball to right-center field, one of his strengths.
Freese does not expect to duplicate Pujols' 2012 surge, when the first baseman hit .309 with 29 home runs and 96 RBIs in his final 124 games, but he does expect to begin producing soon.
"I'm going to get out of this funk," Freese said. "If this happens in the middle of the year, I could probably hide it a little better, but I have confidence I'm going to turn this around pretty quick."
Twitter: @MikeDiGiovanna
Get our high school sports newsletter
Prep Rally is devoted to the SoCal high school sports experience, bringing you scores, stories and a behind-the-scenes look at what makes prep sports so popular.
You may occasionally receive promotional content from the Los Angeles Times.