Dodgers must overcome their brittle nature to avoid a bitter end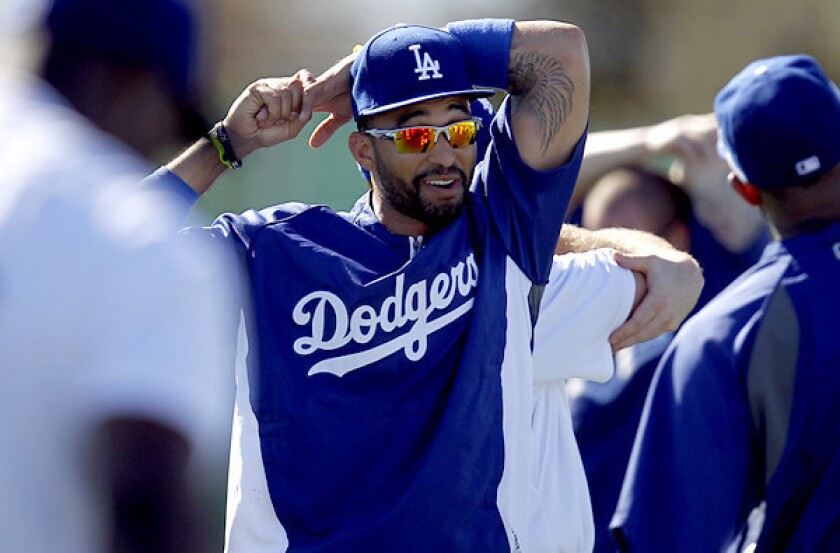 PHOENIX — The Dodgers won the National League West by 11 games last season, the largest margin in any division in baseball. They were only the third team since 1900 to win 42 times in a 50-game stretch. And if not for a fastball that fractured Hanley Ramirez's rib in October, they might have gotten to the World Series for the first time in 25 years.
Starting with the pitchers and catchers Saturday, the Dodgers will report to spring training over the coming week with largely the same roster they had last year. In talent and financial resources, they should again have a considerable advantage over the other teams in their division.
Now, if they can only stay on the field.
Ramirez's injury in the NL Championship Series against the St. Louis Cardinals crippled the Dodgers' offense and was a key factor in their elimination in six games. The series was reminiscent of the first half of the Dodgers' season, much of which they spent in last place with several key players, including Ramirez, on the disabled list.
"We realized that being healthy is important," Clayton Kershaw said. "I think, for us, that has to be our main concern."
Ramirez was the Dodgers' undisputed offensive leader last season, but played in only 86 regular-season games. He has nerve problems in his back, making the team's dependence on him a cause for concern.
And he isn't the only Dodger with a troublesome medical history. Matt Kemp missed 89 regular-season games and Carl Crawford 46 last season. Kemp, who also missed the entire postseason, is unlikely to be ready for opening day; he still hasn't run after undergoing an off-season ankle operation.
The only Dodger to appear in more than 142 games was Adrian Gonzalez, who played in 157.
However, a $240-million payroll buys some margin for error.
Yasiel Puig, who at 23 is considerably younger than most of the team's other high-profile players, has never been on the major league disabled list.
Between the rotation and bullpen, the Dodgers might have enough quality arms to offset mild fluctuations in run production.
Kershaw and Zack Greinke could both contend for the Cy Young Award, and the bullpen includes four relievers who have been closers: Kenley Jansen, Brian Wilson, Brandon League and newcomer Chris Perez.
Kemp's anticipated absence isn't alarming because the Dodgers have three other frontline outfielders in Puig, Crawford and Andre Ethier.
Besides the team's health, here are five other story lines to be mindful of this spring:
Power grid
Puig's production declined significantly late in the season. The overnight sensation belted six home runs in September, but batted only .214 and struck out 22 times in 99 plate appearances.
Puig played in only 23 games of organized baseball in 2012, the year he defected from Cuba. Between the minors and majors, he played in a combined 164 games last year, counting the playoffs, so he might have been fatigued late in the season.
However, some scouts believe the drop-off was the result other teams pounding Puig with inside fastballs.
If opponents have figured out Puig, the Dodgers are likely remain overly reliant on Ramirez. With Kemp's status uncertain, Puig is the team's only consistent source of home-run power outside of Ramirez.
Arms dealing
Kershaw, a two-time Cy Young Award winner at age 25, pitched a career-high 259 innings in 2013, counting the postseason. The last Dodgers pitcher to throw as many innings was Orel Hershiser, who threw 309 2/3 innings in 1988. Kershaw not only pitched into October, he is expected to pitch on opening day, which will be about a week earlier than usual. The Dodgers' first game will be March 22 in Australia against the Arizona Diamondbacks.
The Dodgers figure to pay close attention to Kershaw's workload, as they have committed $215 million to the left-hander over the next seven seasons.
Second chances
The Dodgers want Cuban defector Alexander Guerrero to be their everyday second baseman but aren't certain he'll be ready to play the position in the major leagues by opening day.
Guerrero, 27, is a lifelong shortstop who hasn't played an inning in the major leagues. He was supposed to play second base in the Dominican winter league, but hamstring problems limited him to a handful of games.
Among alternatives, speedster Dee Gordon has the highest upside. However, Gordon hasn't shown he can hit major league pitching. Slick-fielding Justin Sellers and Miguel Rojas also have significant offensive shortcomings.
That means that if Guerrero isn't immediately ready, the Dodgers' opening-day second baseman could be a player in camp on a minor league contract, such as Justin Turner, Brendan Harris or Chone Figgins.
Navigation system
Ownership made a statement during the winter when they re-signed Manager Don Mattingly for three years. Now, Mattingly will have to live up to the deal.
In his first three years as manager, Mattingly received high marks from his players for how he communicated with them.
But his decision-making has been widely questioned. Three of Mattingly's relievers last season pitched in 75 or more games, including then-rookie Paco Rodriguez, who was clearly out of gas in September. Mattingly was also criticized for how he ran games in the playoffs.
Mattingly will have a new bench coach this season. Trey Hillman was dismissed over the winter and replaced by former third-base coach Tim Wallach.
Chemistry test
Mattingly's mentor and predecessor, Joe Torre, used to downplay the importance of team chemistry.
Not everyone shares that view. General Manager Ned Colletti prides himself on collecting players who are solid citizens.
Mark Ellis, Nick Punto and Skip Schumaker were three of the most respected players in the clubhouse last season. All are now with other teams.
With the Dodgers expected to have significantly younger players on their bench this year, new voices will have to emerge.
"You have a good group of character guys in that clubhouse still," said Punto, who signed with the Oakland Athletics. "They'll be just fine. They signed Clayton Kershaw, which is the smartest thing anybody could ever do. Juan Uribe, he's huge in that clubhouse. You have Brian Wilson, who is a character guy. We had a really good thing going last year and it won't change."
Twitter: @dylanohernandez
---
Get our high school sports newsletter
Prep Rally is devoted to the SoCal high school sports experience, bringing you scores, stories and a behind-the-scenes look at what makes prep sports so popular.
You may occasionally receive promotional content from the Los Angeles Times.