Klay Thompson ties record for three-pointers without a miss as Warriors rout Lakers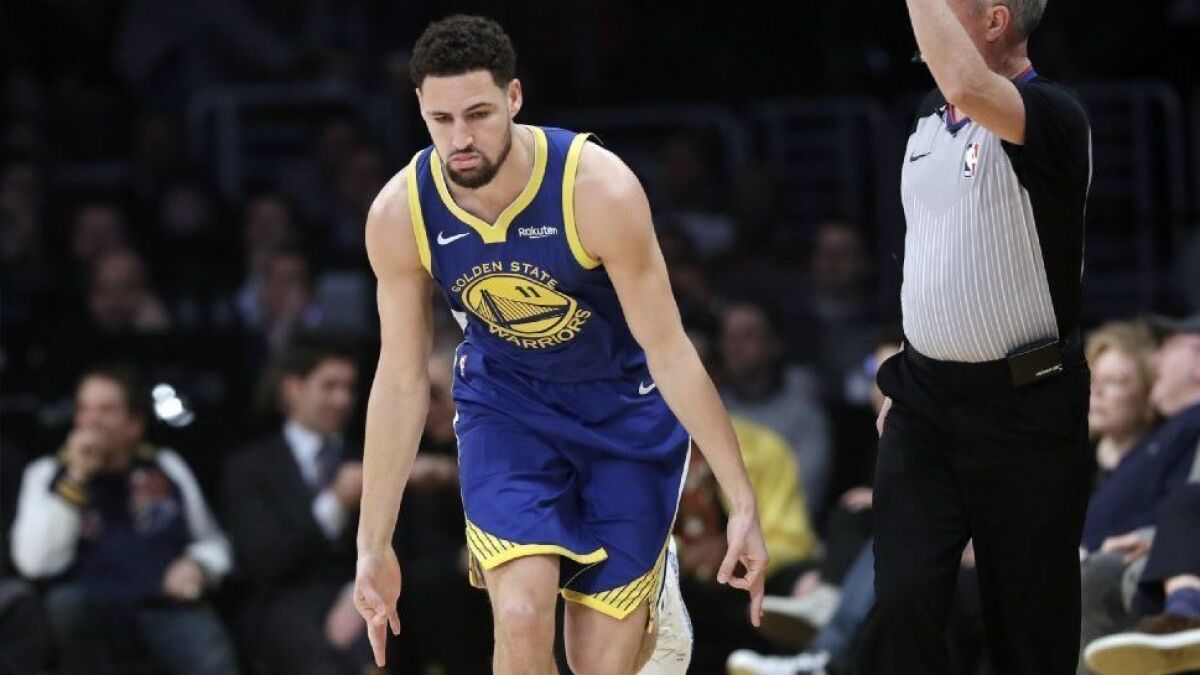 Klay Thompson hopped on his left foot, slowly at first and then turning 360 degrees in front of the Lakers bench. He'd just made his 10th three-pointer in 10 attempts, and he was feeling good.
Minutes later, likely hoping for some theatrics of his own, Stephen Curry drove into the paint alone on a breakaway and gathered himself for something that never came to fruition. Curry slipped and fell on his back, instead.
"I thought it was going to be one of those layups where he just pulls the rim down a little bit," Golden State coach Steve Kerr said.
Curry got up to chase the ball. Andre Iguodala tossed the ball back to him, and then Curry airballed a three-pointer.
Lakers fans cheered and laughed about the sequence. But that was about the only thing that went wrong for the Warriors on Monday night at Staples Center.
The Warriors dominated the Lakers 130-111 behind 44 points from Thompson. He made 10 three-pointers before missing, tying an NBA record, scored 23 points in the third quarter and hit 17 of 20 shots overall.
"It just happened to be one of those nights," Thompson said. "That's the best percentage I've ever shot. It happened to be one of those nights, man. It's hard to explain."
The Lakers could hardly explain it either.
"You gotta tip your hat to him," forward Kyle Kuzma said. "Any time somebody gets that hot in a zone like that, it kind of just feels like everything you throw up is going in. Obviously you know you can do a little bit better defensively. I think a lot of his shots were pretty contested. Credit to him for hitting them."
Despite an off shooting night, Curry still produced a double-double with 11 points and 12 assists. Kevin Durant added 20 points for the Warriors, outscoring every one of the Lakers, who were led by Ivica Zubac's 18 points. Brandon Ingram scored 17, Kuzma 16 and Michael Beasley 15.
"We didn't get the job done early enough and then once they found a rhythm, they're impossible to shut off," Lakers coach Luke Walton said.
The last time these teams saw each other, the Lakers beat the Warriors in Oakland. The win came with a price. The Lakers lost LeBron James to a groin injury and Rajon Rondo to a severe finger sprain during that game. They haven't been the same since.
Monday's game was the Lakers' 14th without James, who returned to practice but might miss a few more games. Walton said Rondo will return for Thursday's game against Minnesota, provided he doesn't have any setbacks.
"Gives us a leader," Ingram said. "... Puts us in our spots on the offensive end. Pushes the pace. He can score the basketball. He just makes our team better."
Sign up for our Lakers newsletter »
Already shorthanded, the Lakers lost point guard Lonzo Ball to a torn ligament in his left ankle on Saturday. He's expected to miss four to six weeks.
Without either point guard available, the Lakers moved Ingram to the point for Monday's game and started Josh Hart.
But while the Lakers injuries worsened during the past month, the Warriors grew stronger.
DeMarcus Cousins returned Friday after missing 45 games with a torn Achilles tendon. As a free agent last summer, the injury severely damaged his market and the Warriors were the only team to offer the four-time All-Star center a contract.
In his debut against the Clippers, Cousins scored 14 points in 15 minutes. On Monday, Cousins scored eight points with nine rebounds in 21 minutes against the Lakers.
While the Warriors always seemed in control, the blowout didn't start until the second half. The Lakers, down by 10 at halftime, hadn't trailed by more than 13 in the first half.
Then the Warriors did what they do in the second half. They outscored the Lakers by 20 in the third quarter, led by Thompson, who almost couldn't miss. He scored 23 third-quarter points, making seven threes and his first eight shots overall before finally missing a three-point attempt.
No longer perfect, Thompson was removed from the game, the end result having long been determined.
"They showed why they're the champs," Walton said. "And they're starting to find their stride, not just against us but against the league right now."
Follow Tania Ganguli on Twitter @taniaganguli
All things Lakers, all the time.
Get all the Lakers news you need in Dan Woike's weekly newsletter.
You may occasionally receive promotional content from the Los Angeles Times.