The Chicago Cubs are all cuddly and lovable. They also are laying waste to the rest of the National League, on a mission to claim — stop me if you've heard this a million times before — their first World Series championship since 1908.
Misery is not exclusive to Chicago. The Cubs, at least, advanced to the NL Championship Series last year.
The Seattle Mariners are the not-so-proud owners of baseball's longest postseason drought. The Mariners last got into the playoffs in 2001, when Ichiro Suzuki was a rookie at an old 27 and Jamie Moyer a 20-game winner at a young 38.
See the most-read stories in Sports this hour>>
The Mariners have had twice as many managers as winning seasons since then. They have new leadership again this year, in General Manager Jerry Dipoto and Manager Scott Servais.
The Mariners lost their first five home games, scoring a total of seven runs.
"We played terribly for five days," Dipoto said. "The general feeling was a malaise: 'Here we go again. The sky is falling.' That was my introduction to the fact there was a history that has been developed here."
Seattle is 19-9 since then and in first place in the American League West this late in the season for the first time since 2003.
The superstars are doing superstar things. Second baseman Robinson Cano leads the AL in home runs and runs batted in, and Felix Hernandez has a 2.27 earned-run average, even as his walks are way up and his strikeouts are way down.
Taijuan Walker, 23, once a hot prospect rumored to be traded to the Tampa Bay Rays for David Price, has blossomed (2.63 ERA, and six strikeouts for every walk). Nelson Cruz, 35, is on pace to hit at least 20 home runs for the eighth consecutive season.
But this roster is more balanced than star-studded; the Mariners rank in the league's top five in runs, home runs, on-base percentage, slugging percentage, ERA among starters, and ERA among relievers.
"You walk into a Starbucks, or you walk down the street, and somebody wants to shake your hand," Dipoto said, "because they're really happy with where the team is right now.
"It's really cool."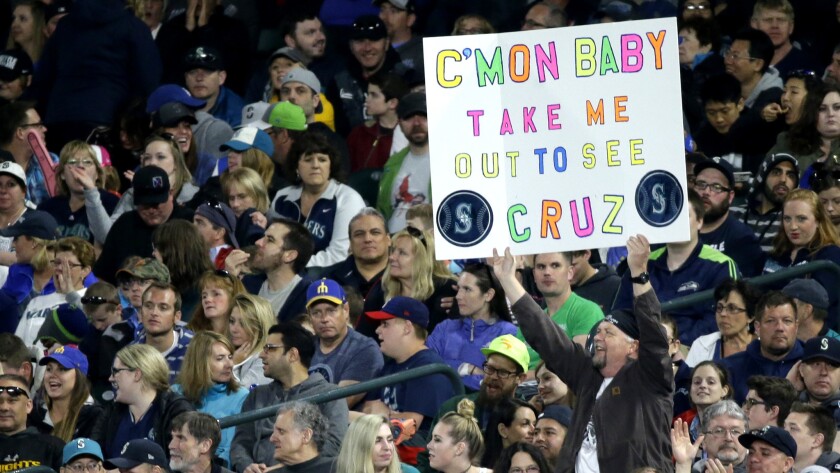 As the Mariners play the Angels this weekend, it is impossible not to notice that the team Dipoto left behind in Anaheim appears in crisis mode.
The bill has come due for wild free-agent spending, and just to get through last week the Angels had to trade for a 34-year-old minor league shortstop, call up a 31-year-old minor league shortstop, and use 33-year-old Daniel Nava as a cleanup batter, for the first time in his career.
Dipoto said his decision to resign as the Angels' general manager last July did not mean he saw this mess coming.
"That was all in the moment," he said. "That had built up over time. I wasn't angling for anything else.
"I'm very happy with the way things worked out. I think it was the right decision for me personally, and I think it was the right thing to do for the Angels. I'm sure they're happy with their alternatives as well."
The Mariners of Dipoto and Servais, who worked together in the Angels' front office, are six games over .500. The Philadelphia Phillies are six games over .500 under new General Manager Matt Klentak, who was Dipoto's right-hand man in Anaheim.
The Angels are on pace to lose 97 games, which would set a franchise record.
Elsewhere around the major leagues:
Special K: The most surprising element of Max Scherzer's 20-strikeout game Wednesday, at first glance, is that baseball had not had a 20-strikeout game since 2001.
Strikeouts have risen in each of the previous 10 seasons, up 22% from 2005. But, as strikeouts have gone up, pitch counts have gone down.
The pitch counts for each of baseball's 20-K games: Roger Clemens threw 138 in 1986 and 151 in 1996; Kerry Wood threw 122 in 1998; Randy Johnson threw 124 in 2001.
Scherzer threw 119, capping a special week for the Washington Nationals' pitching staff. On the previous day, the Nationals announced that Stephen Strasburg had forgone free agency and signed a $175-million contract extension.
Of the Nationals' five starters, the 20-K guy and the $175-million guy have the highest ERAs. In order: Gio Gonzalez 1.93, Tanner Roark 2.03, Joe Ross 2.29, Strasburg 2.95, Scherzer 4.15.
Rookie ball: In 2004, the San Diego Padres' baseball people wanted to select Jered Weaver with the first pick in the draft. Ownership wanted the local kid, a shortstop named Matt Bush.
Weaver made his major league debut in 2006. Bush made his major league debut 10 years later — on Friday, as a relief pitcher for the Texas Rangers. In the interim, he served more than three years in prison, after critically injuring a man while driving under the influence of alcohol.
The Rangers signed him as a project, on and off the field. He had not played above double A. He says he has been sober since the DUI crash, but he still must live with an accountability partner, either his father or Roy Silver, a Rangers staffer who played a similar role with Josh Hamilton as he battled drug and alcohol abuse.
It has been more than a year since the Angels traded Hamilton back to the Rangers. Texas has played 181 games since then; the oft-injured Hamilton has played in 50 of them.
Oh, brother: Melvin Upton's career had fallen so far that the Padres had to assume the balance of his $75-million contract to get closer Craig Kimbrel last year. Upton hit five home runs for the Padres last season. His brother Justin hit 26, then left San Diego to sign a $133-million contract with the Detroit Tigers.
Justin's departure left an opening in left field. Melvin came off the Padres' bench to fill it — and Melvin has four home runs to Justin's two. Justin's .564 OPS ranks among the bottom 10 in the majors, and the win-now Tigers and the win-later Padres each opened play Saturday five games under .500.
Labor peace: The length of the first two suspensions under baseball's domestic violence policy has been negotiated between the commissioner's office and the players' union. In a year in which owners and the union are negotiating a new collective bargaining agreement, that's a hopeful sign.
Jose Reyes accepted a 52-game suspension Friday; Aroldis Chapman previously accepted a 30-game suspension. Neither player appealed, so baseball avoided the risk of an arbitrator overturning or reducing a suspension.
Baseball's drug policy mandates suspensions of fixed lengths, but the domestic violence policy does not. It makes sense to negotiate the terms of a suspension rather than stage a public fight about it, but another player might choose to fight rather than settle.
That could compel an arbitrator to ask baseball to prove suspensions are determined by precedent and rule, rather than by what might seem to be arbitrary deals made behind closed doors. Two suspensions hardly make for precedent, and Hector Olivera is waiting on deck.
Follow Bill Shaikin on Twitter: @BillShaikin
---