Column: Kenley Jansen has been an effective All-Star campaign manager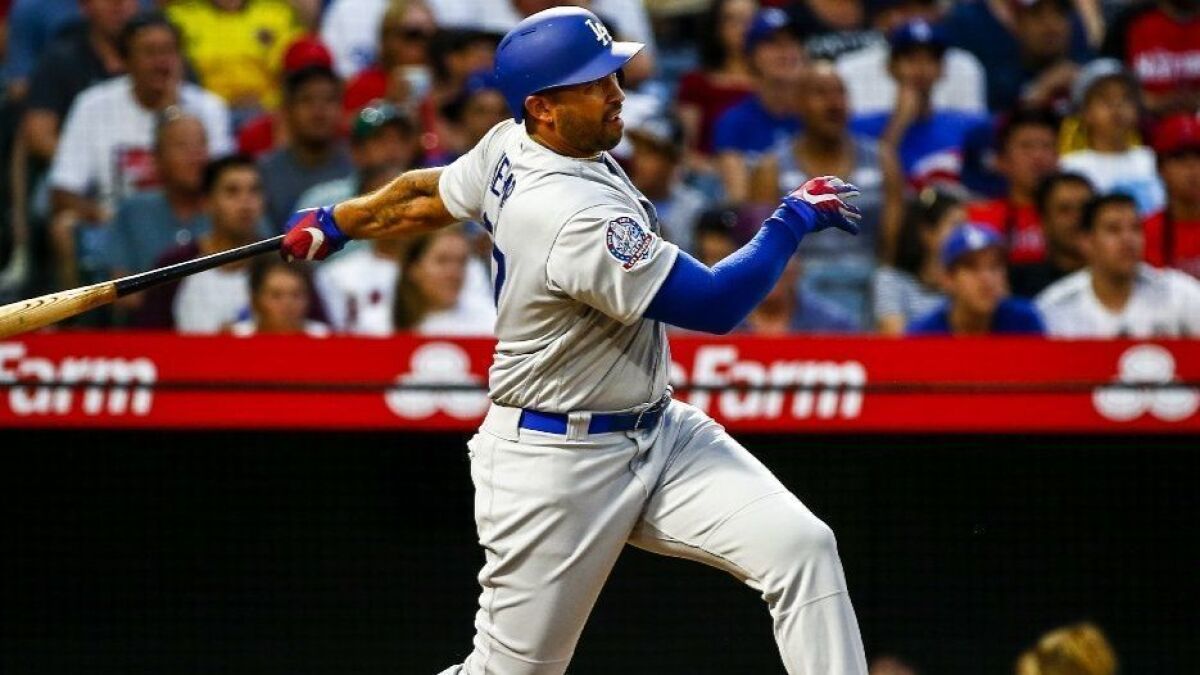 ON BASEBALL
Whenever his cut fastball stops cutting, Kenley Jansen might have a second career as a campaign manager, or a political orator.
On the day the All-Star selections were announced last year, the Dodgers' closer ripped the Dodgers' fans for not electing infielders Corey Seager and Justin Turner into the starting lineup.
"I'll say it loud and clear again," Jansen said that day. "It's the Dodger fans' fault."
That ignited a 48-hour brush fire online and on talk radio, and the next time the Dodgers opened their clubhouse, a team public relations consultant spoke with Jansen before the closer spoke with reporters. To his credit, Jansen retracted none of his words, saying he loved the fans and simply wanted to stick up for his teammates.
Here's the thing, though: Jansen got results.
The Dodgers and their fans immediately mobilized behind Turner, who won the "Final Vote," the last fan pick for last year's NL roster. And, on Sunday, outfielder Matt Kemp is expected to become the first Dodgers player elected to the NL starting lineup since Yasiel Puig in 2014.
The last Dodgers player elected before Puig: Kemp, in 2011 and 2012.
"I'll be very excited to see him be announced," Jansen said Friday. "I can't wait to see that. It's a long time coming for him. It's great for him.
"Dodger fans are great, man. I love them. I love being a Dodger. We have the best fans. They're great for voting for Matt."
If vote totals hold, Bryce Harper would join Kemp in the starting outfield for the NL. On that score, the fans have it right, and a surprisingly large number of analysts have it wrong.
This is an exhibition, for the fans, in a sport forever grasping for ways to market its best and most popular players. Over the last week, national analysts have proposed numerous All-Star rosters, full of supposedly deserving players, with Harper omitted.
Harper is batting .211. Big deal. The Dodgers' Davey Lopes once started an All-Star game batting .169, because fans voted to see him. And some of these same analysts have spent the last few years explaining why batting average should be devalued, and why teams put a greater emphasis on the "three true outcomes" – that is, home runs, walks and strikeouts.
Harper leads the league in walks. He leads NL outfielders in home runs, isolated power and walk rate. He ranks among the top 10 in NL outfielders in runs scored, runs batted in, on-base percentage and slugging percentage.
He could be the marquee attraction in the home run derby, in his home park, in an event starved for stars. He can be thoughtful and provocative when he speaks, as he did last year in proposing that captains pick teams for the All-Star game, a concept the NBA subsequently introduced.
Come on, who doesn't want to see Bryce Harper?
For that matter, who doesn't want to see Billy Hamilton?
To be clear: On merit, Hamilton has no case for an All-Star spot. But this is an exhibition, and who wouldn't want to see the NL, down by a run or two late in the game, putting Hamilton in as a pinch-runner and daring the AL to stop him? (Sorry, Brandon Nimmo. That would have been your spot.)
Of the 32 NL roster spots, why not use one in the best interest of the game, for a player that might electrify fans in anticipation of a stolen base, rather than risking them yawning through three-plus hours of modern baseball: a home run and strikeout derby posing as an All-Star game?
Frankly, the Cincinnati Reds ought to be fielding calls from contenders interested in trading for Hamilton to fill that very role in September and October.
And, although the Texas Rangers must have a representative, why should fans see Shin-Soo Choo at designated hitter when they could see Adrian Beltre from the Rangers and Giancarlo Stanton at DH? (Nitpickers: Beltre can DH, Stanton can play the outfield, whatever. A third baseman bound for Cooperstown and a guy who can hit the ball to the moon should not sit home for Choo.)
Our All-Star picks, following the rules that require 20 position players and 12 pitchers in each league, and one player from each team, and with preferred starters listed first:
NATIONAL LEAGUE
C: J.T. Realmuto, Marlins; Francisco Cervelli, Pirates; Yadier Molina, Cardinals
1B: Freddie Freeman, Braves; Paul Goldschmidt, Diamondbacks
2B: Javier Baez, Cubs; Ozzie Albies, Braves; Scooter Gennett, Reds
SS: Brandon Crawford, Giants; Trea Turner, Nationals
3B: Nolan Arenado, Rockies; Eugenio Suarez, Reds; Max Muncy, Dodgers
OF: Matt Kemp, Dodgers; Bryce Harper; Nationals; Nick Markakis, Braves; Lorenzo Cain, Brewers; Kyle Schwarber, Cubs; Christian Yelich, Brewers; Billy Hamilton, Reds
SP: Max Scherzer, Nationals; Jacob deGrom, Mets; Mike Foltynewicz, Braves; Jon Lester; Cubs; Aaron Nola, Phillies.
RP: Archie Bradley, Diamondbacks; Sean Doolittle, Nationals; Seranthony Dominguez, Phillies; Josh Hader, Brewers; Kenley Jansen, Dodgers; Adam Ottavino, Rockies; Kirby Yates, Padres.
AMERICAN LEAGUE
C: Wilson Ramos, Rays; Yan Gomes, Indians.
1B: Matt Olson, Athletics; Jose Abreu, White Sox.
2B: Jose Altuve, Astros; Jed Lowrie, Athletics; Whit Merrifield, Royals.
SS: Francisco Lindor, Indians; Manny Machado, Orioles; Andrelton Simmons, Angels.
3B: Jose Ramirez, Indians; Alex Bregman, Astros; Adrian Beltre, Rangers.
OF: Mike Trout, Angels; Mookie Betts, Red Sox; Aaron Judge, Yankees; Nicholas Castellanos, Tigers; Eddie Rosario, Twins.
DH: J.D. Martinez, Red Sox; Giancarlo Stanton, Yankees.
SP: Justin Verlander, Astros; Trevor Bauer, Indians; Gerrit Cole, Astros; J.A. Happ, Blue Jays; Corey Kluber, Indians; James Paxton, Mariners; Chris Sale, Red Sox; Luis Severino, Yankees; Blake Snell, Rays.
RP: Edwin Diaz, Mariners; Collin McHugh, Astros; Blake Trienen, Athletics.
Follow Bill Shaikin on Twitter @BillShaikin
---
Get our high school sports newsletter
Prep Rally is devoted to the SoCal high school sports experience, bringing you scores, stories and a behind-the-scenes look at what makes prep sports so popular.
You may occasionally receive promotional content from the Los Angeles Times.