The Padres are hitting rock bottom, and that's a good thing
Reporting from San Diego —
I wandered into the team store at Petco Park the other day, curious about which players the San Diego Padres were promoting. Among the jerseys and T-shirts, you could buy a Tony Gwynn or a Trevor Hoffman, a Dave Winfield or a Goose Gossage, a Randy Jones or a Steve Garvey or a Garry Templeton or . . .
What the heck? A Kurt Bevacqua?
That Kurt Bevacqua, the career .236 hitter best known in Los Angeles as the guy Tommy Lasorda once said "couldn't hit water if he fell out of a [bleeping] boat?"
Yep, that Bevacqua, a cult hero here for hitting a home run in the only World Series game the Padres ever have won, in 1984, and a community fixture and baseball commentator in the decades since then.
Good for him, then. But, seriously, where are the jerseys promoting the current players? The Wil Myers jerseys have been in stock all season. The Manuel Margot jerseys just showed up, and there aren't very many of them.
That was it for the current squad, at least as of last Wednesday. Really, who could blame the marketing folks? Other than Myers, an All-Star last season and signed for the next six seasons, this year's entire cast is subject to audition. Order a few hundred jerseys with anyone else's name, and you could be stuck with the bill if the guy is demoted, traded or released.
This is the Padres' season of extreme tanking and, on that score, things are going pretty well. They entered play Saturday with the worst record in the major leagues, the worst run differential and the worst on-base percentage. They were batting .219, and they ranked in the bottom five in the majors in earned-run average and errors.
The Padres could become the first team to carry three Rule 5 players for an entire season since the 2003 Detroit Tigers. That team lost 119 games.
These Padres are on pace to lose 107. In 1969, as an expansion team, they lost 110.
Not a word of this is meant to be critical. The Padres are doing exactly what they should be doing, voluntarily hitting rock bottom, for the best chance to build a championship contender. The Chicago Cubs did it; they won the World Series last year. The Houston Astros did it; they have the best record in the major leagues this year.
Over the last calendar year, the Padres spent more money on Latin American amateurs than on their major leaguers. The Padres are collecting as many ingredients as they can — foreign teenagers, high draft picks, prospects acquired by flipping veterans, Rule 5 players — and hoping two to three years of seasoning turns the pot into a championship stew.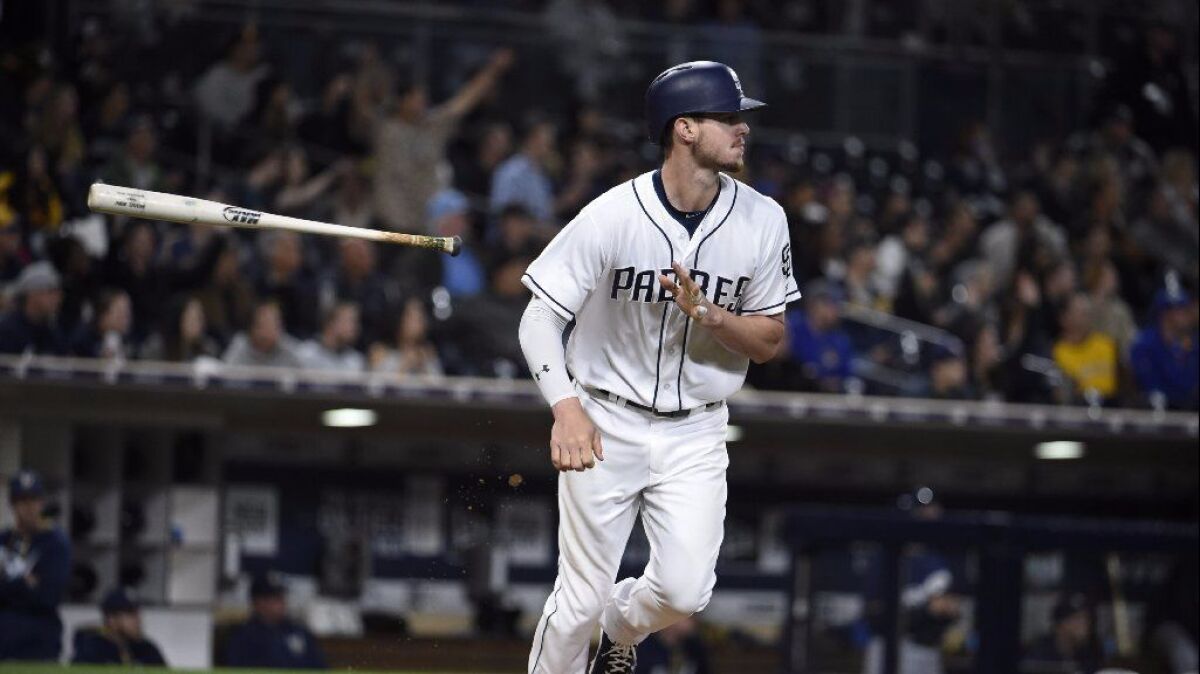 The Padres are not trying to pretend otherwise. They have been brutally honest with their fans.
"We look 'em in the eye," managing partner Peter Seidler told The Times last year, "and say, '2019 is probably the earliest you can see this strategy working.' "
Still, the Padres have a game to play every day, and more often than not lose, with a clubhouse in which most of the players won't be around to see 2019.
Andy Green, the team's manager, does his best to motivate players by encouraging them to live in the moment, to get a little bit better every day, to find victories in places besides the standings.
"It becomes a challenge in today's age," Green said. "Everybody is on Twitter. Everybody reads everything everybody says. Everybody is very cognizant of what the world's perception is.
"You're fighting a cultural battle. You have to create something special inside the house, so guys will guard their minds, guard their focus and show up every day to play. Without a doubt, it's a challenge, but a challenge I welcome every single day."
Green might be the perfect guy for the job, a 24th-round draft pick who played on four triple-A teams and a Japanese team before turning to coaching at 33. He is a builder and a fighter, the scrappy sort who swats away the question of whether he ever sees the Dodgers or Cubs on television and thinks about how much fun he might have managing a powerhouse team, even for a day.
"No," he said. "I think that's the answer you want to give to the media even if it's not the truth, but it is the truth.
"I wake up and get excited about helping the group of guys I've got become the best version of themselves."
Within the last two years, the Padres have jettisoned Matt Kemp, Craig Kimbrel, Derek Norris, Drew Pomeranz, Fernando Rodney, James Shields and Justin Upton. They set 2019 as the target date for contention and decided Myers would be the guy around which they would build.
But why would Myers sign up for six years of this?
"It's hard to turn down $80 million, for one," he said.
God bless honesty. Beyond that, though, he said he walked over to the minor league camp during spring training, to scout all these hyped prospects for himself.
"I saw a ton of talent," Myers said. "I do know the Padres organization has strength in numbers, and you can't help but think a couple of those are going to click in a big way."
The Padres this season have handed center field to Margot, right field to Hunter Renfroe and catcher to Austin Hedges. Margot leads major league rookies in hits but has a .317 OBP as the Padres' leadoff batter, Renfroe has eight home runs but strikes out about once every three at-bats, and Hedges leads major league catchers with eight home runs but is batting .217.
The Padres' tanking affords them the luxury of letting the kids play through their growing pains, but just getting younger as the Dodgers grow older is not in itself a recipe for success.
Renfroe is 25. Hedges is 24. Margot is 22.
The Dodgers' counter: Corey Seager is 23. Cody Bellinger is 21. Julio Urias is 20.
"[Clayton] Kershaw is what, 29?" Myers said. "He's not old."
When Baseball America this month ranked its top 100 prospects, the Padres had four. The Dodgers had five.
"The Cubs still have good teams in their division," Myers said. "The Cardinals are still good. The Pirates are still good. We're going to start to get better and compete. Maybe we miss out on the playoffs once, and then we get back there. We just want to get a taste of what postseason baseball is about, in late August and September. Once we have that, I think we're really going to take the next jump."
Said general manager A.J. Preller: "We don't go into it saying, 'We want to be good in two years because these seven teams are going to be weak.' If you're strong, you know you'll be competitive."
The Padres' top pitching prospect, Anderson Espinoza, has not pitched this season because of elbow soreness. Their most touted international pitching signee, Adrian Morejon, is expected to make his pro debut later this season.
"It's not just one player we're hanging our hat on," Preller said.
They did not want to rush any of their pitching prospects, so they filled a $7-million rotation with veterans Trevor Cahill, Clayton Richard and Jered Weaver. For Weaver, who spent his previous 11 years with the Angels, playing before sparse crowds on a team not trying to win is an entirely new experience.
There is a theory that tank jobs are a bad look for the sport, that fans paying for a major league game should see major league talent. But, just like the teams, the fans can choose how to spend their money.
The Padres' attendance is down 11% from this time last year. No weekday game has attracted even 20,000 fans.
"On the weekends, we get some great crowds," Weaver said. "There are some very loyal fans that are here all the time, showing their love."
And then, with a twinkle in his eye: "There's not too many sports teams around San Diego anymore."
The Padres might take a few years before they challenge the Dodgers. Around here, a slow charge is better than no charge at all.
Follow Bill Shaikin on Twitter @BillShaikin
Get our high school sports newsletter
Prep Rally is devoted to the SoCal high school sports experience, bringing you scores, stories and a behind-the-scenes look at what makes prep sports so popular.
You may occasionally receive promotional content from the Los Angeles Times.