UCLA star linebacker Anthony Barr leaves practice with unknown injury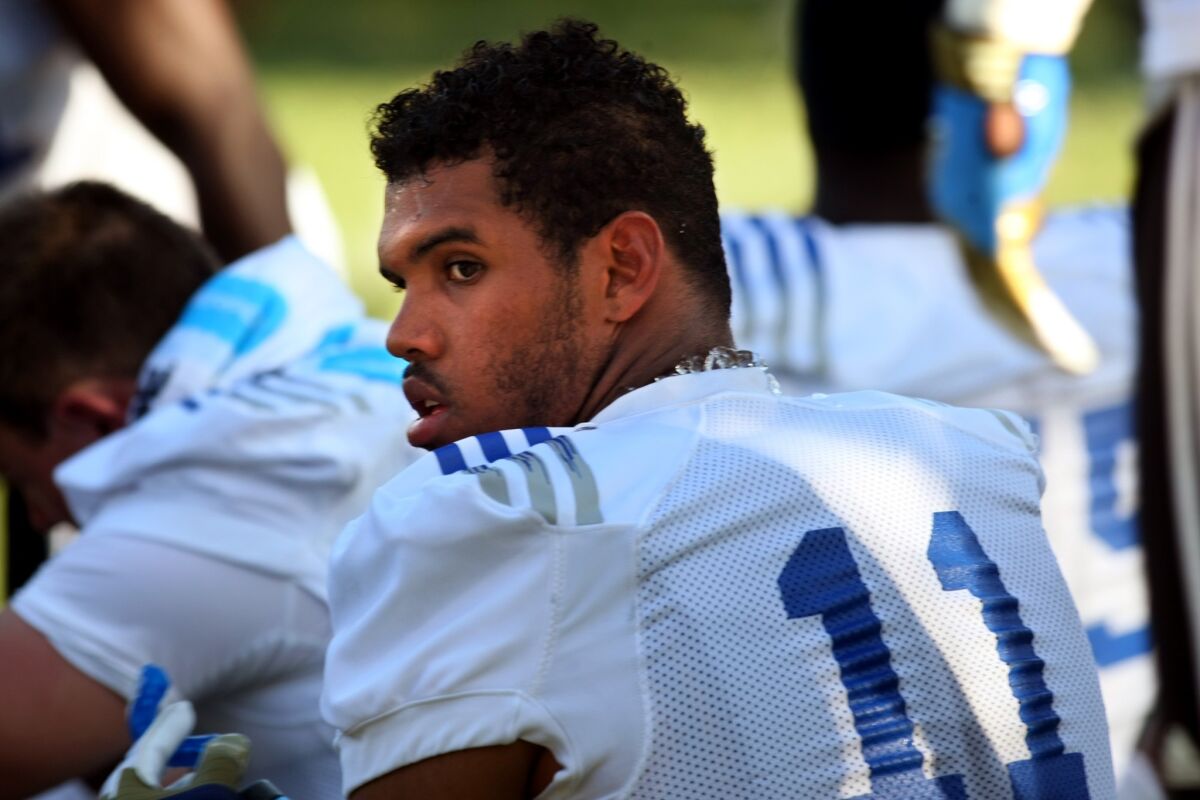 Anthony Barr, UCLA's All-American linebacker, was led off the field during practice Tuesday with an undisclosed injury.
UCLA Coach Jim Mora, who had not been scheduled to meet with the media, declined to comment.
Barr was injured during an 11-on-11 team drill. The Bruins were in a full contact, but Barr was injured during a running play, in which he appeared to take a hit from an offensive lineman.
A trainer examined Barr on the sideline. Barr was not limping, but he did double over as if he were sick.
The trainer took Barr's helmet, which is a precaution if a player has concussion-like symptoms. Barr was led out a back gate at Spaulding Field. UCLA officials were having a fundraising event and several donors were at the front entrance.
"We were all trying to figure out what happened," linebacker Jordan Zumwalt said. "We don't know."
Losing Barr for any significant time would be a severe blow to the Bruins. He is the cornerstone of a defensive front that is a team strength.
Barr moved from Y-back to linebacker last season and had a breakout season. He finished with 13.5 sacks and was named second-team All-American by the Associated Press.
Barr nearly declared for the NFL draft, and one NFL team scout said he would have been a first-round pick. Barr decided to return to UCLA and is considered a top-10 pick the NFL draft this spring.
"Anthony is a big part of our defense," Zumwalt said. "We got guys, we got backups, yes. We have a lot of talented backers. But Anthony is a key part of this defense. Hopefully, he's OK."
Aaron Wallace moved from the left side linebacker to Barr's spot on the right with the first team. First-year freshman Myles Jack took Wallace's spot. Redshirt freshman Kenny Orjioke also played Barr's spot with the first team.
"I don't even know what happened," Wallace said. "Hopefully, he is all right and will be back on the field soon."
If not, Wallace said, "obviously he is a great player, but we have good people behind him. We'll just pick it up."
Kendricks back
UCLA linebacker Eric Kendricks can be trusted with state secrets.
Kendricks, a senior linebacker, returned to UCLA practice full-time Tuesday after rehabilitating from an ankle surgery.
Just what exactly was wrong with the ankle?
"I'm not allowed to discuss that with you," Kendricks said.
Even the timetable the team's medical staff set for him was a forbidden topic.
"I'm not allowed to discuss that," he said.
What was open for discussion was how much better the Bruins are with him back. Kendricks last season led the Pac-12 Conference and finished ninth nationally with 151 tackles.
"He's a leader on this team," Mora said. "To have him out there in the huddle, directing things and looking like he did is a great thing for us."
Kendricks said he had surgery four weeks ago.
"They gave me a time period and I knew I'd be in treatment every day," Kendricks said. "I wasn't too worried about the time frame. I was going to get back when my body told me it was right."
Quick hits
After every practice, Mora is hopeful tackle Simon Goines will be back for the next workout. But Goines remains limited to working out on the side because of a knee injury.
Xavier Su'a-Filo has shifted to Goines' tackle spot and first-year freshman Kenny Lacy has been at guard.
Offensive line coach Adrian Klemm said of Lacy: "He has a pretty good football IQ. He is picking things up a little faster than some of the others."
First-year freshman Alex Redmond, who has been out with a concussion, could also be in the mix once he is fully cleared to practice.
Twitter: @cfostertlatimes
---
Get our high school sports newsletter
Prep Rally is devoted to the SoCal high school sports experience, bringing you scores, stories and a behind-the-scenes look at what makes prep sports so popular.
You may occasionally receive promotional content from the Los Angeles Times.