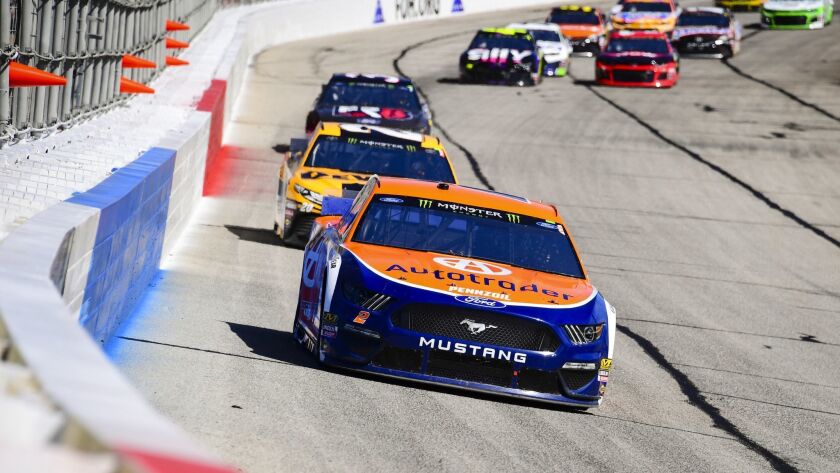 NASCAR has a long history of rivalries — Richard Petty versus David Pearson, Dale Earnhardt Sr. versus Jeff Gordon, Kyle Busch versus just about anyone near his rear quarter panel.
But as big-league stock car racing returns to Southern California this weekend, it seems the main battle swirling about NASCAR is between the sport and itself.
Determined to find something that will reverse years of drooping attendance and television ratings, NASCAR rolled out new regulations this year that altered the cars' horsepower and certain aerodynamic features at many of the 36 races in its premier Monster Energy Cup Series season.
The goal is to bunch the field, spawn more passing and make 400 or 500 miles of racing more tantalizing to watch, thus enhancing the fans' interest and, hopefully, attracting new eyes to the sport.
NASCAR wants "the side-by-side racing that fans love," Steve O'Donnell, NASCAR's executive vice president and chief racing development officer, said last October.
So "the new rules package" has dominated the talk among drivers, the media and fans on social media so far this season, and now the package will have its initial test at Auto Club Speedway in Fontana with the Auto Club 400 on Sunday.
The drivers are scheduled to hold their first practice at Fontana on Friday at 10 a.m. PDT, followed by qualifying at 2:40 p.m. to set the race's starting field. Drivers in NASCAR's second-tier Xfinity Series also will practice during the day for their race Saturday.
The impact of the Cup series' changes, which mostly affects races on oval tracks one mile or longer, seems inconclusive so far. The Fontana track will be another interesting trial because the cars have a history of being strung out as they circle the wide, sweeping and fast two-mile oval, where historically speeds topped 200 mph as the drivers dived into the first turn.
If the new rules pack the cars more tightly, "the potential for a great race is liable to happen at that track," Denny Hamlin, who won the season opening Daytona 500, told reporters in Phoenix last week. "That's probably going to be one of the biggest drafting tracks that we have all year long."
But some other drivers have groused that the changes, by forcing everyone closer together, negate too much of the driver's skill or his ability to pull away. Others are growing tired of talking about it because the topic has been endlessly debated.
"Why worry about it?" Busch said last week before he swept both the Cup and Xfinity races at the one-mile Phoenix track. "I don't know what it's going to be. Let's just race it out."
This much appears evident so far: The rules changes don't mean the entire field has been equalized. Teams with the deepest pockets continue to win Cup races as before, starting with Hamlin of Joe Gibbs Racing at Daytona, Team Penske drivers Brad Keselowski and reigning Cup champion Joey Logano at Atlanta and Las Vegas, respectively, and then Gibbs' Busch at Phoenix.
But another top driver, Jimmie Johnson of Hendrick Motorsports, continues to struggle.
The seven-time Cup champion, who drives the No. 48 Chevrolet, normally is a perennial favorite at Fontana — the El Cajon native's home track — because he has the most Cup wins at Auto Club Speedway with six. But his last victory there came in 2016, and Johnson now has gone 63 races without a win anywhere.
Hendrick shuffled its personnel this season in hopes of helping Johnson rebound, moving Johnson's longtime crew chief Chad Knaus to the No. 24 car driven by William Byron and replacing Knaus with Kevin Meendering on Johnson's car.
Do NASCAR's changes complicate Johnson's comeback effort?
"I'll race whatever they bring," the 43-year-old Johnson said of the rules. "I'm here to figure out whatever the rules package is, and I've been doing this long enough to have a lot downforce, no downforce, a lot of power, no power.
"We have not gotten off to the start that we expected to" this season, Johnson said before finishing eighth at Phoenix, his best finish this season. "We're learning as we go, and we just have to do a better job."
NASCAR's fans are waiting to see how the changes play out as well, and Hamlin thinks their curiosity will be good for the sport.
"The fans know that this is a new type of NASCAR racing that is being put in front of you," Hamlin said, "and so they want to see what it's all about."
---