Column: Is Houston too good for its own good?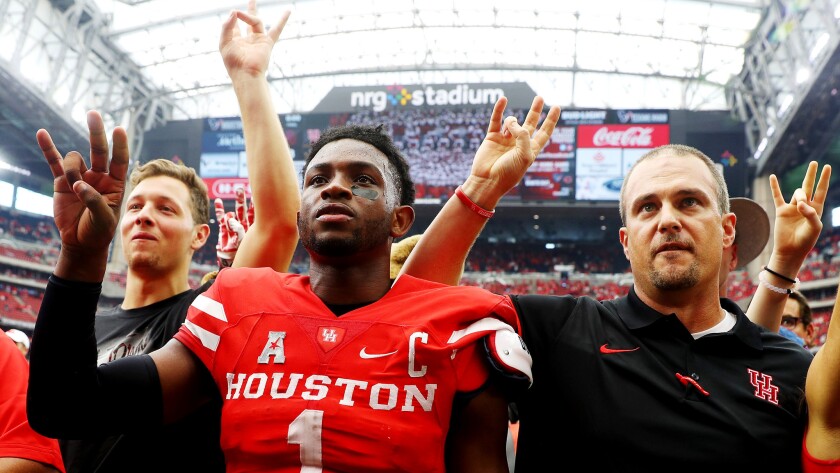 Did Houston Coach Tom Herman really do himself any favors Saturday?
Oh sure, the coach had to thoroughly enjoy his 15th-ranked team's 33-23 upset over No. 3 Oklahoma.
But the coach might have cost himself millions, or at least delayed the payment.
Houston has openly campaigned to join the Big 12 Conference, and at halftime of Saturday's game, Herman's boss, Athletic Director Hunter Yurachek, told reporters that he had promised the coach a $5-million bonus if a Power Five Conference were to pick up the Cougars.
Great. So what conference wants any part of those cats now?
Any chance the University of Oklahoma president votes yes?
Big 12 Commissioner Bob Bowlsby — and what a great name he has for a football story — attended the game at NRG Stadium in Houston. Beforehand, he had little to say about the conference expanding from its current 10 teams.
Bowlsby and other conference officials are expected to meet with officials from Air Force, Brigham Young, Central Florida, Cincinnati, Connecticut, Colorado State, Houston, Rice, South Florida and Tulane.
Then again, they probably saw all they needed to see about Houston.
Comeback kid
It's doubtful a running back after a one-yard loss ever received the kind of ovation James Conner got after his first carry for Pittsburgh.
Conner's carry came nine months after he told his team he had been diagnosed with Hodgkin's lymphoma.
He was declared cancer free May 23, but his comeback as an athlete was still ahead of him; he had to regain strength after a dozen chemotherapy treatments.
Well, he's all the way back.
Conner finished with 53 yards in 17 carries, and he scored twice — one run and one pass — to lead the Panthers to a 28-7 ictory over Villanova.
Oddly, Conner can credit a season-ending knee injury he sustained in last year's opener for saving his life.
It was while he worked to recover from the injury that he noticed he was out of breath, dizzy and his face was swollen. A chest x-ray and a PET scan revealed a tumor, and he was able to get treatment in time.
Grad school
New Oregon quarterback Dakota Prukop, the latest graduate transfer to guide the Ducks, had a pretty good day in a 53-28 victory over UC Davis, completing 21 of 30 passes for 271 yards and three touchdowns, and also scoring on a one-yard run.
However, it wasn't quite as good as when he last faced the Aggies.
Two years ago, as quarterback for Montana State, Prukop accounted for six touchdowns against Davis, completing 17 of 22 passes for 361 yards and four scores and running for 148 yards and two touchdowns.
And that was in only three quarters.
Take that
The game's biggest, baddest, roughest, toughest college football conference didn't have all that dominant of a first weekend.
Of course, we're talking about the mighty Southeastern Conference.
Wisconsin, with a defense guided by former USC coordinator Justin Wilcox, slowed Leonard Fournette enough to upset No. 5 Louisiana State, 16-14; West Virginia roughed up Missouri, 26-11; and South Alabama, a team with one bowl appearance in its five-year Football Bowl Subdivision existence, upset Mississippi State, 21-20.
You also had Texas A&M taken into overtime by a whimpy Pac-12 team — hey, not my term; we're talking SEC sentiment here. Also, Arkansas barely snuck past Louisiana Tech and Tennessee barely escaped Appalachian State.
Yes, there's Alabama, but it doesn't count because it's … Alabama.
Georgia rallied past North Carolina, so that was good. But Auburn's chances in a night game against No. 2 Clemson weren't good.
So what happened?
For one, it's early in the season and some teams take longer to find a rhythm than others.
And then there's the natural ups and downs of college football.
Consider Westin Graves' day. The Mississippi State kicker started out by drilling the longest field goal of his career, 47 yards.
Then he missed from 46 yards and, with the game on the line, a chip shot from 28 yards out with six seconds left, leaving his team, a 28-point favorite, with a loss.
Suit them up
Michigan not only has a media-star coach, it has iconic honorary captains.
The first, for the opener against Hawaii, was Michael Jordan — a North Carolina guy?
Then comes NFL Network personality Rich Eisen (OK, off week), then New England Patriots quarterback Tom Brady and, later in the season, for the Oct. 22 homecoming game against Illinois, Major League Baseball home run king Henry Aaron.
Brady's week had to come early, of course, because of the NFL season. But at least he has more time this year. The former Wolverine is suspended four games for his role in Deflategate, making him ineligible to play for the Patriots until Oct. 9.
Quick hits
Georgia Tech's win over Boston College in Dublin came even though the Yellowjackets' streak of scoring at least 20 points in 21 consecutive conference games was snapped. That streak was the second-longest in the Power Five conferences, behind only Texas Christian, which extended its run to 23 games. … What a day for Bart Houston, the Wisconsin quarterback who was making his first college start as a senior. That start was made in Lambeau Field, where the quarterback for whom he was named, Bart Starr, used to roam. Houston completed 19 of 31 passes for 205 yards as the Badgers upset No. 5 LSU, 16-14. Come to think of it, the college he shares a name with had a pretty good day as well.
mike.hiserman@latimes.com
Twitter: @MikeHiserman
---
Get our high school sports newsletter
Prep Rally is devoted to the SoCal high school sports experience, bringing you scores, stories and a behind-the-scenes look at what makes prep sports so popular.
You may occasionally receive promotional content from the Los Angeles Times.