Less than a week after Ohio State issued an investigative report on football coach Urban Meyer, it remains difficult to see past the lurid details.
The university found that for too long, Meyer and the school's athletic director failed to take action against an assistant coach with a history of domestic abuse accusations and highly questionable behavior.
Alleged violence was only part of it. The report mentioned sex toys, explicit photos, a strip club and an office affair.
"There were red flags," Meyer said in something of an understatement. "I wish I had done more and I wish I had known more."
From a cynical point of view, the whole thing smacks of conspiracy, with Meyer and athletic director Gene Smith sweeping an ugly situation under the rug so as not to embarrass or otherwise jeopardize their powerhouse program.
The report suggests otherwise, finding a series of mistakes and poor judgment but no "deliberate cover-up." The university issued relatively mild suspensions, with Meyer sitting out the first three games of the season and Smith allowed to return to his job in mid-September.
Even if you accept this conclusion, there is something profoundly troubling about what happened in Columbus, something that underscores college football's ongoing struggle with domestic violence and sexual abuse.
"It's a huge failure," said Brenda Tracy, a rape survivor turned activist who tours the country talking to athletes. "Are we just going to keep pleading ignorance?"
::
The troubling chronology of Zach Smith began in 2009, when Meyer was coaching at Florida and Smith served as an intern on that staff.
According to the Ohio State report, Smith and his then-wife, Courtney, argued after a party at Meyer's house. Smith allegedly threw Courtney — who was pregnant at the time — against a wall. Gainesville police arrested him but she reportedly decided not to pursue charges and none was filed.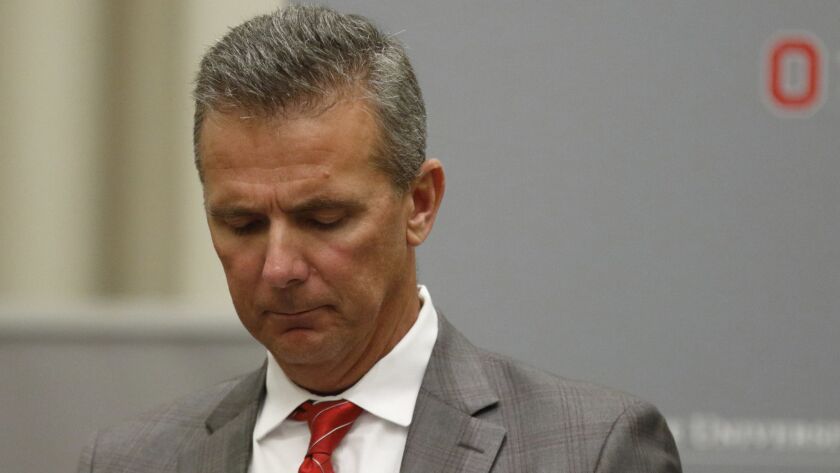 Meyer claims he spoke to the couple about counseling. Courtney denied meeting with the coach.
Two years later when Meyer jumped to Ohio State, he brought Smith aboard as a receivers coach but did not inform his superiors of the 2009 arrest because there was no formal charge and because he believed Courtney "was not being entirely truthful" about that night, the report stated.
Other issues soon arose. Smith was arrested in 2013 for driving while impaired and failed to inform anyone at Ohio State. The following year, he and another Buckeyes assistant ran up a $600 bill while entertaining one or more high school coaches at a strip club.
In the latter instance, Meyer chastised Smith and established a staff "morality clause," advising his assistants to avoid "strip clubs or venues that would embarrass The Ohio State University." He also prohibited pornography on school-issued computers and phones.
It was October 2015 when the university learned that police in the nearby city of Powell, Ohio, were investigating Smith for yet another domestic violence allegation and cyber offenses against Courtney.
Meyer and Gene Smith confronted him, warning that if charges were filed, he would be dismissed. They claim to have continued monitoring the situation but took no further action.
In the ensuing months, Zach Smith's behavior appeared to deteriorate as he and Courtney divorced.
Ohio State investigators say he was often late for practice and engaged in a sexual relationship with a secretary on the football staff. He allegedly took explicit photographs of himself inside team facilities and during a visit to the White House, when the Buckeyes were invited to celebrate their 2014 national championship.
Some of his colleagues — not including Meyer or Gene Smith — became aware that he had sex toys delivered to him at work.
Meyer did know, however, that Zach Smith was dealing with addiction to an ADHD prescription drug and helped direct him to a treatment facility in June 2016, the report stated.
"As a head coach, you're ultimately responsible for everyone's behavior," Meyer later said. "That's a very difficult thing to do; we all know that."
Smith might still be on the Buckeyes staff had an Ohio judge not issued a restraining order on Courtney's behalf, prompting the first of numerous media reports on July 23.
Meyer finally dismissed Smith that evening.
::
Much has been made of what Meyer did — and did not do — between 2015 and now.
Soon after the first story appeared, the coach told reporters at the Big Ten Conference media days that he had no previous knowledge of the 2015 allegation. When that proved untrue, he issued a public apology and was subsequently placed on paid leave.
The university report includes a somewhat cryptic reference to Meyer taking "medicine that can negatively impair his memory, concentration and focus." But it also notes that, a week or so after the media days, he spoke with associate athletic director Brian Voltolini about changing the settings on his school-issued cell phone to delete text messages older than a year.
It is unclear if Meyer took action, but investigators characterized the discussion as "concerning" and, when subsequently examining his phone, found no older texts.
The investigation also questioned Meyer's insistence that he knew nothing about previous conversations between his wife, Shelley, and Courtney Smith in which the women discussed the abuse accusations.
"We believe it is likely that Shelley and Urban Meyer had at least some communication about these allegations in late 2015 and were concerned about them," the report stated.
Again, even from a charitable perspective, Meyer and Gene Smith committed a fundamental error when they chose not to inform anyone else at the university about what was going on.
"Coach Meyer and AD Smith placed heavy reliance on the absence of formal law enforcement or court action," the report states.
In other words, they claimed to believe that because Zach Smith was not arrested or charged, there was no need to alert the university compliance or athletic compliance offices.
In fact, Meyer's employment contract obliged him to do so — "If any person or entity … has violated or is likely to violate or may potentially have violated any [applicable] laws." Gene Smith had a similar responsibility.
"While we find that both Coach Meyer and AD Smith believed in good faith that they did not have sufficient information to trigger any reporting obligation," investigators wrote, "we believe that they viewed the issue too narrowly through the lens of law enforcement action."
The report reinforced this idea by noting it is "well-established in the area of domestic violence and sexual abuse that complainants frequently — indeed, in the overwhelming majority of cases — may decide not to come forward or may cease to pursue charges when there has, in fact, been domestic violence or abuse."
As a longtime leader of The Drake Group, a college sports watchdog, David Ridpath has an especially strong reaction to Meyer and Gene Smith staying quiet.
"There are people at these institutions who are still afraid to address the issues," the Ohio University associate professor said. "They're willing to play situational morality when it comes to something they love and care about."
::
If anything, Ohio State officials fed suspicions of a cover-up in the way they announced the suspensions last week.
After a marathon deliberation by the board of trustees, the university called a news conference late in the evening, with little advance notice, giving reporters no time to study the 23-page report and ask informed questions.
Meyer did not help matters. The coach deflected some of the criticism by saying his judgment had been clouded because Zach Smith is the grandson of his longtime mentor, the late Earle Bruce.
More importantly, he seemed brusque and hardly remorseful, especially when asked if he had any message for Courtney Smith. Friday brought yet another public mea culpa.
"My words and demeanor on Wednesday did not show how seriously I take relationship violence," Meyer wrote on social media, adding: "I sincerely apologize to Courtney Smith and her children for what they have gone through."
All of this suggests a shortcoming in the way college football has dealt with domestic violence and sexual abuse. As a sports ethicist, Shawn Klein wonders if the Ohio State incident will spark a change nationwide.
"I'd like to think administrators and leaders at these institutions will take from this a couple of lessons," the Arizona State professor said. "One is to be more vigilant in cases like this. The second thing is to make their procedures, their policies, more clear."
But iron-clad reporting obligations might be only half the solution.
Big-time football teams generate millions in revenue and their coaches are often the most popular — and highest-paid — public employees in the state. Ridpath insists the rules must be accompanied by corresponding, unambiguous penalties. And by a willingness to enforce.
"You're talking about the hubris of college coaches," he said. "They need to be held accountable."
Follow @LAtimesWharton on Twitter
---