Santa Anita might abolish the use of whips by jockeys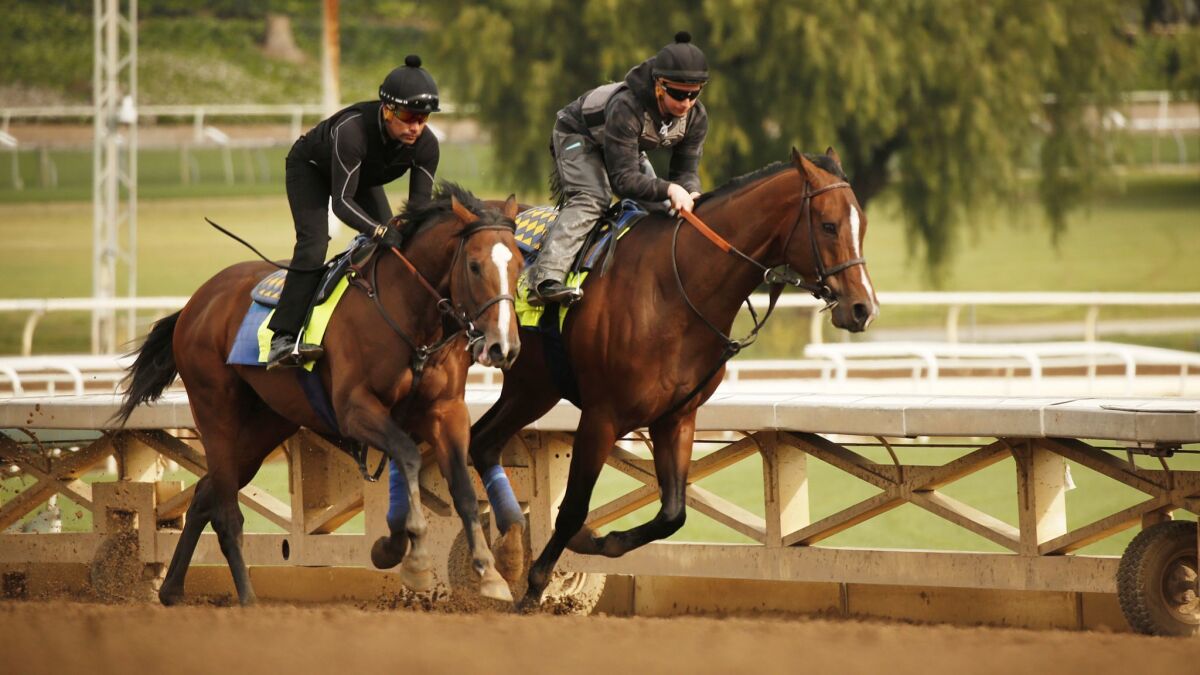 It was four years ago that American Pharoah made horse racing the biggest story in sports, if only for one weekend, when he became the first horse to win the Triple Crown in nearly four decades.
It was an accomplishment that never would have been realized had he not won the first of those races, the Kentucky Derby. And that victory may have never happened had jockey Victor Espinoza not used his riding crop — the more genteel name for a whip — at least 30 times on the horse down a furious stretch run. American Pharoah won by one length.
"I don't honestly know if I would have won without it," Espinoza said. "It just encourages them to go forward and [keep their mind focused.] It's really little more than something that makes noise."
Whether a whip can be used on horses racing at Santa Anita and Golden Gate Fields will be decided when the California Horse Racing Board meets in Arcadia on Thursday morning to discuss reforms proposed by Belinda Stronach, chief executive of The Stronach Group, which owns both tracks. Stronach made the recommendations after 22 horses died at Santa Anita between Dec. 26 and March 5, when it was shut down for racing. The meet is scheduled to resume Friday.
The use of a whip has not been connected to any of the catastrophic injuries. Stronach's proposal would prohibit its use except in cases of safety, such as a horse not keeping a straight line and putting itself or another horse in danger. A majority of jockeys are against the proposal.
"We've been in discussions with TSG on a compromise that would be in the best interests for our industry," said Terry Meyocks, president and chief executive of the Jockeys' Guild.
The compromise, according to a person with knowledge of the negotiations but not authorized to comment, said it deals with a modified or restricted use of the arm, akin to shortening one's stride.
Opinions on how much the whip hurts a horse are inconclusive. More certain is that the optics and sounds of a horse being struck as it seemingly runs its hardest at the end of a race is a public relations nightmare.
Mike Smith, who rode Justify to the Triple Crown last year, told The Guardian on Wednesday that the whip helps "a horse to focus when you need it, and a cue to move forward when you need it."
Smith, like some of the top jockeys in Southern California, won't be around for the track's reopening, instead riding for $35 million in purses in Dubai this weekend. Leading rider Joel Rosario, Flavien Prat and Joe Talamo will also be in Dubai.
"If you look at these things, it's like the Nerf bats that kids buy," Smith said Wednesday in Dubai. "They just make a bit of a noise and it cues [the horse] to move forward and stay focused. All it takes is a fifth of second to lose your focus and then you lose the race."
Sign up for our horse racing newsletter »
Today's whip is shorter, wider and softer than those used in the past, when some horses exited races with welts and bruises.
"It's definitely changed since I first started to ride as an [apprentice]," the 46-year-old Espinoza said. "The whole technology has changed, and how to use it, and how it's made. The new ones just basically make noise."
However, a 2012 independent study released by the Australian-based Royal Society for the Prevention of Cruelty to Animals found that 83% of whip marks left visual indentations and 64% of the time the unpadded part of the whip struck the horse.
A more recent Australian study shows that 74% of people oppose the use of whips. And 87% who watch or bet on the sport say they would continue to do so if whips were not allowed.
Norway outlawed the whip on horses 3 and older in 1982. Jockeys there believe that racing has not been impacted and would not use a whip even if it was allowed.
In California, a jockey can use the whip three times in succession and then must wait for the horse to respond before using it again. Violations result in a $100 fine that escalates with each subsequent infraction. In New York, a horse can be struck five times. Under the new proposal, a horse that is whipped may face disqualification.
"It's going to be up to the jockeys to decide," said Ron Anderson, the agent for Rosario. "[Management] needs to understand not all horses run freely; they need to be coaxed along. They need to be tapped to get their attention. But I'm the first believer that you never want someone flailing on them. Modifying the number of strikes or the way [a horse is hit] is certainly worth discussion."
Kerry Thomas of THT Bloodstock, who studies horse psychology and kinesiology and is an expert in herd dynamics, also favors a compromise.
"Your horse should want to run and you shouldn't use the crop for anything more than subtle urging," Thomas said. "Eradicating it completely can be dangerous and that does nobody any good, including the horse. You are not going to beat greatness into a horse. It's easy to do a lot of psychological damage to a herd animal.
"Sometime horses don't respond to the environment as fast as you want them to. So adding trauma doesn't do anyone any good. A horse can feel a fly land on its butt, so it certainly can feel the soft pass of a padded whip that is barely touching it. If there is a common-sense limited restricted use, that is the safest way to go."
Click here (or type in this url: lat.ms/2wVt90g) to sign up for our free horse racing newsletter.
---
Get our high school sports newsletter
Prep Rally is devoted to the SoCal high school sports experience, bringing you scores, stories and a behind-the-scenes look at what makes prep sports so popular.
You may occasionally receive promotional content from the Los Angeles Times.