In the moments after the Golden State Warriors eliminated the Houston Rockets to advance to the NBA Finals, anyone who decided to point out what seemed like an inarguable truth was going to hear from a vocal minority.
Some people thought the Rockets had been cheated. It wasn't the 27 missed three-point shots in a row that had grounded their team or the defense's inability to slow down the Warriors in the second half. It was the missed calls, the blind eyes to contact, the waved off made shots that caused the loss.
"Believing the NBA isn't rigged means you're living in a fairytale," John Lake (@lake20033) tweeted. "In a league that's been proven rigged by officiating," @fantasy_mancave wrote, "I think people have the right to (complain) but really shouldn't since they keep forgetting it's fixed."
There was no reason before Tuesday night to think either of these people were more than paranoid, conspiracy-loving and jilted fans. No one before Tuesday night really considered that the faceless handles on Twitter could — just maybe — belong to an NBA executive in disguise.
Not anymore.
A story filed on The Ringer by Ben Detrick pieced together a puzzle of five Twitter accounts allegedly tied to Bryan Colangelo, the Philadelphia 76ers' president of basketball operations. Some of the accounts were used to defend Colangelo, to disclose medical information about players, to complain about others on the roster and to discredit former and current NBA executives.
The report, which was the result of an anonymous tip, tied the longtime basketball executive to these Twitter accounts: @AlVic40117560 (Eric Jr.), @phila1234567 (No Name), @Enoughunkownso1 (Enoughunkownsources), @HonestA34197118 (HonestAbe) and @s_bonhams (Still Balling).
Four of the accounts, according to The Ringer's reporting, have been actively tweeting since April 2016 about topics ranging from University of Chicago basketball (where Colangelo's son, Mattia, played guard) to Toronto Raptors executive Masai Ujiri, who replaced Colangelo there, from Joel Embiid's off-court activity to medical information about former Philadelphia center Jahlil Okafor.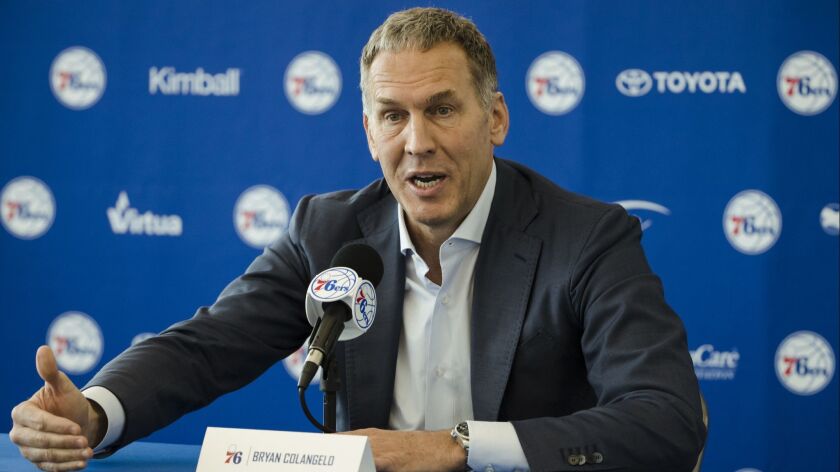 After The Ringer contacted the team about the Eric Jr. and No Name accounts, the other three "burner accounts" were switched from public to protected accounts.
Colangelo, in a statement to The Ringer, acknowledged running one of the accounts.
"Like many of my colleagues in sports, I have used social media as a means to keep up with the news. While I have never posted anything whatsoever on social media, I have used the @Phila1234567 Twitter account referenced in this story to monitor our industry and other current events," he told the website. "This storyline is disturbing to me on many levels, as I am not familiar with any of the other accounts that have been brought to my attention, nor do I know who is behind them or what their motives may be in using them."
After the report, the 76ers announced they would investigate the claims.
"An online media outlet filed a story linking multiple social media accounts to 76ers president of basketball operations Bryan Colangelo," the team's statement said. "The allegations are serious and we have commenced an independent investigation into the matter. We will report the results of that investigation as soon as it is concluded."
Colangelo, the son of former Phoenix Suns general manager, Hall of Famer and current USA Basketball managing director Jerry Colangelo, worked in the Suns' and Raptors' front offices before replacing Sam Hinkie in Philadelphia.
It's not uncommon for team executives to use anonymous Twitter accounts to monitor media members and news from around the league. At least three organizations in Los Angeles have or had members of the front office with accounts not linked to their names, according to sources with knowledge of the accounts who are not authorized to speak publicly on the matter. NBA Commissioner Adam Silver admitted to using an anonymous Twitter account to monitor the league.
The Ringer's report, which used several pieces of circumstantial evidence, even became a topic of conversation at media day for the NBA Finals in Oakland on Wednesday, with no one seemingly willing to address the topic head-on.
"A burner account? Nah," Warriors guard Nick Young joked when asked about his social media. "[I] just like to get hacked a lot. Sometimes I leave my Twitter open and people just write whatever on it."
This isn't new ground for the NBA — not even this season.
In September, tweets from Golden State forward Kevin Durant's Twitter account used the third person to criticize his former team, the Oklahoma City Thunder. The tweets were deleted and Durant apologized for going "too far."
Some speculated Durant was also operating a "burner account" and just forgot to switch to that handle before going after the Thunder for providing him with a subpar roster, a theory Durant denied.
Warriors coach Steve Kerr accidentally sent a tweet in February responding to a video sent to him of James Harden using an illegal side-step to shoot a three-point shot.
"It's an embarrassment," Kerr wrote. "I think the league is so happy with all the scoring that it doesn't want to enforce stuff like that."
"I thought it was a direct message," Kerr said with a smile. "My new iPhone is killing me."
Whatever the results of the investigation, this is the kind of story the basketball-obsessed corners of the Internet love. It's salacious, it's behind the curtain and it involves anonymous criticisms — one of the Internet's specialties.
Although the NBA Finals, with an unprecedented fourth consecutive meeting between the Warriors and the Cleveland Cavaliers, are set to begin Thursday, a second set of headlines for the league is never a bad thing.
"The whole Colangelo situation is great for the NBA. Finally brings some intrigued [sic] to basketball in late May and June. More talked about than the finals."
At least those are the thoughts of @HootiesEra, a basketball-loving, anonymous New York Yankees fan on Twitter.
Or maybe it's Adam Silver.
Times reporter Tania Ganguli contributed to this report.
Twitter: @DanWoikeSports
---