From South L.A. to the NBA: Allen Crabbe gives back to keep his family's school open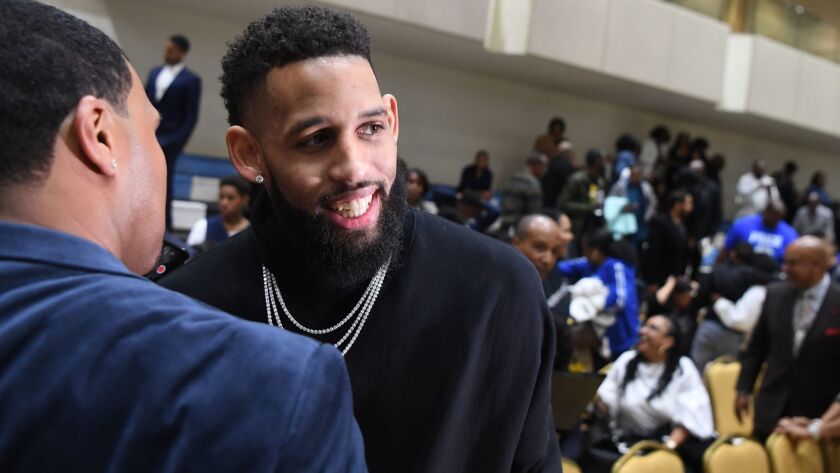 The dream used to be to play in the NBA.
That's what Allen Crabbe thought about when he was scoring baskets inside the gym at Frederick K.C. Price III Christian Schools in South L.A. It's what he thought about when he was the team's ball boy while in middle school. It's what he thought about when he was a junior who wasn't on the radar of college scouts.
It's what he thought about when he became one of the top prep players in the state, leading Price to a state title as a senior.
But sometimes, that dream can change.
Allen Crabbe made it to the NBA. He's a guard on the Brooklyn Nets in the middle of a four-year, $75-million contract. To people who have followed his career from the start, he's an unquestioned success. But last summer, he became more than that. With a single text message, whether he realized it or not, Crabbe became a hero.
That's a legacy that will end up meaning a whole lot more.
Sign up for our daily sports newsletter »
See Price isn't just a school — it's his family's school.
Crabbe, 26, started school there when he was 12 weeks old. It was founded by his grandparents and aunt, Angela Evans. His mother, Cheryl, is involved. His uncle is the pastor at the accompanying church that his grandfather founded. The school's legendary basketball coach is his godfather.
Generations of his family have attended. And, the hope was, generations more would too.
Price is a college prep school, an academic oasis in the middle of one of Los Angeles' most notorious neighborhoods. They boast about more than a decade with a 100% graduation rate for seniors and a perfect college acceptance rate.
Last June, none of that mattered. Crabbe's aunt and mother sat in a meeting, grappling with a fate for which no one was prepared — the school's closure. So Cheryl texted her son.
"You can say 'No' to this," she assured him. "You can say 'No.'"
She told Crabbe of the school's financial problems, how it would cease to exist, how Aunt Angie would have to tell the school board that Price wouldn't be open for the 2018-19 school year.
Crabbe had helped out before. Previous donations meant new computers in classrooms, better athletic equipment and new uniforms.
But this was different.
"It was going to be curtains," his aunt said.
Price didn't need a cash donation. The school needed a transfusion.
"Tell her I'll do it," Crabbe quickly replied.
His donation — about $400,000, according to people with knowledge of the situation but not authorized to speak about it — kept the school afloat. Its 175 students didn't have to have their schooling disrupted and 35 teachers kept their jobs.
"They say good things happen to good people, man. I wasn't doing this for any publicity, any fame. … It's never been about that for me," Crabbe said. "I was just doing this to save my family's school…
"I always had this vision of playing in the NBA. I never really realized what came with it. This is the foundation that's been built around me since I was a young kid. And I look at people like my grandfather and my family. That's all they've been — cheerful givers. They give and give. They've helped so many lives. I want to follow in those footsteps — because you reap great things from doing things like that."
Crabbe got a taste of the rewards Wednesday. The school named the court after him, a permanent reminder of his generosity. It celebrated his gift with performances by a dance team and a drum line — students who wouldn't have been there had it not been for Crabbe. The students premiered a music video and howled while it played.
Crabbe couldn't stop smiling.
Brooklyn teammates, including star guard D'Angelo Russell, came to the ceremony. His coach, Kenny Atkinson, got choked up and fought back tears a handful of times.
While addressing the crowd, Crabbe, clearly overwhelmed, thanked everyone for coming.
"Thank YOU," one parent screamed from the crowd.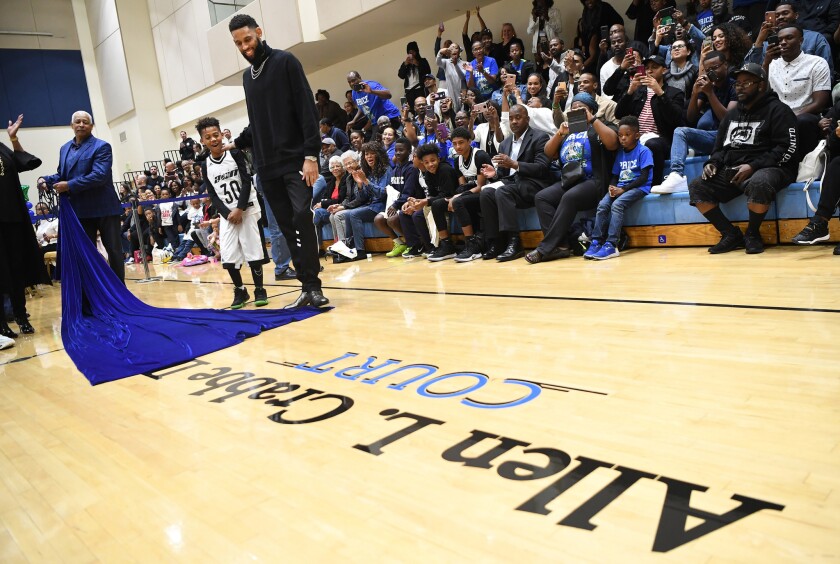 In his short time with a microphone, Crabbe repeated the word family. It was obvious what he meant. It wasn't just his mom, his aunt, his grandparents. It was the students and their parents and the teachers and the churchgoers who have invested in creating a special community.
And with that, Crabbe realized another dream.
"That's what this school provides. They don't hold anyone back from pursuing their dreams," he said. "But most importantly, they instill the values of God, how to live your life the right way, do things the right way, treat people the right way. I think that really goes a long way. And, they prepare you for life.
"And I just want to be an inspiration to the younger generation coming up. … You can be whatever you want to be. But when you get there, don't forget where you come from."
The future of the school, which was once doomed, is in a much better place than it was a year ago, though more money will be needed. Price hopes to increase enrollment — they can take close to 80 more students between kindergarten and 12th grade. They hope people will follow in Crabbe's footsteps and donate more.
As Crabbe stood by his name on the basketball court, you could get the sense that everything was going to be OK.
"It's going to continue to stay open," he said, smiling.
And all the people around him — especially the students — were smiling too.
Twitter: @DanWoikeSports
---
Get the latest on L.A.'s teams in the daily Sports Report newsletter.
You may occasionally receive promotional content from the Los Angeles Times.