Column: Candace Parker's transition to the broadcast booth has been a blur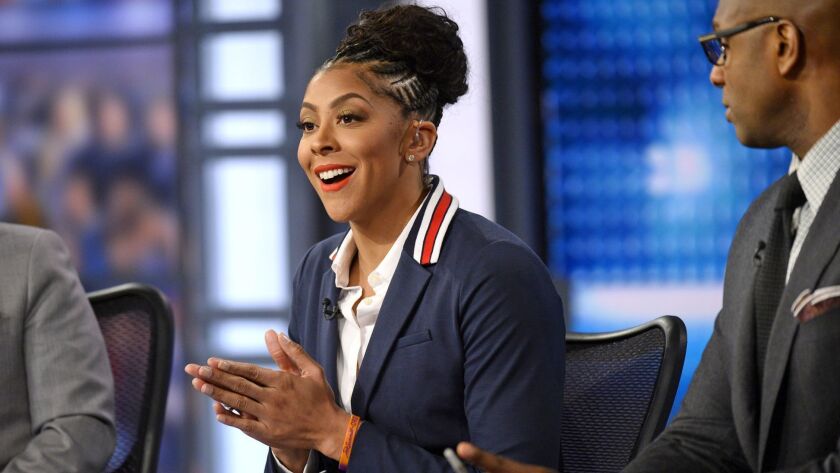 Park yourself in Candace Parker's chair.
Six nights in a row from the Turner Sports studio in Atlanta, the Sparks' star forward runs the wing for hours of the NCAA men's basketball tournament coverage, launching on-the-fly commentary as required.
It's a blur to keep up with whether a game is starting, ending or at halftime, or if it's a hit for TBS, TNT or TruTV, not to mention paying attention to the CBS monitor. It's about interacting with and reacting to studio cohorts Casey Stern, Seth Davis, Brendan Haywood and a rotation of current coaches.
Sneak a peek, too, at what ESPN was doing with the women's tournament — particularly Tennessee's loss to UCLA on Saturday — as the former Lady Vol sweats out her men's bracket, where she picked the Tennessee Volunteers to win it all.
It began for Parker with play-in games Tuesday and Wednesday, ramped up to the full throttle of 12-hour stretches Thursday and Friday, then transitioned to the Saturday-Sunday demand of whittling things down to a Sweet 16. Through it all, Parker has shown an endearing endurance for someone who says she's still trying to figure this thing out.
"It's cool," she says. "Only two days that are really long. The other days aren't so bad. There are obviously worse things to be doing, right?"
Sign up for our daily sports newsletter »
Yet, what could be better?
The soon-to-be 33-year-old spends her morning breaks in training for her upcoming 12th WNBA season, which opens May 26 in Las Vegas. Three years remain on her playing deal.
As she displays what has become a complete TV package — speaking with confidence and insight, a potent presence who can punctuate a statement with a beaming smile or pierced scowl with equal impact — Parker's priorities have expanded.
"I'm really a passionate fan of basketball in general, and when you have the opportunity to play it for a living, that's the No. 1 job," said the two-time WNBA MVP and five-time All-Star. "But when the opportunity came up to talk about basketball every day — which is something I do anyway — this is the second-best job ever."
"I look at it as something that I'm growing into and loving a lot. I couldn't ask to be in a better situation than they've given me at Turner."
Opportunities come as her representatives at the Westwood-based Wasserman sports agency do the maneuvering.
Debbie Spander, the company's senior vice president of broadcasting and coaching who specializes in athletes transitioning into broadcasting, has worked with Parker for more than two years. First was nurturing her through TV roles with the SEC and Pac-12 between WNBA summers and overseas winters. When Parker decided this winter to stay put near her Tarzana home instead of playing in China, keeping her closer to her 9-year-old daughter Lailaa, Spander expanded the media capacity.
"After her first year on the NCAA tournament" in 2018, "she said, 'I think I found what I want to do when I retire'," said Spander, whose clients include former Laker Antawn Jamison and former Clipper Brent Barry. "Her improvement has been amazing one year to the next. She's confident, stays even keel, can joke around with the male co-hosts. There is no other woman doing NBA or NCAA games like she is now."
Parker understands that reality but isn't trying to live up to any barrier-breaker label.
"When I grew up, my parents always told me I could do anything my brothers could do," said Parker, whose older brother Anthony wrapped nine NBA seasons around five others overseas.
"When I came into this, obviously I was the only woman on the set and a lot of people will look at it and maybe judge all women based on what I'm doing. Obviously I'm thrilled with this opportunity and want to see more women in these types of spaces, but I don't want my performance to represent all of women."
She leans on Turner analyst Steve Smith as "a big brother" in her media adventure, but Parker's two media role models — ABC's Robin Roberts and Fox Sports' Michael Strahan — reveal broader media interests. Turner's array of entertainment platforms opens all sorts of options.
"Candace is an extremely dynamic talent on camera that I can easily equate to a Michael Strahan-type," said Craig Barry, the executive vice president and chief content officer at Turner Sports. "Sports may be at the core, but she can do just about anything we throw at her. We are lucky to have her."
Parker says her daughter "rolls her eyes from the times she gets out of school" as mom keeps NBA TV or TNT as constant commentary in the background of their discussions, such as Lailaa's new interests in Broadway plays.
"It's all about getting in front of people and speaking confidently," Parker says of her daughter's skills, as well as her own. "It's expressing your opinions and feeling empowered in your environment."
Like when it came to a healthy discussion about Michigan State coach Tom Izzo disciplining freshman Aaron Howard during the Spartans' first-round win over Bradley. Parker reiterated Saturday she also had a passionate coach in Pat Summit during two NCAA women's title runs at Tennessee, "but times do change. Tom Izzo cares about his players. But there are other coaches watching this who" do not have his stature and "think they can go out and yell at players. As a role model for the NCAA, you do have to represent that as well."
Parker's media appearances include TNT's Players Only NBA weekday telecasts, sharing studio commentary with Shaquille O'Neal, Baron Davis and Chris Webber. She'll also have a national Pizza Hut commercial spot with Grant Hill as the men's tournament continues.
"I really don't feel like 'one of the guys' but like 'one of the players,' " she said. "I don't want to be approached in a different light. I'm not sensitive. I don't like being around a bunch of people who just agree because you don't get better with that."
Derek Fisher, the incoming Sparks head coach and former Lakers guard with experience in the TV studio as an analyst, has conflicting emotions about how Parker succeeds at this media gig.
"Candace is doing an amazing job showing her well-known basketball IQ and brilliantly articulating it to fans of all ages," Fisher said. "She undoubtedly has a future in broadcasting. Just hopefully not too soon."
Tune it in
Cheers to those able to follow UC Irvine's run in the NCAA tournament via the radio feeds on KLAA-AM (830) or KUCI-FM (88.9), soaking up the call from Trent Rush. It's worth a Sirius XM search to find local broadcasters this time of season.
Tune it out
Debate the latest public faux pas by Stephen A. Smith — asking on his national ESPN radio show via KSPN-AM (710) if Mike Trout's new Angels contract extension puts more pressure on manager Mike Scioscia, who obviously retired after last season. Has he spread himself too thin as an all-knowing pontificator? Are constant mistakes because he's in over his head? Can't argue with either assessment.
---
Get our high school sports newsletter
Prep Rally is devoted to the SoCal high school sports experience, bringing you scores, stories and a behind-the-scenes look at what makes prep sports so popular.
You may occasionally receive promotional content from the Los Angeles Times.