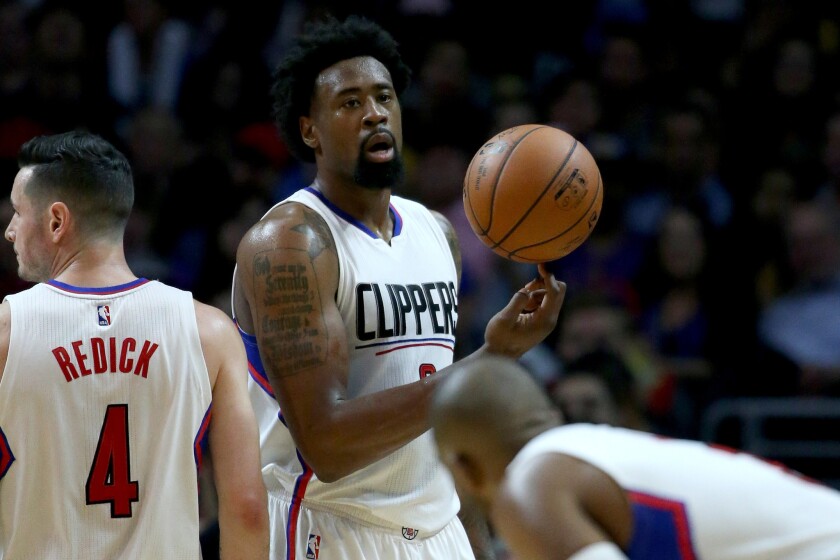 The longshot came in. DeAndre Jordan is an Olympian.
Considered the least likely of the three Clippers who were finalists for Team USA to play in the Olympics, Jordan has earned a spot on the team that will compete in August in Rio de Janeiro, according to a person close to the situation not authorized to discuss it publicly.
The other big men on Team USA are expected to be Sacramento's DeMarcus Cousins and possibly Houston's Dwight Howard. The 12-man roster that will be announced Monday will also reportedly include Oklahoma City's Kevin Durant, New York's Carmelo Anthony, Indiana's Paul George, Chicago's Jimmy Butler, Toronto's Kyle Lowry and DeMar DeRozan and Golden State's Draymond Green and Klay Thompson, among others.
"There will be a lot of great players that make it, there will be a lot of great players that don't make it," Jordan said last August during USA Basketball's minicamp in Las Vegas. "To have an opportunity to represent your country is huge, man."
The 6-foot-11 Jordan, who will turn 28 next month, is coming off what might have been his best NBA season. He was selected first team All-NBA for the first time after averaging a career-high 12.7 points while leading the league in field-goal shooting (70.3%) for a fourth consecutive season. He also ranked second in the NBA with13.8 rebounds per game and 2.3 blocked shots per game.
Jordan was considered the least likely to make Team USA among the three Clippers who were finalists. But two-time gold medalist Chris Paul withdrew from consideration to rest prior to breaking his hand in the playoffs and star power forward Blake Griffin aggravated the partially torn left quadriceps tendon that had sidelined him for more than three months this season.
"Let's wait till it's announced, but let me put it this way: It would be terrific for him," Clippers Coach Doc Rivers said of Jordan making the team. "I think some guys, the Olympics are really good for and I think it would be really good for D.J."
Jordan was one of the most joyful presences at USA Basketball's minicamp last summer, continually smiling in his conversations with coaches and teammates. At the time, his odds of remaining on the team for the games that counted seemed long.
"There's a ton of guys they could take," Jordan said then. "I'm happy that I got an opportunity. But it's cool. I really want to be here next summer too playing in Brazil. That's a big, big goal of mine."
---