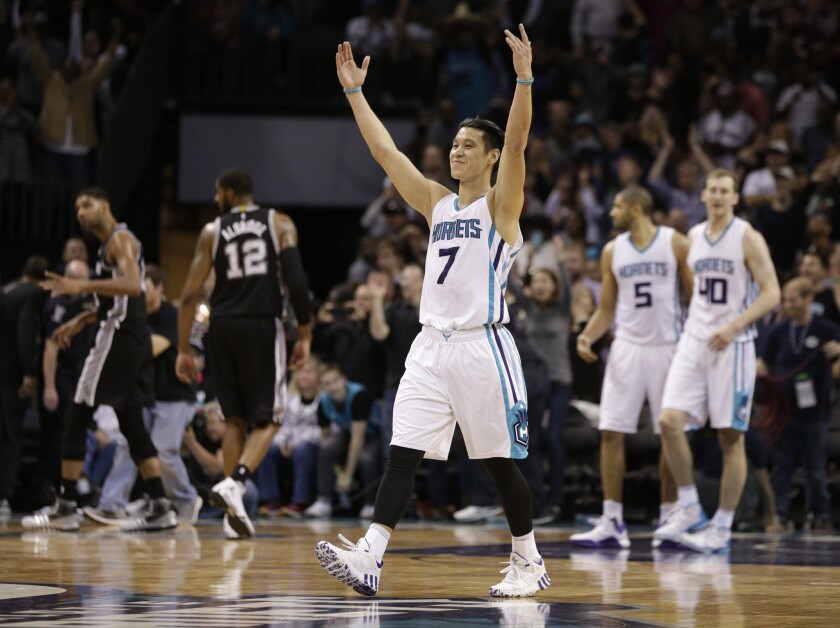 Eleven seconds into the second quarter, Coach Steve Clifford of the Charlotte Hornets called a timeout with his team trailing the San Antonio Spurs by 23 points.
"I told them please try harder," Clifford said after the game with a laugh. "I'm begging you. I know y'all make more money than me. I know most of you could get me fired. I'm just saying, please."
Jeremy Lin answered Clifford's plea, scoring 15 of his 29 points in the fourth quarter Monday night and helping the Hornets rally for a 91-88 victory at Charlotte, N.C., ending the Spurs' six-game winning streak and denying them their 60th victory.
While perhaps not quite "Linsanity II," the 23-point lead was the largest squandered by the Spurs in the Tim Duncan era, which began in 1997, according to information provided to the Hornets by Elias.
Lin made 11 of 18 shots overall and all four of his three-point attempts, three in the fourth quarter, and provided the go-ahead jumper with 48 seconds to play.
"He was spectacular," Spurs Coach Gregg Popovich said. "We couldn't stop him all night. He had a great night. He was wonderful."
Golden State 109, at Minnesota 104: Draymond Green had 24 points, nine rebounds and six assists to help the Warriors narrowly avoid their first two-game skid in nearly a year. Klay Thompson scored 17 points and the Warriors (63-7) overcame a second consecutive poor shooting game by Stephen Curry, who missed 11 of 17 shots but still had 19 points, 11 assists and seven rebounds.
at Cleveland 124, Denver 91: LeBron James had 33 points, 11 rebounds and 11 assists for the 41st triple-double of his career, helping the Cavaliers clinch their second consecutive Central Division title. James, who checked out to a thunderous ovation with 6:02 to play, scored 17 points in the first quarter to help the Cavaliers build a 19-point lead and erase the memory of an embarrassing loss Saturday at Miami.
at Detroit 92, Milwaukee 91: Andre Drummond's tip-in with two seconds to play gave the Pistons the win.
Washington 117, at Atlanta 102: John Wall had 27 points and 14 assists and Bradley Beal scored 25 points, leading the Wizards to their season-high fifth consecutive victory.
at Chicago 109, Sacramento 102: Derrick Rose and Taj Gibson each scored 18 points and Pau Gasol had 14 points and 14 rebounds for the Bulls.
at Boston 107, Orlando 96: Isaiah Thomas had 28 points and seven assists to lead the Celtics.
at Indiana 91, Philadelphia 75: Paul George scored 15 points and Monta Ellis 13 for the Pacers, who ended a two-game losing streak and won for only the second time in five games.
Memphis 103, at Phoenix 97: Lance Stephenson scored 12 of his 16 points in the fourth quarter to lead the Grizzlies, who ended the game on an 8-0 run.
---