Potential No. 1 draft pick Deandre Ayton says he and Devin Booker could be "Shaq and Kobe 2.0" for Phoenix Suns
Reporting from PHOENIX —
For the three years he has lived in Arizona, Deandre Ayton rarely has been more than a 7-foot curiosity outside basketball circles in Phoenix.
During high school, the big man from the Bahamas turned heads for his young, Shaq-like physique but maintained relative anonymity. Now, however, he's better known after a freshman season at the University of Arizona; he recently gave a fake name when ordering chicken strips at a local fast-food restaurant.
Ayton was more recognized over the past year in Tucson, where he could not make the walk from home to gym without being followed, than he was in Phoenix as a nationally touring prep player, but that likely will change when the Suns make the NBA draft's first selection Thursday in Brooklyn, N.Y.
Even though new Suns head coach Igor Kokoskov has ties to overseas prospect Luka Doncic, having been the Euroleague most valuable player's coach on the Slovenian national team, there are more people counting on a cool Sonoran summer than people who believe Phoenix will pass on Ayton.
"I know I'm going No. 1," Ayton said in a Phoenix press conference after participating in his only draft workout for the Suns this month.
Arizona coach Sean Miller already had declared as much, saying, "I look at the NBA as trying to figure out who they're going to pick from No. 2 to 60. I think the No. 1 pick's in."
The belief stems from marveling at a versatile, powerful player who emulates Kevin Garnett and Hakeem Olajuwon and is called a right-handed David Robinson. The support comes from a college season in which Ayton was a Wooden Award finalist with the nation's second-best efficiency rating.
Ayton, almost a month away from his 20th birthday, startles as a 7-foot, 260-pound transformer with a 7-5 wingspan who shoots, passes, dribbles, runs, slides and jumps like a wing with a post game. He projects to be a generational center in a league whose dominant 7-footers have vanished. His upside suggests a new era starring him and Philadelphia's Joel Embiid.
"It's pretty rare," Suns general manager Ryan McDonough said after working out Ayton. "I think this is my 16th draft in the NBA and you could probably count on one hand the number of guys with his size, athleticism, footwork, balance, touch. It's a unique package. The fact that he hasn't been playing the game all that long makes it all the more impressive."
Ayton grew up playing soccer in the Bahamas, which has sent Rick Fox, Mychal Thompson and Buddy Hield to the NBA. Ayton's blue-collar parents encouraged his budding basketball prowess when he kept growing in size and talent.
Noticed at a youth camp, Ayton was referred to a club coach in San Diego, where he spent his first two high school seasons and lived in three homes. He attended a small, private, K-12 school that did not have sports teams until adding a basketball team for his sophomore year.
He moved to Phoenix for his junior and senior years, when his mother and two younger siblings also relocated for his transfer to a prep school, Hillcrest, known as a basketball finishing school with an elite national schedule.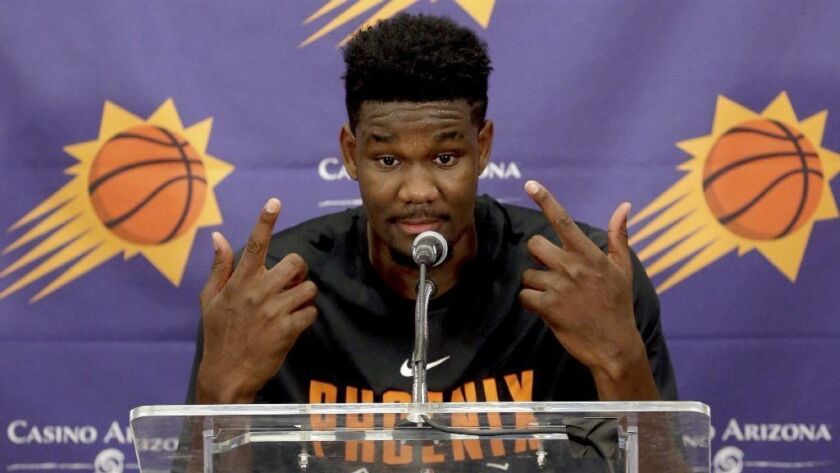 "He was very shy and quiet," said Kyle Weaver, his Hillcrest head coach. "When he first got here, I saw him shooting in jeans and a shirt and he just had this look that made me think, 'Wow, this kid is going to be special.' I'd seen him play in San Diego and already knew he was special. But once I saw him on our campus, I just knew he was going to be the No. 1 pick three years from then."
Howard Thomas Jr., Hillcrest's current coach, was a player dad following the team when Ayton arrived and a coaching staff member for Ayton's senior year. He recalls Ayton arriving with angry and hungry play that punished college visitors in scrimmages.
"He's just got a mean streak to him when the game is close," Thomas said, giving credence to Ayton's claim that he deserves to be the No. 1 pick as the draft class' best competitor, not the best player.
Ayton has an Embiid-like jokester streak and a teenager's video game addiction, but said the laid-back islander in him has been "Americanized" by competition and trash talk. Weaver said Ayton was mistrusting of Americans' greed, causing him to suppress his outgoing way for a while at Hillcrest.
"A lot of people have broken his trust because they've always been out for what they can get out of the kid, not what they could do for the kid," Weaver said.
Ayton's passion for basketball became joy again and his family's new attachment to Arizona helped him pick the Wildcats, a storied program that has yet to produce a No. 1 pick (Mike Bibby, 1998, and Derrick Williams, 2011, both were drafted second).
Ayton averaged 20.1 points and 11.6 rebounds with 61.2% shooting (34.3% on three-pointers) for Arizona, a campus about two hours from his family's home. He largely played power forward, which Miller cites as a rebuttal for criticism of his paint defense and rim protection.
Ayton often was covering perimeter players and handling pick-and-roll switches, making Miller believe that defense might actually prove to be his strength. Offensively, Miller believes Ayton will be a "monster" in the NBA look of spread offenses and man defenses.
"I've never seen a big guy ever — a lot of the players that I've coached at USA Basketball included — that moves quicker and has a better command 20 to 30 feet from the basket than Deandre Ayton," said Miller, who sat out a game last season after ESPN reported that Arizona staff discussed paying Ayton to play for the Wildcats. The program denied wrongdoing.
Since the season ended, Phoenix has been the base for Ayton's busy pre-draft schedule. There still are jokes or reminiscing laughs, like when he catfished a Hillcrest teammate with his other teammates in on the joke. There still is singing, perhaps when his Bahamas roots show the most. And "Fortnite" is now his video game of choice.
That young verve is not far removed from that of potential future Suns teammates who already hang out with him. Devin Booker and Josh Jackson are 21 while Marquese Chriss and Dragan Bender are 20.
"That's Shaq and Kobe 2.0," Ayton said of playing with Booker. "That's big. We could really make something happen in Phoenix. We could really have a spark and have a winning legacy."
The Suns are in the position of drafting first for the first time in franchise history because they have not made the playoffs since 2010 and have been longing for a star center since losing a coin toss to Milwaukee to draft Lew Alcindor in 1969. Ayton has seen the Suns' demise in person, attending a game with teammates during high school.
Later this week, Ayton might enter through the Suns players' arena garage rather than the turnstiles. Later this year, he could be on the Suns court rather than longing for it.
"He's a better person than a basketball player," Weaver said. "He's a kid who doesn't mess around. He won't get caught up in drama. His mom is the stable backbone of his life. His mom and dad built a high-character kid who is going to have ultimate success but be stable and do the city of Phoenix, hopefully on Thursday when it's said and done, a great deal of accomplishment and success."
---
Get our high school sports newsletter
Prep Rally is devoted to the SoCal high school sports experience, bringing you scores, stories and a behind-the-scenes look at what makes prep sports so popular.
You may occasionally receive promotional content from the Los Angeles Times.