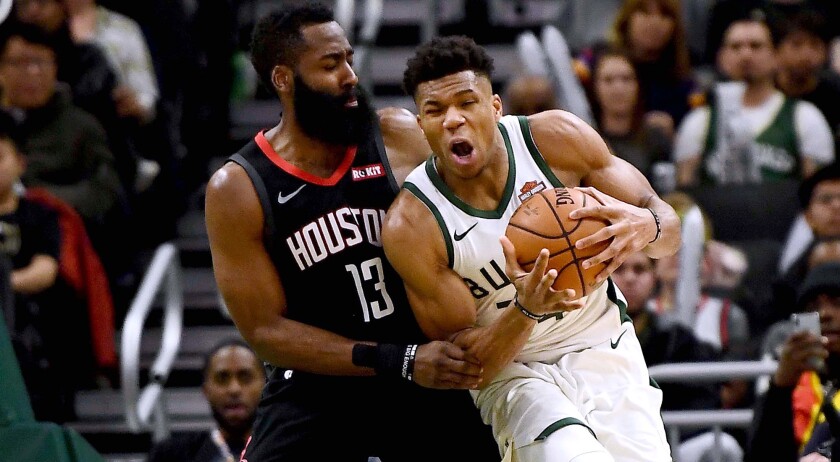 At the Los Angeles Times, it's policy to not vote on awards — a decision that spares our reporters from the endless parade of propaganda from public relations staffs, awkward encounters with players and the pressures of making decisions that result in contract bonuses and rising value of contracts.
Still, it dominates conversations when you move around the league.
Conversations with executives, coaches, scouts, agents and insiders all seem to make their way back to the year-end award races, which feature some impossibly tough decisions.
Here's what it could end up looking like:
Most valuable player
The contenders: Milwaukee forward Giannis Antetokounmpo, Houston guard James Harden.
The choice: Harden.
Because there's no wrong choice for MVP this season, it feels like there's no right choice, either. The argument for Antetokounmpo is airtight. He's been the best player on the best team for the entire season. He's been the top defender on the best defensive team all season. He cannot be guarded in the paint.
Sign up for our daily sports newsletter »
Harden's numbers are inflated because of the style Houston plays, because the Rockets glue the ball to Harden's hands possession after possession. But he's still the right choice. The highs this season have just been too high.
He's scored 40 points 28 times (so far). He's scored 50 or more nine times (so far). And he's scored 61 points twice (so far). He's everything for the Rockets.
Teams have had to invent strategies to try to force Harden into the strangest places on the court; they've conceded space in the paint in an effort to stop him, they've doubled him as soon as he's crossed half court.
Antetokounmpo takes up just as much space on scouting reports. He's every bit as dynamic. If he wins, he'll deserve it. Harden deserves it, too.
Coach of the year
The contenders: Doc Rivers, Clippers; Mike Budenholzer, Bucks; Michael Malone, Denver Nuggets; Nate McMillan, Indiana Pacers; Nick Nurse, Toronto Raptors; Terry Stotts, Portland Trail Blazers; Gregg Popovich, San Antonio Spurs.
The choice: Budenholzer.
Another wildly tight race with strong arguments to be made for each contender.
Budenholzer was able to instill his offensive system around Antetokounmpo and the Bucks. The case for Rivers — the Clippers are one of the NBA's biggest surprises and did it with a roster rebuilt midseason — is a particularly strong one. So is the case for McMillan based on how the Pacers survived All-Star guard Victor Oladipo's season-ending injury.
Then there is Stotts, who keeps the Trail Blazers winning every season, this one with center Jusuf Nurkic and guard C.J. McCollum getting injured down the stretch. Portland's consistency is remarkable and deserves recognition.
Defensive player of the year
The contenders: Antetokounmpo, Utah center Rudy Gobert, Oklahoma City guard/forward Paul George, Philadelphia center Joel Embiid.
The choice: Antetokounmpo.
This feels like a consolation award for Antetokounmpo, but he's been that good on defense this season for the Bucks, the NBA's top defense. He can guard every player on the court at any time, from Boban Marjanovic to Kyle Lowry.
Gobert and Embiid are vicious rim protectors, but Antetokounmpo's versatility puts him on top.
Rookie of the year
The contenders: Dallas forward Luka Doncic, Atlanta guard Trae Young.
The choice: Doncic.
This should really end in a tie just like it did when Jason Kidd and Grant Hill shared the award. Doncic's start was so strong, while Young has been amazing down the stretch.
Sixth man of the year
The contenders: Clippers guard Lou Williams, Clippers forward Montrezl Harrell, Indiana forward Domantas Sabonis, Brooklyn guard Spencer Dinwiddie.
The choice: Williams.
The best bench scorer of all time has simply been the best and most important to his team as a reserve this season. The other contenders have all had nice seasons, but Williams should win for the second year in a row.
All-NBA teams
First team: Harden, Antetokounmpo, Embiid, guard Stephen Curry (Golden State), forward Kevin Durant (Golden State).
Second team: guard Damian Lillard (Portland), guard Kyrie Irving (Boston), center Nikola Jokic (Denver), forward Paul George (Oklahoma City), forward Blake Griffin (Detroit).
Third team: guard Russell Westbrook (Oklahoma City), guard Klay Thompson (Golden State), center Karl-Anthony Towns (Minnesota), forward Kawhi Leonard (Toronto), forward LeBron James (Lakers).
Honorable mention: Gobert, LaMarcus Aldridge, Bradley Beal, Andre Drummond, Danilo Gallinari, Donovan Mitchell, Ben Simmons, Kemba Walker.
Twitter: @DanWoikeSports
---