Remembering Manute Bol and the favorite of many tall tales about him
When it comes to Manute Bol, there is as much legend and lore as feats and facts.
The question of his age and backstory — he was born to a tribe in Africa and told interviewers he once killed a lion with a spear — and his 7-foot-7 height as the NBA's tallest player were part of the lure for fans and players alike. But there was one night, 25 years ago this month, that could not be disputed.
A Suns-76ers mismatch in Phoenix was supposed to be about Charles Barkley's first game against his former Philadelphia team. It was on its way to a blowout when Bol's shocking onslaught of three-pointers came as unexpectedly as a summer rainstorm in the desert.
Launching shots from above the height of the rim, Bol made six three-pointers in the second half to fall one short of the NBA record at the time. Bol had shown his range a few years earlier, but made just two three-pointers in three seasons with the 76ers. As a result, his outburst overshadowed Barkley's 36-point, 17-rebound, nine-assist game.
"They don't guard me so I shoot," Bol said.
Bol was a much more prolific shot blocker than three-point shooter, but his Klay Thompson moment might be the best remembered of his 10-year career.
Bol died of kidney problems and a rare skin disease in 2010 but lives on in many ways. He was dedicated to humanitarian work for his homeland of South Sudan, donating much of his salary to help rebels and refugees. His son Bol Bol, who played at Santa Ana Mater Dei last year, is carrying on the shooting touch and shot blocking and adding more skills for a college career starting at Oregon next fall.
The NBA record books show that only Mark Eaton blocked more shots per game (3.50) than Bol (3.34), and nobody came close to blocking more shots per 48 minutes than Africa's first NBA draftee (8.6).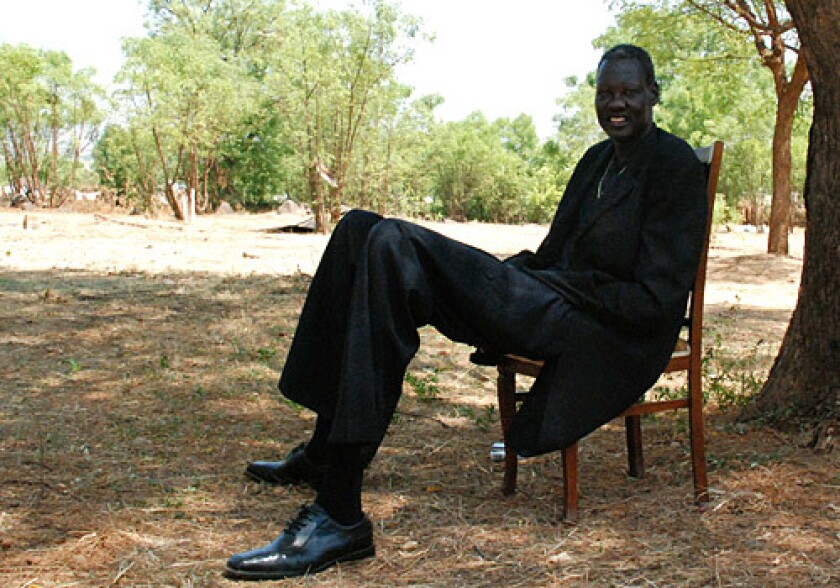 Bol finished with more career blocks (2,086) than points (1,599), but he was a pure scorer on that March 1993 night.
"When he shot it, you just didn't think they were going to go in," Suns great Tom Chambers said. "He had no touch whatsoever from anywhere on the court."
So Chambers did as any coach or scouting report would have dictated: He stayed in the lane when Bol first shot from atop the arc. Winding the ball from his waist to behind his head, Bol fired away at the crowd's urging. He made it.
Moments later in that third quarter, Bol got a screen and took a Greg Grant pass farther out. There was no pause this time, as Bol made another three while barely rising off the floor. As they ran back, Chambers made Bol laugh and Bol kindly tapped his chest.
"When he started shooting those threes, it was like, 'Really, we want you to do this,' " Chambers said. "And then he made another one. If you watch the bench, we were laughing as hard as we could laugh because it was such an incredible sight — this person in this body and the way he slingshotted it up there and to have them go in like that. The crowd was going nuts. It was a sight to behold."
Bol's next try airballed, with Bol leaning his head immediately like a golfer who knows his tee shot is headed for trouble. Bol was not dissuaded. With the crowd getting louder and Chambers still daring Bol from the free throw line, Grant fed him like he was the hot hand — 5-7 passer to 7-7 shooter. He made it, prompting Chambers to run at his next attempt — a miss.
At this point of the third quarter, the Sixers broadcast already declared Bol the "AT&T Long Distance Player of the Game" and suggested "That's enough" when he missed for a third time.
With 37 seconds to go in the quarter, Bol launched a three from about 28 feet, long before Stephen Curry made that cool. Mark West, at 6-10, extended an arm to no avail. No. 4 dropped, prompting Chambers to elbow Frank Johnson on the bench as Johnson incredulously looked at the replay board to affirm what he just saw.
"I watched a clip of that game a little while ago and we all kept looking at him like, 'He's not going to keep making them,' and he did," Suns legend Dan Majerle said. "His shot was so unorthodox. When he kept making them it was kind of funny, to tell the truth, to watch that big guy out there shooting threes. Nowadays, it's nothing to see a 7-5 guy out there shooting threes. Back then, it wasn't like he was going to be out there just firing away, but he just kept making one after another. It was pretty comical."
Bol made his fifth three-pointer, again from well beyond the arc, early in the fourth quarter. The ball fell through the net to the floor because Barkley turned to look at Bol, his former teammate, in disbelief.
Majerle then ran at Bol on a three, making him travel. West closed tight on another miss. But they could not check Bol in transition, as he hit his sixth and final three-pointer from four feet beyond the arc to make Barkley and Chambers double over. Barkley ran back laughing and gave his friend a hand slap.
Bol, said to be 30 at the time, had matched his eight-year-old scoring high with 18 points, all on threes, in a game in which the NBA three-point leader at the time, Danny Ainge, went 0 for 7 from beyond the arc. It was Bol's first double-digit scoring game in three years.
"Everybody loved Manute," Chambers said. "He was just a fun-loving guy. He'd always talk to me before games and say, 'I feel very good, Mr. Tom. Do not dunk on me tonight.' "
---
Get our high school sports newsletter
Prep Rally is devoted to the SoCal high school sports experience, bringing you scores, stories and a behind-the-scenes look at what makes prep sports so popular.
You may occasionally receive promotional content from the Los Angeles Times.