NBA roundup: Spurs end the Thunder's three-game winning streak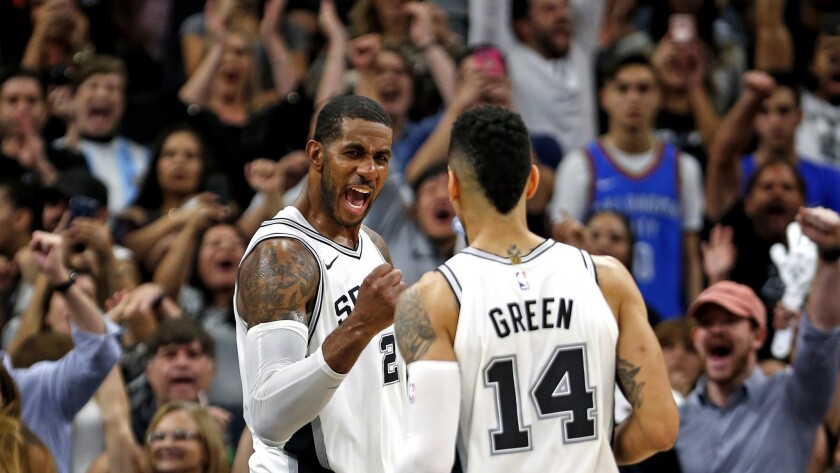 LaMarcus Aldridge had 26 points and the Spurs overcame a 23-point deficit to beat the Oklahoma City Thunder on Friday night in San Antonio.
Danny Green added 17 points and Pau Gasol had 14 points to help San Antonio end Oklahoma City's three-game winning streak.
Aldridge put back Green's missed three-pointer to give the Spurs a 102-99 lead with 24.2 seconds left.
The Thunder missed two three-pointers on the ensuing possession, but Carmelo Anthony tracked down a second offensive rebound and made a 25-footer with his foot on the three-point line to cut the lead to 102-101.
Gasol made two free throws, and Russell Westbrook stumbled to the court and threw up an airball on a three-point attempt.
Anthony had 20 points to lead the Thunder. Westbrook was held to 15 points after scoring 10 in the opening period. He was 5 for 22 from the field.
at Indiana 107, Detroit 100: Reserve guard Lance Stephenson scored all 13 of his points in the fourth quarter, including a key three-pointer in the final few minutes, and the Pacers rallied from 22 down.
Miami 91, at Washington 88: The Wizards rallied, but they were unable to make up for a horrible first half in which they trailed 50-29 and missed all 13 three-point tries.
at Brooklyn 118, Utah 107: Spencer Dinwiddie scored a career-high 25 points for the Nets hours after D'Angelo Russell had knee surgery. Dinwiddie will be the starting point guard with Russell out.
at Toronto 107, New York 84: Kyle Lowry matched his season-high with 22 points and added 10 assists, DeMar DeRozan also scored 22 and the short-handed Raptors beat the Knicks for the eighth consecutive time. Toronto played without two injured starters in forward Serge Ibaka (swollen left knee) and guard Norman Powell (right hip).
Minnesota 111, at Dallas 87: Jimmy Butler led a balanced set of Minnesota starters with 21 points and the Timberwolves ended a five-game losing streak in Dallas by rallying from 14 points down early in the third quarter, outscoring lowly Dallas 68-32 in the second half. Harrison Barnes led the Mavericks with 18 points. Dallas is an NBA-worst 2-14.
at Chicago 123, Charlotte 120: Justin Holiday had 27 points and Chicago beat skidding Charlotte, overcoming a 47-point outburst by Kemba Walker to snap their five-game losing streak. Walker missed a driving layup with Charlotte trailing by one in the closing seconds. Lauri Markkanen then made two free throws to make it 123-120 with 2.6 seconds left, securing the Bulls' third win in 13 games this season. Charlotte has dropped six straight.
at Sacramento 86, Portland 82: Willie Cauley-Stein scored 13 of his 22 points in the fourth quarter and Sacramento bounced back from an embarrassing loss earlier in the week to beat Portland. George Hill and Garrett Temple added 14 points apiece, and Kosta Koufos had 10 points and seven rebounds to help the Kings to their third straight home win over a team with legitimate playoff hopes. Damian Lillard had 29 points on 9-of-25 shooting but missed a three-pointer in the final moments for the Trail Blazers.
at Denver 146, New Orleans 114: Jamal Murray scored 31 points and Denver had the NBA's highest-scoring game of the season. Nikola Jokic added 13 points and 11 rebounds for his eighth double-double as the Nuggets improved to 7-2 at home. Anthony Davis had 17 points and five rebounds for the Pelicans before he left with a concussion in the opening minute of the third quarter. Davis was inadvertently hit in the face by Jokic's head as the Nuggets center was backing him down with the ball.
---
Get the latest on L.A.'s teams in the daily Sports Report newsletter.
You may occasionally receive promotional content from the Los Angeles Times.