Reporting from Houston —
Chris Paul, a hooded sweatshirt pulled mostly over his head, stepped into jump shot after jump shot from the left wing Sunday morning. Strength and conditioning coach Richard Williams helped rebound.
On the other end of court, Paul's 8-year-old son, Chris, held a basketball over his head while Paul's security guard, Gene Escamilla, and Escamilla's daughter defended.
It's nearly identical to scenes that played out over Paul's six seasons with the Clippers — with a few key differences. The workout came on his new home court in Houston.
And it came on the eve of the Western Conference finals.
Paul never reached those heights with the Clippers, and to help assure that he would in Houston, he brought some of Los Angeles with him.
His brother, C.J., moved with his family to Houston. The Rockets hired Williams, who had been with the Clippers since 2004. Paul personally called Escamilla to see if he and his family would come to Houston.
"This wasn't just like an irrational decision," Paul said Sunday.
No, everything that's gotten Paul to this point — ready to host the Golden State Warriors in Game 1 on Monday night — has been meticulously calculated.
He knew what he was doing when he orchestrated a trade from the Clippers to the Rockets. He knew he and fellow guard James Harden wouldn't struggle to share the ball-handling duties. He knew what he was doing would give him the best shot to win an NBA title — a journey that "obviously" would need to go through Golden State. And people who doubted him?
They'd forgotten that Paul is considered a basketball genius.
"All the people who talk about it don't know this game better than I do," he said.
Paul is an expert at operating in the margins of the NBA's rule book. Foul him near midcourt? He'll try to launch a shot to get the extra free throw. Hold your arms out wide at the wrong angle? Paul will swoop underneath to draw a cheap foul and move one step closer to the bonus.
Every edge Paul can find to offset being just 6 feet tall or a step slower at 33, he's tried to unearth.
"He really loves the game of basketball, and I don't know if I can say that about a lot of players, especially in the NBA. He studies film," Harden said. "He'll be at home watching games and he'll call me like, 'Did you see that? What happened on that play?'
"And I'll be like, 'Chris, don't you know that I'm out right now?' "
It is Paul's performances, including a record-setting night in Game 5 in the second round against Utah, that have the Rockets confident heading into a series where they're the prohibitive underdogs despite having home-court advantage.
In the final game against the Jazz, Paul finished with 41 points, 10 assists and no turnovers, the first player ever to record those stats in an NBA playoff game.
"He's big in big moments," Houston coach Mike D'Antoni said.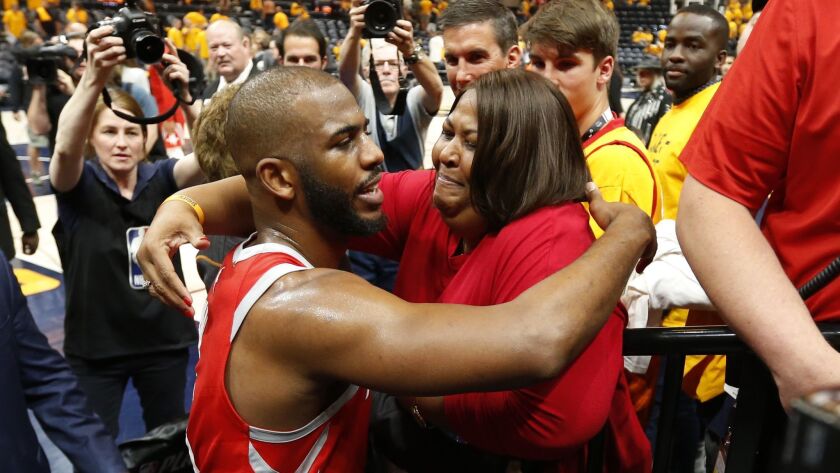 Clippers fans might not always remember that. Some of the team's biggest moments during Paul's tenure were the most painful.
He outsmarted himself by trying to draw a foul in the final seconds of Game 5 of the 2014 conference semifinals, the punctuation to an epic fourth-quarter collapse against Oklahoma City.
After that game, Paul sat at the podium, eyes swollen and red, and took responsibility for the loss. His team was eliminated days later.
The following season, Paul's Clippers couldn't hang on to a 3-1 series lead against the Rockets, suffering a humiliating loss at Staples Center in Game 6, where they blew a 19-point lead to a Houston team with Harden and Dwight Howard on the bench. The loss in Game 7 in Houston, three years ago this Thursday, kept the Clippers and Paul from the playoff matchup with the Warriors.
All of this helped fuel the "Chris Paul has never been to the conference finals" narrative that's come close to defining him despite his probable Hall of Fame career.
"I wouldn't say [getting to the conference finals] is what he's trying to achieve," Paul's friend and Golden State assistant Willie Green said. "But it's part of the process. It's one of the steps. And there's no skipping steps."
But any close examination of Paul's time with the Clippers has to include a handful of postseason highlights.
In 2013, Paul stuttered past Tony Allen, one of the best defenders in the NBA, to make a one-footed shot to win Game 2 of the first round against Memphis. In 2014, Paul opened the series against the Thunder with one of the best games of his career, scoring 32 points on just 14 shots (he made eight of nine three-pointers).
A year later, playing on an injured hamstring, he made the most iconic shot of his Clippers tenure, beating the San Antonio Spurs in Game 7 at Staples Center. And while the Clippers lost the last three games of the following series to Houston, Paul was spectacular, shooting better than 50% while averaging more than 26 points and 10 assists in the defeats.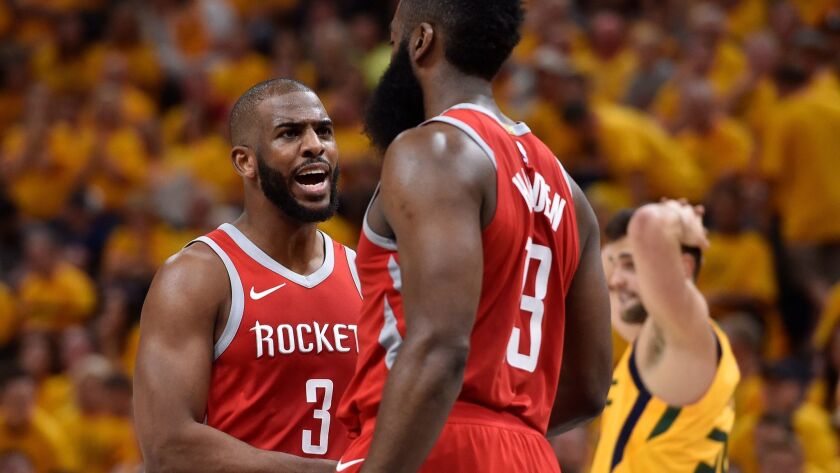 He was so close — but you can't skip steps.
"So close? I don't know what that even means anymore," Paul said after losing to the Rockets. "… It's a long summer. It's getting old, too."
After two more injury plagued seasons that ended in first-round losses, he'd had enough.
"We were great there. All the different stuff we had. We had a really great team," Paul said of the Clippers.
But they were never better than the Warriors — and the Rockets still might not be — but they're a whole lot closer.
Houston finished the regular season with a 65-17 record — seven wins better than Golden State. They beat the Warriors twice in three meetings this regular season (though both teams were never at full strength for the games).
"You never know, but watching games all regular season and [the Rockets] are running away winning 65 games, there was a good chance that this was going to be the matchup," Golden State coach Steve Kerr said. "You try not to think about it too much because you have work to take care of. But both teams have done that, and now, here we are."
And so, too, is Paul, working off of Harden, tossing lobs to Clint Capela and excelling in a faster-paced D'Antoni system than he's used to. It was all part of his plan.
And, truly, it's why he's here.
Twitter: @DanWoikeSports
---