Russell Westbrook grew into more than his oversized feet at Leuzinger High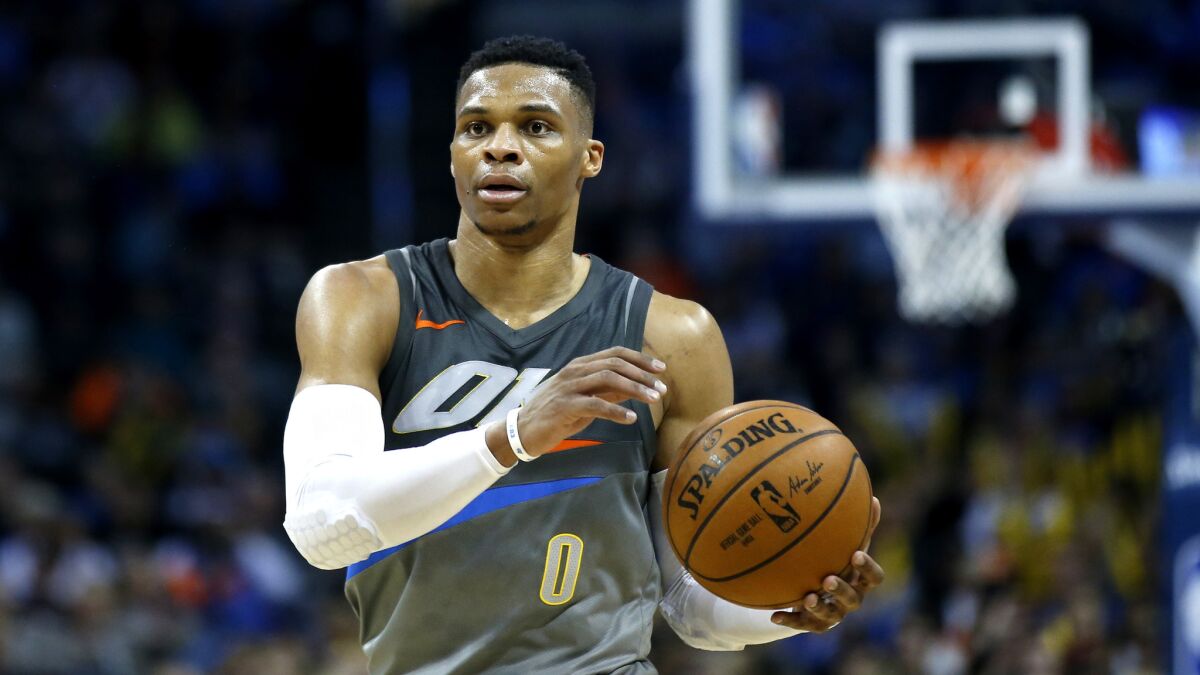 In preparation for the All-Star Game in Los Angeles, Russell Westbrook's face has been plastered throughout the city where he grew up.
Hotels, convention halls, arenas — Westbrook can be seen everywhere.
At Leuzinger High in Lawndale, banners cover buildings with Westbrook's image. It's the place where he scored 50 points as a senior, where he blossomed into one of the state's top basketball players, where he was admired and liked by his teachers for his work in the classroom.
For the school's students, it's a reminder of everything that's possible.
Want to sign a $205-million contract? Westbrook did. Want to be the face of a major shoe brand? Westbrook is. Want to wear denim overalls one day and a designer poncho the next and orange camouflage pants the day after that? Westbrook does.
But before all of that, before the high fashion and the 2017 MVP award — before being tall enough to play varsity basketball — Westbrook was just a skinny kid with laughably big feet that looked like battleships compared to his legs.
It's one of the first things Dr. Pamela Brown brings up when asked about the boy who sat on the aisle in her freshman English class at Leuzinger.
"His feet would be hanging out in the aisle, and I'd joke and tell him to be careful because he's going to trip somebody," she said. "Eventually, he grew into them."
At Leuzinger, Westbrook did a lot of growing.
He evolved from a big-footed freshman to a minor college prospect to a UCLA-bound basketball recruit, something he wrote he'd accomplish in an essay for Brown's class.
Arturo Jones, the current basketball coach at Leuzinger, helped out with the program while Westbrook was in school and said some of the things that stand out about him now were apparent then.
"He was always a hard worker," Jones said. "His trajectory always continued to grow."
It's reached a point now where he's one of the biggest stars playing in Sunday's All-Star game — when he'll surely try to win his third All-Star MVP award in the last four years.
He'll be one of the biggest stars in the city for the weekend — which isn't bad considering he wasn't voted "most athletic," "most talented," "most successful" or even "best dressed" in his senior yearbook.
That's not to say people are surprised by Westbrook's transformation into one of the most identifiable athletes in the world.
Brown praised Westbrook's support system. His father, Russell, and mother, Shannon, were there for open houses and freshman basketball practices.
"When we look at the dynamics at who the kids are in our community," she said, "his family was kind of rare."
He was respectful in class, Brown said, waiting for his friends to come around before goofing off. Brown remembered being stunned to see Westbrook participate in a dance routine in an effort to get a teammate elected homecoming king.
Mostly, he would bring his assignments, and a gym bag with a basketball, into class, ready to handle what needed to get done.
"He was always just a hard worker in the classroom and outside the classroom," Brown said. "He was a kid who didn't miss assignments. He was pretty organized with getting things done. If he was committed to something, he saw it through."
And, thankfully, he did it without tripping up anyone else.
Twitter: @DanWoikeSports
---
Get our high school sports newsletter
Prep Rally is devoted to the SoCal high school sports experience, bringing you scores, stories and a behind-the-scenes look at what makes prep sports so popular.
You may occasionally receive promotional content from the Los Angeles Times.