Warriors sell tickets with no seat for the game. Is it the wave of the future?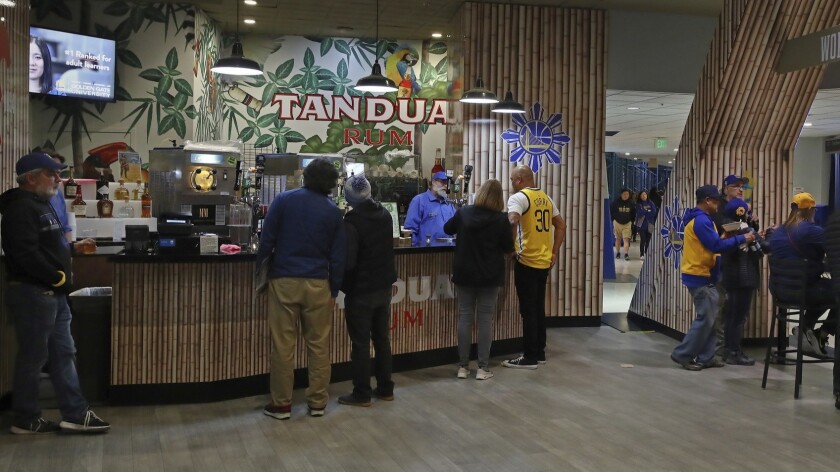 Reporting from Oakland —
The Golden State Warriors are about to go beat up another opponent. The team has sold out every home game for the last six years, three of them championship years. There is an anticipatory and joyful buzz inside Oracle Arena, including at a bar along the concourse, where Jeffrey Lacson has happily demolished an order of chicken wings and fries.
At game time, a crush of fans rush out of the bar, across the concourse and into the seating area. Lacson remains behind, even though the seating area is 10 steps away. He is not allowed inside.
For $100 per month, he gets a ticket into the arena, but not into the game. Lacson can hear the crowd, even feel its rumble after a spectacular play, but he must watch on the television screens in a bar that, once the game begins, is mostly empty.
"You can't get the same excitement watching on TV at home," he said. "I can scream as loud as I can here, and I won't wake up the neighbors."
To sit in a seat for four quarters is increasingly considered as outdated as a 15-foot set shot, with modern sports facilities luring fans to spacious bars, team stores, gathering places and amusement spaces.
So, if a fan does not need to stay in a seat to enjoy a game experience, can a fan enjoy the game without seeing it at all?
The Warriors' experiment is, for them, a logical extension because they might be basketball's kings of supply and demand. Their arena seats 19,596. Their waiting list for season tickets tops 44,000.
"We're trying to think outside the box and figure out new opportunities for people to be able to go to a game," said Brandon Schneider, the Warriors' chief revenue officer.
The Warriors have 200 of what they call the "In the Building Pass" on sale. They have sold 55, Schneider said.
Two went to Eunice and Sefa Lamyuen, who, wearing their team sweatshirts, traveled for an hour to get to the game. They wanted to support their team, and this was the only way they could afford to do so in person.
"We just want to be part of the energy," Eunice said.
"The true test of a great venue is whether it can pull off a concept like this," former Ticketmaster chief executive Nathan Hubbard tweeted, "where the experiences in stadium concourses are better than if you were just watching at home. Food and drink, lounges, etc., while funneling the live energy into the nonseated space."
However, if building passes are the wave of the future, the swell remains far offshore. The Warriors are the only team in the NBA trying it. Teams that do not sell out every game are unlikely to cannibalize the money they make from selling seats so they might make less money selling building passes.
But, with teams feeling an urgency to persuade fans that the time and money it takes to come to a game makes for a better experience than staying home and watching on high-definition television, tickets to sports events increasingly entitles attendees to more than a seat.
In Sacramento, where the Kings opened Golden 1 Center two years ago, there are no seats high above one basket. Instead, the Kings developed what would have been four sections of upper-level seats into a 3,000-square-foot gathering space, where up to 500 fans can cheer, chat, charge their cell phones, buy food, and hang out at a bar.
The space has become so popular that friends seated throughout the arena will text one another and decide when to leave their seats and meet there, Kings chief operating officer Matina Kolokotronis said.
"It's our version of 'Cheers,' " she said. "A lot of people will come and spend the whole game up here."
Dodger Stadium features a play area for kids, drink rails throughout the stadium and bars behind the bullpens, where fans can mingle.
The Oakland Athletics opened a "Treehouse," where fans get a general admission seat but also access to bars, pool and foosball tables, and a patio deck. Major League Soccer's San Jose Earthquakes boast what they call "the longest outdoor bar in North America," attracting 2,000 to 3,000 fans during games, chief operating officer Jared Shawlee said.
In Inglewood, where the Rams and Chargers will play starting in 2020, the stadium under construction includes cabanas at field level and bars, decks and drink rails throughout the facility, said Chris Hibbs, chief revenue officer for the L.A. Stadium and Entertainment District.
The emphasis on bars allows fans to congregate more easily, but it also enhances a team's profit. At Warriors games, the fans without a seat watch from a bar, where they can pay $7 for a 20-ounce bottle of soda, $12 for a Coors Light and $30 for a "souvenir double cocktail."
In a Turnkey Sports and Entertainment survey in November of 2,500 sports industry executives, 73% said that, as a team owner, they would emphasize "offering great amenities and fan experience to maximize revenue" over "having the most avid fans in seats closest to the field to enhance the home-field advantage."
Clippers owner Steve Ballmer is in the minority. Ballmer, who sits courtside at his team's games, wants the Clippers' proposed Inglewood arena to focus less on social spaces and more on providing in-seat amenities, so that fans are not compelled to roam the arena and instead are more likely to devote their energies to rooting on the team.
"We want raving fans," a team official said.
As the Warriors prepare to move into the new Chase Center in San Francisco next season, they feel the same way. By opening up spaces in the seating area, Schneider said, a team lets sound escape and reduces the noise level in the arena.
"We want to create a home-court advantage for our team," he said. "That was our priority, above creating spaces that have a view of the game. In our view, you can't have both."
The Warriors aren't sure whether they will offer building passes in their new arena, he said. The concept is an experiment, not 2 months old.
In the bar, Eunice Lamyuen's cell phone buzzed. The Lamyuens were in the arena, remember, but they did not have a seat to watch the game.
The notification on her phone: the Warriors suddenly had some seats available. Would she like to buy one for $161.50? (The game was sold out, Schneider said, but teams can get last-minute returns of unused tickets from team and league allotments.)
Lamyuen chuckled. The Warriors' tickets are so expensive that she has wondered whether it might be cheaper to fly to another city and see the team there.
She passed on the $161.50 offer. That was for one game. The Warriors would play seven home games in December. The building pass would get her into all of them, even if she traveled an hour to watch the game on a TV screen.
"It's a great way for people on a budget to be part of the team," she said. "For $100, you can't really beat that."
Follow Bill Shaikin on Twitter @BillShaikin
---
Get our high school sports newsletter
Prep Rally is devoted to the SoCal high school sports experience, bringing you scores, stories and a behind-the-scenes look at what makes prep sports so popular.
You may occasionally receive promotional content from the Los Angeles Times.