The Sports Report: How LeBron James' injury could affect the Lakers' playoff hopes
Howdy, I'm your host, Austin Knoblauch, filling in for Houston Mitchell, who's probably practicing burnouts in a golf cart at Camelback Ranch. Let's get right to the news.
From Dan Woike: The Lakers announced that LeBron James will not play because of "right foot soreness" when the team faces the Grizzlies on Tuesday night in Memphis. However, there is concern that the star forward will miss multiple weeks with the injury.
Though details are scarce, people with knowledge of the situation not authorized to speak publicly confirmed that the severity of James' foot injury might sideline him for several games.
Get the latest on L.A.'s teams in the daily Sports Report newsletter.
You may occasionally receive promotional content from the Los Angeles Times.
James injured his foot during the third quarter Sunday in the Lakers' 111-108 comeback road win over the Dallas Mavericks, his sneaker sticking to the court, sending him falling awkwardly to the ground. He appeared to tell teammates and Lakers staff that he "heard a pop."
James originally thought he stepped on Mavericks center Dwight Powell's foot, but later he learned that it was a non-contact injury that occurred when his foot jammed into the court.
He was able to continue playing and finish the game.
James walked with a significant limp when leaving the arena.
Enjoying this newsletter? Consider subscribing to the Los Angeles Times
Your support helps us deliver the news that matters most. Become a subscriber.
"It's been better. That's for sure," he said afterward. "But I definitely wasn't going to go to the locker room and not finish the game out tonight. Just understood the importance of the game and then with the momentum that we had, I felt like we could still win after being down. We'll monitor it the next couple days, see how it feels and go from there."
The Lakers (29-32) are in 12th place in the Western Conference but only 3½ games behind the fourth-place Phoenix Suns.
The team has won three consecutive games and has been building significant momentum, though Monday's concerns about James' foot are a significant blow to a team that has dealt with injury problems all season.
DODGERS
From Jack Harris: Three games into spring training, the Dodgers might already be facing a potentially devastating injury.
Starting shortstop Gavin Lux suffered what appeared to be a painful and possibly serious right knee injury in a spring training game against the San Diego Padres on Monday, when his knee buckled while he was running from second to third base in the top of the sixth inning.
Lux was on the ground for several minutes writhing in pain, before being taken off the field on the back of a golf cart.
According to manager Dave Roberts, the 25-year-old "heard a pop" on the outside of his knee. Roberts described the injury on SportsNet LA as "something lateral" and added that manual tests performed by medical staff at the stadium were inconclusive. After the game, Lux was on his way to get an MRI exam.
"We don't know a whole lot right now," Roberts said. "I think right now we're just hoping it's more benign and not anything substantial."
After hitting a single in his third at-bat of the game and advancing to second on a walk, Lux broke for third when Luke Williams hit a grounder toward third base.
As Padres infielder Jantzen Witte threw to second, Lux seemed to try to duck out of the way of the ball. That's when his knee buckled, appearing to bend backward and sending him tumbling to the dirt.
SKIING
From David Wharton: First came early weather reports, the forecasts of historic rain and snow headed for Los Angeles. Then came the storm itself, and by that time Andy Lewicky was too excited to sleep.
Checking the National Weather Service every few hours didn't help. Lewicky kept scanning meteorologists' Twitter feeds, hungry for any morsel of information he could spot.
"That way you can read the buzz as to how excited they are," he said. "It's hard not to get obsessed."
The 55-year-old writer devotes himself to a peculiar hobby — discovering hidden spots for backcountry skiing in the mountains of drought-plagued Southern California. Could an epic cold front offer something truly extraordinary, an opportunity to charge down the slopes with a view of downtown in the distance?
Sunday morning, as sunshine finally broke through, Lewicky convened a group of like-minded friends at a McDonald's in Tujunga for Egg McMuffins and eager chatter. Soon they headed up the road to nearby Mt. Lukens.
It was the first time any of the men, in their 40s and 50s, could recall seeing Lukens, a 5,000-foot peak at the city's northeast border, blanketed in so much white. Strapping skis, boots and poles to their backs, they began a four-hour hike to the summit.
"All the pressures, the traffic and smog … L.A. is not an easy place to live," Lewicky said. "When I get to experience skiing and snow in this desert home I've chosen, it's a special thing."
UCLA
From Thuc Nhi Nguyen: She didn't look quite like the player Stein Metzger remembered. The Haley Hallgren the UCLA beach volleyball coach thought he was getting out of the transfer portal was the one whose play on the No. 3 court helped USC win the 2021 national championship. The one who provided the first point in the championship dual that stopped UCLA from winning its third consecutive NCAA title. Metzger remembered the powerful top-spin serve, versatility and attacking power.
But on her first day at Mapes Beach, the former USC beach champion and Michigan indoor player could barely keep up during the team's post-practice conditioning. Behind raised eyebrows, Metzger hoped the transfer would quickly improve .
Hallgren thought about that old player too.
She was a two-time All-Pac-12 second-team honoree who could barely muster the strength to step on the court. She ranked 15th in USC history for dual-match victories but her coughing bouts were growing so severe that she strained her own muscles. She was a national champion who had all but given up her professional dreams because it just hurt too bad.
So no, Haley Hallgren isn't the player she used to be.
She might be better.
ANGELS
From Sarah Valenzuela: Carlos Estévez once tried out for a single major league organization 17 times over a two-month span.
In the two years before he signed with the Colorado Rockies organization at age 18 out of the Dominican Republic, he had tried out at least 150 times for various teams.
"It is what it is. We're here now. We're good," he said with a smile.
Estévez, 30, is entering his seventh season in the big leagues. He has come a long way since those tryout days. Last season with the Rockies, he pitched 57 innings over 62 games, striking out 54, walking 23 and giving up 22 earned runs.
The Angels signed Estévez as a free agent in December, wanting to add to the strength of their bullpen. Estévez can throw 100 mph. Some of his best tools are a power changeup and a hard slider.
The Rockies used him to close games a few times, and manager Bud Black said last year that Estévez was someone who could have been their primary closer in years past if they didn't already have their set closers.
RAMS
From Gary Klein: In the aftermath of their disastrous 2022 season, the Rams will continue to make strategic and cost-cutting roster moves in the lead-up to the NFL draft on April 27-29.
Yet at least one operational element will not change.
For the second year in a row, a team official said, general manager Les Snead and coach Sean McVay will not attend the NFL scouting combine, which begins Tuesday in Indianapolis.
Snead and McVay last attended the combine in 2020, before COVID-19 caused the NFL to cancel the event in 2021. Though medical staff and a small contingent of scouts and assistant coaches will be on hand to evaluate and interview prospects, the Rams will mainly rely on workout videos from Lucas Oil Stadium, pro-day workouts on college campuses and in-person workouts.
For the seventh year in a row, the Rams do not have a first-round pick. The Rams have a pick in the second and third rounds, four picks in the sixth round and two in the seventh. They are expected to be awarded compensation picks for the free-agent departures of linebacker Von Miller, offensive lineman Austin Corbett and others.
CHARGERS
From Jeff Miller: The offseason for the Chargers began sooner than they'd hoped and, certainly, sooner than anyone would have expected on the night of Jan. 14.
That Saturday in northern Florida, the Chargers opened a 27-0 second-quarter lead over Jacksonville in a wild-card playoff game before crumbling to a 31-30 loss.
Since then, coach Brandon Staley has shuffled his staff, moves headlined by hiring new offensive and defensive coordinators. The team has not yet announced all of its coaching changes, but the rebuilding will be evident.
And that is just the start of the significant alternations coming before the 2023 season.
SPARKS
From Thuc Nhi Nguyen: Few people from Nneka Ogwumike's professional life have visited her home in Houston. The Sparks' star forward, who was drafted by the franchise in 2012 after four years at Stanford, is so entrenched in California that she says some might forget her Lone Star State roots.
That's why it meant so much that new Sparks general manager Karen Bryant and new coach Curt Miller made the trip to meet with Ogwumike in Texas during this critical offseason.
After she was designated as a core player by the Sparks in recent years, meaning she could not negotiate with teams in free agency, Ogwumike wanted the experience of being an unrestricted free agent and be courted by teams. Bryant and Miller showed up, getting a tour of Ogwumike's high school gym at Cy-Fair High and seeing a mural that was painted in her hometown.
The extra efforts contributed to Ogwumike's decision to re-sign with the team Friday after what she called the most enjoyable free agency of her career. And it wasn't just about playing tour guide to Sparks executives. Ogwumike became a partner in the Sparks' rebuilding process as she, Bryant and Miller shared their visions for the franchise.
The coach and GM are tasked with restoring a team that went 25-43 over the last two seasons, missing the playoffs for the first time in Ogwumike's career.
Ogwumike wants sustained winning that inspires people in the community to get excited about basketball and women's sports. She envisioned a team that is culturally relevant and supports its players during their careers and continues to empower them after.
"I want us to be the North Star," Ogwumike said Monday in a videoconference.
SOCCER
From Kevin Baxter: It lasted just a few minutes, accounting for just a fraction of the playing time in John McCarthy's seven-year professional soccer career.
His performance in goal in the final moments of LAFC's MLS Cup win last November, however, has been life-changing.
"It's like a dream thing," he said. "The way it happened, how it happened; I'm not changing that dream. Winning is everything to me. So to be a part of that in such a crazy way. It was awesome."
With LAFC and the Philadelphia Union tied and seemingly headed for penalty kicks with three minutes left in the second extra-time period, McCarthy was rushed onto the field after starting goalkeeper Maxime Crepeau fractured his leg in a collision with Philadelphia's Cory Burke.
Before he'd even broken a sweat, McCarthy gave up the go-ahead goal.
But Gareth Bale rescued his teammate by tying the score deep in stoppage time, giving McCarthy a chance to become the hero in a penalty-kick shootout that would decide the league championship.
OBITUARY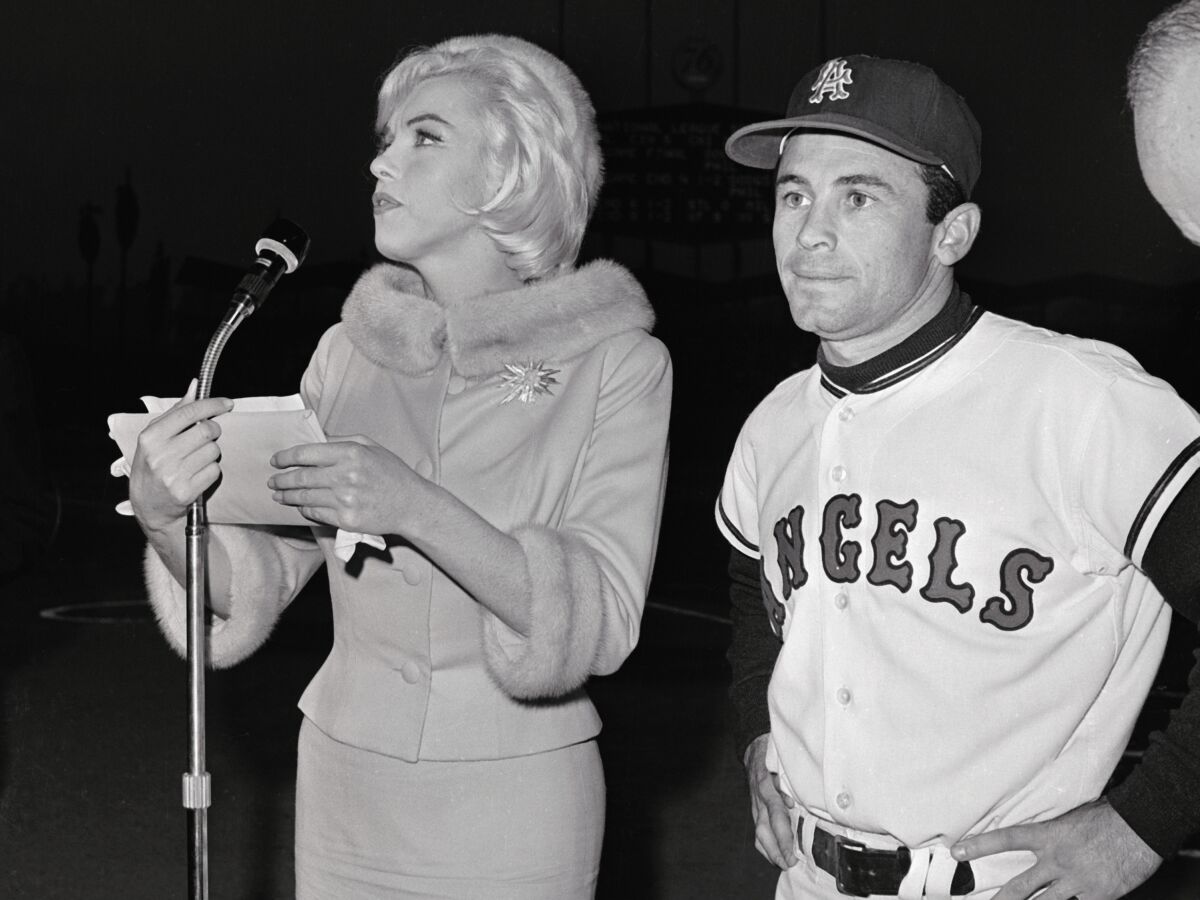 From Sarah Valenzuela: Albie Pearson, an original Angel who played for the team from 1961 to 1966, died, the team confirmed Monday. He was 88 years old.
Pearson, who was once known as the "Littlest Angel" standing at just five feet, five inches tall, was beloved as an Angel. His size, coupled with his contributions and accomplishments on the field, made him "the guy-who-never-made-it's hero," he once told the L.A. Times.
Pearson, in his nine-year career, was American League rookie of the year in 1958, a member of the Washington Senators — which became the Minnesota Twins in 1961. He was named an All-Star in 1963, a member of Gene Autry's Los Angeles Angels, starting in center field. Pearson is also the player who scored the first run in franchise history, part of a three-run first inning in an eventual 7-2 Angels win over the Orioles in Baltimore on April 11, 1961. His career was cut short at age 31 because of two discs he ruptured in his back.
THIS DATE IN SPORTS
1922 — In the first formal college conference basketball tournament, North Carolina beats Mercer 40-26 to win the Southern Intercollegiate Conference championship. The 13-team conference keeps standings in its' second season.
1929 — The Chicago Black Hawks are shutout for an NHL-record eighth straight game. It's not a total loss, as the Black Hawks hold the New York Rangers scoreless for a 0-0 tie.
1940 — College basketball is televised for the first time. Station W2XBS transmits a basketball doubleheader from New York's Madison Square Garden. Pittsburgh plays Fordham and New York University competes against Georgetown.
1957 — Johnny Longden becomes the first jockey in history to reach 5,000 victories. Longden, who started his career in 1927, coaxes Bente to a head victory over Flying Finish II in the fourth race at Santa Anita Park.
1960 — The United States hockey team scores six goals in the third period to beat Czechoslovakia 9-4 and win the gold medal in the Winter Olympics at Squaw Valley, Calif. The U.S. is down 4-3 after two periods, but Roger Christian scores three times in the third. Roger's brother, Bill Christian, assists on two of the three goals.
1971 — Jack Nicklaus wins the PGA Championship by beating Billy Casper by three strokes.
1981 — Houston's Calvin Murphy makes the last of his 78 consecutive free throws, in a game against San Diego, setting what was then an NBA record.
1986 — Baseball commissioner Peter Ueberroth conditionally suspends Dave Parker of the Cincinnati Reds, Keith Hernandez of the New York Mets, Joaquin Andujar of the Oakland Athletics, Lonnie Smith of the Kansas City Royals, Enos Cabell of the Los Angeles Dodgers, Jeff Leonard of the San Francisco Giants and Dale Berra of the New York Yankees for one year for drug abuse. After conditions are met the suspensions are reduced.
1987 — Chick Hearn, broadcaster for the Los Angeles Lakers, calls his 2,000th consecutive game for the club, a streak spanning 22 years.
1993 — Winnipeg's Teemu Selanne scores four goals and becomes the third rookie in NHL history to score 50 goals in a season. Selanne scores his 51st goal in the third period to help the Jets defeat the Minnesota North Stars 7-6 at Winnipeg Arena.
1999 — Venus and Serena Williams become the first sisters to win WTA Tour events on the same day. Venus wins the IGA SuperThrift Tennis Classic in Oklahoma City after Serena takes her first title on the WTA Tour at the Gaz de France Open.
2003 — In Val Di Fiemme, Italy, Johnny Spillane wins the Nordic combined sprint to become the first American to win a gold medal at the Nordic world championships.
2010 — Sidney Crosby scores the winning goal in overtime to give Canada a 3-2 victory over the United States in the final event of the Vancouver Olympics. The American silver is the 37th medal won by the United States at these games and the U.S. wins the medals race for the first time since 1932.
2020 — Court of Arbitration for Sport bans Chinese triple Olympic gold medallist Sun Yang from swimming for eight years for breaking anti-doping rules
Compiled by the Associated Press
And finally
A pair of Angels greats dropped the ceremonial puck before the Ducks' win over the Chicago Blackhawks on Monday night. Check out who was on the ice at Honda Center here.
Until next time...
That concludes today's newsletter. If you have any feedback, ideas for improvement or things you'd like to see, email me at houston.mitchell@latimes.com, and follow me on Twitter at @latimeshouston. To get this newsletter in your inbox, click here.
Get our high school sports newsletter
Prep Rally is devoted to the SoCal high school sports experience, bringing you scores, stories and a behind-the-scenes look at what makes prep sports so popular.
You may occasionally receive promotional content from the Los Angeles Times.