Prep Rally: Eight top teams for the 2023 high school football season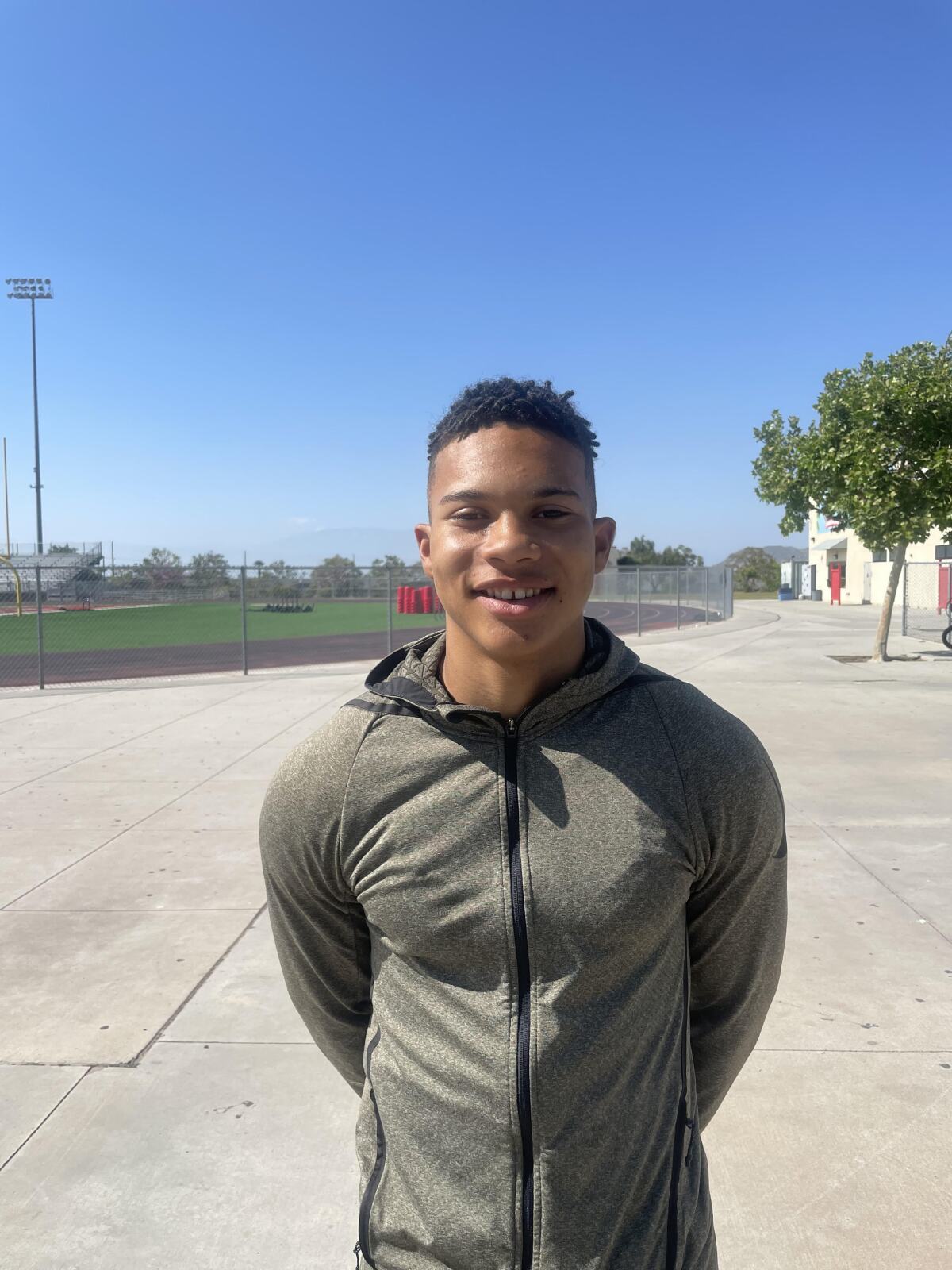 Hi, and welcome to another edition of Prep Rally. My name is Eric Sondheimer. Spring football is coming to a close, so it's a good time to offer a look at eight top teams for the 2023 football season.
Teams to reckon with
1. Santa Ana Mater Dei. There's a new coach in Frank McManus, and with the most talented group of returnees anywhere, the Monarchs are the team to beat. Quarterback Elijah Brown returns for his fourth and final season armed with top receivers, top running backs and top linemen. The defense is pretty good, too. If the Monarchs lose any games, it will be big news.
2. St. John Bosco. The Braves were hit hard by graduation but playing lots of young players two seasons ago and giving backups plenty of playing time last season should make the transition seamless. The defense should be outstanding, led by an elite group of players featuring linebackers Khmori House, Jordan Lockhart and Kyngstonn Viliamu-Asa and defensive backs Marcelles Williams and Peyton Woodyard. Caleb Sanchez gets the first crack to start at quarterback and will be supported by some standout running backs.
3. Corona Centennial. The arrival of quarterback Husan Longstreet from Inglewood is a big deal. He's one of the best deep passers in the Southland, and with a veteran offensive line, the Huskies should return to being more balanced on offense, closing the gap against St. John Bosco and Mater Dei.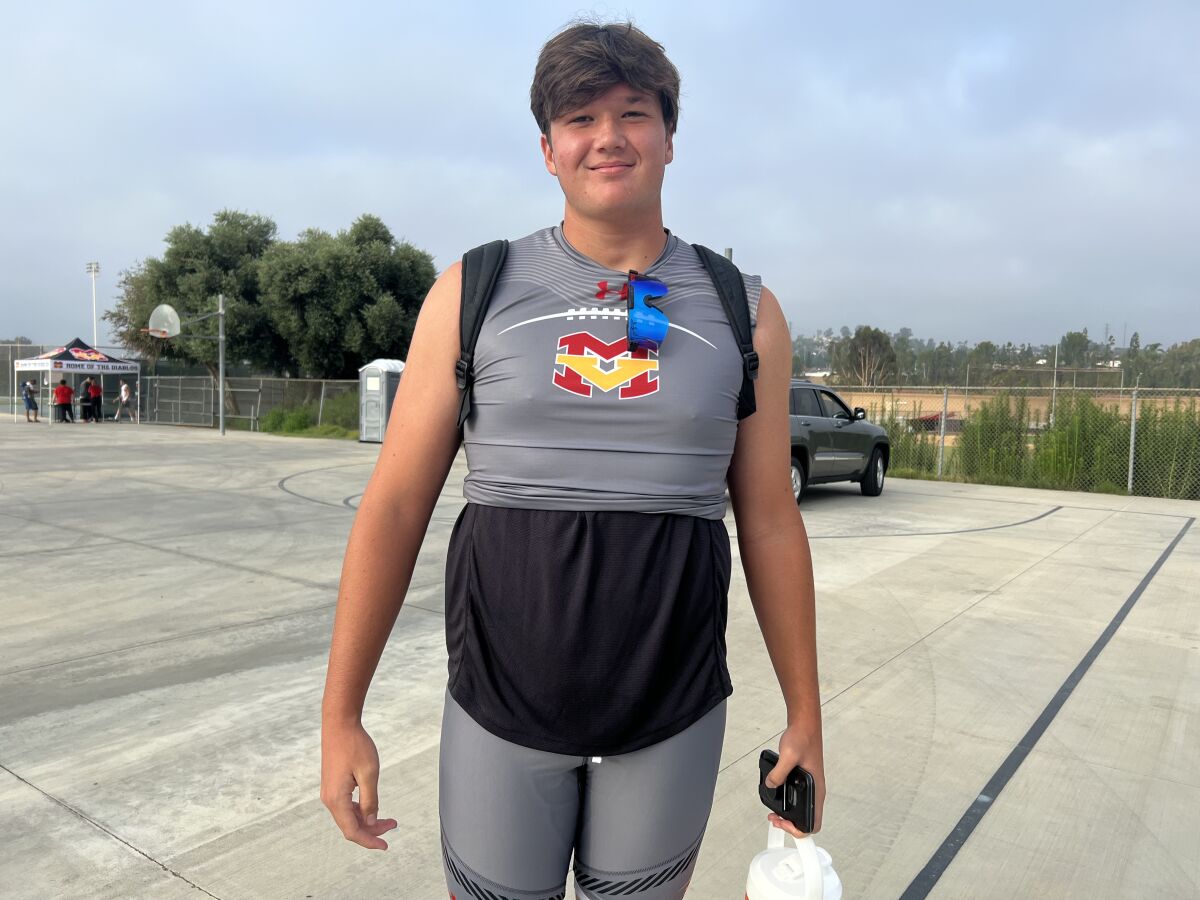 4. Mission Viejo. The secondary is outstanding, led by Travis Anderson, who had nine interceptions last season. There's a top offensive lineman in UCLA commit Mark Schroller and don't worry about the Diablos at quarterback.
5. Orange Lutheran. An influx of transfer students combined with the return of quarterback TJ Lateef puts the Lancers in position to be the Trinity League's No. 3 team.
6. Sierra Canyon. No program reaped the rewards of the "transfer portal" more than the Trailblazers by adding quarterback Wyatt Becker and receivers Kwazi Gilmer and Xavier Jordan. Add returning running back Dane Dunn and Sierra Canyon is ready to take on the big boys this fall.
7. Los Alamitos. Malachi Nelson left for USC, so there's big shoes to fill at quarterback, but there's so much talent at other positions, including transfers from Orange, Kobe Boykin and Jett White. Sophomore lineman Manoah Faupusa and running back Anthony League were impressive last season. New quarterback Alonzo Esparza must prove he can succeed at the Division 1 level.
8. Long Beach Poly. There's no lack of talent or speed for the Jackrabbits, starting with veteran quarterback Darius Curry, receivers Jason Robinson and Jadyn Robinson and linebacker Dylan Williams.
It should be pointed out that a second wave of transfers will take place next month when the spring semester ends, so either the top teams will get even stronger or others will move up. Here's a list of impact transfers so far. There are seven on seven passing tournaments Saturday at Dana Hills and Long Beach Millikan. The best tournament of the summer is at Edison on July 1.
Get our high school sports newsletter
Prep Rally is devoted to the SoCal high school sports experience, bringing you scores, stories and a behind-the-scenes look at what makes prep sports so popular.
You may occasionally receive promotional content from the Los Angeles Times.
Baseball
It's championship weekend for Southern Section baseball Friday and Saturday at Blair Field in Long Beach.
First up are the semifinals Tuesday. There were some incredible games last week, starting with Corona upsetting No. 1 seed Sherman Oaks Notre Dame 2-1 in 10 innings. Here's the report. Also Westlake and South Torrance played a two-day, 19-inning Division 3 game won by Westlake 3-2.
The Division 1 semifinals has Orange Lutheran at Santa Margarita in an all-Trinity League matchup and JSerra traveling to Corona. All four teams played in the Boras Classic last month.
In Division 2, Crespi has ace Isaiah Magdaleno ready to face top-seeded Aquinas on the road. Calabasas is at South Hills. In Division 3, the only seeded team left is No. 3 San Marcos, which hosts Westlake. Yorba Linda is at Aliso Niguel.
Here's the complete schedule for Tuesday.
Granada Hills is seeded No. 1 for the City Section Open Division playoffs that begin Tuesday. Here's the complete pairings.
Softball
The Southern Section Division 1 championship softball game will match No. 1 Norco against unseeded Garden Grove Pacifica either Friday or Saturday at Barber Park in Irvine.
Norco has been the dominant team most of the season but Pacifica's young team has been playing its best during the playoffs.
The other championship matchups have Great Oak vs. Grand Terrace (Division 2); Capistrano Valley vs. Corona Santiago (Division 3), Fullerton vs. Foothill (Division 4), Irvine vs. Liberty (Division 5), Riverside North vs. Village Christian (Division 6), Ontario vs. Ganesha (Division 7).
The City Section will hold its semifinals in the Open Division on Tuesday, with El Camino Real at Granada Hills and Birmingham at Carson. The championship game is Saturday at Cal State Dominguez Hills. Here are the complete pairings.
Track
What can Rodrick Pleasant do for an encore?
Apparently something special. It happened again Saturday at Moorpark High, the site of his California-record 10.14 100 meters last season.
This time he ran the fastest 100 meters in California history, 10.09, at the Southern Section championships. It won't count as a record, because it was aided by 3.3 mph wind. Stay patient. Pleasant will be back at Moorpark on Saturday for the Masters Meet, then will be at the state championships in Clovis May 26-27, so there's three more chances for him to set a new record.
Here's the report on Pleasant's latest performance.
As far as teams go, Oaks Christian won championships in Division 4 for boys and girls. Coach Wes Smith keeps developing top young talent, and his latest star is freshman sprinter Deshonne Redeaux, who finished second to Pleasant in the Division 4 100 (10.42) and 200 (21.32).
The City Section championships are set for Thursday at El Camino College, and it's the night Dijon Stanley of Granada Hills will try to break the City record in the 400 meters. Carson's Reign Redmond will have her final tuneup in the 100 meters before trying to defend her state title. Here's a report from last week's prelims.
Volleyball
Newport Harbor proved to be the best volleyball team in Southern California, winning the Southern Section Division 1 championship over Corona del Mar. Here's the report.
Chatsworth won the City Section championship, defeating Palisades. Here's the report.
The Southern California regional tournament begins Tuesday, which gives the regular season top team, Loyola, another chance to avenge its disappointing loss in the Southern Section playoffs. Here are the pairings.
Principal lessons
Serving as the principal for 15 years at the same all-boys, private high school with big expectations and superb standards is no easy task. Frank Kozakowski pulled it off, arriving at L.A. Loyola High in 1978 as a math teacher and football coach before taking over the top job after years as an assistant principal.
He'll be leaving his position at the end of the school year while staying on in a different capacity. Former Loyola basketball coach Jamal Adams will succeed him. Loyola football coach Drew Casani already offered Kozakowski an assistant position. Legendary coach Steve Grady calls him "a great coach."
There are many lessons to be learned from the 68-year-old Kozakowski, who helped steer Loyola through the crazy times of the pandemic and has been responsible for approving every student admitted during his tenure. Loyola has won the Commissioner's Cup as the top Southern Section athletic program 10 times. He has refused to play the transfer game embraced by football powers to stay on top.
Here's an exit interview.
Euphoria
There are three weeks left before the 2022-23 high school sports spring season comes to a close. Time to reflect back and look ahead.
Change is coming. A new Southern Section commissioner, Mike West, takes over. A better understanding of how the college transfer portal will affect high school recruiting should emerge with most of the COVID-19 redshirt years exhausted, thinning out rosters.
Coaching stipend raises in the City Section are providing stability, giving schools a chance to rebuild. New fields at Taft, Carson and El Camino Real and new gyms at North Hollywood and Sun Valley Poly offer new motivation. Shortages in football helmets are no longer a concern.
Here's the complete column.
Lacrosse
Loyola coach Jimmy Borell didn't even have a scout on the kid.
The Santa Ana Foothill High lacrosse goalie had come from nowhere. No preparation. No warning. On nobody's radar except Foothill's, in and out of the Knights program for a couple of years, not picking up a jersey until midway through the lacrosse season this spring upon enough poking and prodding from coach Jon Fox and his team captain son, Luke.
And there he was, in early April, swallowing up Loyola's powerhouse offense during a Foothill victory in which the Cubs scored just five goals.
"He just showed up out of the blue," Borell said, "and we were like, 'Who the heck is this guy?' "
Cohen Krudwig was unknown to the Cubs because lacrosse was a hobby. Here's the story on how he led Foothill to the Division 1 championship.
Notes . . .
Point guard Jackson Mosley of St. Francis has committed to Cal Poly San Luis Obispo. . . .
Last month, two wrestlers won national championships. Palm Desert's Brock Mantanona captured the 65-kilogram freestyle title, sweeping the best-out-of-three finals. Mantanona, a junior, was a 2022 CIF state champion. St. John Bosco's Nicholas Sahakian won the 110-kilogram title in greco, and nearly swept both titles, finishing second in freestyle with a 2-1 loss in the final. Sahakian, only a sophomore, is the 2023 CIF state champion. . . .
Basketball player Scott Schulz from Servite has committed to Chapman. . . .
Riverside King girls' tennis coach Becky Gagnon announced her retirement. She has been coach since the school opened, including winning 23 league titles. . . .
Warren baseball player Gabriel Lizarraga has committed to Hope International. . . .
Junior pitcher Nathan Aceves of Huntington Beach has committed to UC Santa Barbara. . . .
Dmitri Young has resigned as baseball coach at Camarillo. . . .
Andrew Schultz, a former Shalhevet assistant, has been hired as the girls' basketball coach at El Camino Real. . . .
Junior infielder Aiden Marquez of Garden Grove Pacifica has committed to Cal State Northridge. . . .
Tom Harp is stepping down as girls' volleyball coach at Granada Hills to focus on the boys' program. Over 15 seasons, the Highlanders made 11 City Section title appearances, winning seven City titles while also winning 13 West Valley League titles. . . .
Ariel Heimanson, who graduated from the Archer School, helped the Claremont women's rugby team win the College Rugby Association of America Division 2 national championship, defeating Howard University. She was in the starting lineup. . . .
Marina High in Huntington Beach opened its new $5.7 million pool facility. . . .
Two former Mission Viejo teammates, Patrick Sandoval of the Angels and Tanner Bibee of the Guardians, were the starting pitchers against each other on Sunday. Here's the report . . .
From the archives: Andrew Rowan
UCLA won its 20th NCAA men's volleyball championship, and one of the stars was freshman setter Andrew Rowan, a former JSerra player who switched to volleyball after he got a concussion in football.
He's 6 feet 7 and figures to represent the United States one day in the Olympic Games. He's that good. Only a few freshmen setters have ever helped their teams win an NCAA title, such as Hall of Famer Karch Kiraly for UCLA.
Here's a story from the Daily Bruin explaining Rowan's volleyball journey.
Recommendations
From BVMsports.com, a story on former Aliso Niguel pitcher Quinn Mathews.
From the Los Angeles Times, a story on former Hart quarterback Joe Kapp, who died at the age of 85 last week.
From the Los Angeles Times, a story on former San Fernando High, Pierce College and UCLA player and coach Denny Crum.
Tweets you might have missed
Until next time...
Have a question, comment or something you'd like to see in a future Prep Rally newsletter? Email me at eric.sondheimer@latimes.com, and follow me on Twitter at @latsondheimer.

Did you get this newsletter forwarded to you? To sign up and get it in your inbox, click here.
Get our high school sports newsletter
Prep Rally is devoted to the SoCal high school sports experience, bringing you scores, stories and a behind-the-scenes look at what makes prep sports so popular.
You may occasionally receive promotional content from the Los Angeles Times.