Friendship with former USC star Conway helped Agholor get his stride with the Eagles
Reporting from minneapolis —
The two receivers played in different eras at USC.
Curtis Conway was the seventh player chosen in the 1993 NFL draft and, after some initial struggles adjusting to the pro game, went on to enjoy a 12-year career.
Nelson Agholor was selected 20th in the 2015 draft, but failed to live up to expectations during his first two seasons with the Philadelphia Eagles.
Last summer, Agholor sought out Conway.
"He said he wanted to sit down and rap with me," Conway recalled.
"Just trying something different," Agholor said.
The conversation turned into a months-long mentoring relationship. It included heart-to-heart talks about life, and training on the field and the track that helped Agholor make personal and professional strides.
"Not only did he give me his time," Agholor said, "he gave me his energy. He motivated me. We just had a bond — and we still have a very close bond."
Conway, 47, will be watching Sunday when the 24-year old Agholor plays in Super Bowl LII against the defending champion New England Patriots.
Agholor is a key member of an Eagles offense that thrived before quarterback Carson Wentz suffered a season-ending knee injury, and has regained its stride with backup Nick Foles at the controls.
Agholor is playing as a slot receiver in a scheme that includes star receiver Alshon Jeffery and Torrey Smith, key offseason additions to the roster. After catching a combined 59 passes for three touchdowns his first two seasons, Agholor caught 62 passes, eight for touchdowns.
Now he is preparing for the biggest game of his life.
"I don't play in this league for anything else," Agholor said this week.
Agholor's NFL future was cloudy after his first two seasons.
As a rookie under former coach Chip Kelly, he played as an outside receiver and caught only 23 passes for 283 yards and a touchdown.
Kelly was fired after that season and replaced by Doug Pederson.
In June 2016, Agholor was involved in an alleged incident at a strip club near the Eagles facility. He was neither arrested nor charged, but his reputation took a hit. Last season, he caught 36 passes for 365 yards and two touchdowns, and seemed to again be feeling the weight of underachieving as a No. 1 pick.
"Coming to the NFL is not easy for anyone, let alone a guy a drafted in the first round in Philadelphia, where the microscope is 10 times probably what it would be somewhere else," tight end Zach Ertz said.
After the season, Pederson and other coaches suggested to Agholor that he take some time away from football to relax and regroup.
Agholor was working out on the track at USC last spring when Quincy Watts, the Olympic gold medalist and assistant Trojans track coach, called him over.
Watts, one of Conway's best friends, knew Agholor had been struggling.
"It just dawned on me that he needed somebody who had not only been an NFL player, but a player who had longevity in the league, to mentor him," Watts said. "And something inside me just said these guys would hit it off well."
Conway came to USC as a quarterback before switching to receiver midway through his sophomore season. He played only one full season as a receiver before the Chicago Bears made him a first-round pick.
He caught only 19 passes his first season, 39 his second.
"My first year was a struggle for a lot of different reasons, mainly because I wasn't polished," said Conway, now a studio analyst for the NFL Network and Pac-12 Networks. "I was a great athlete, but there was a lot more that came with being a wide receiver than what it was at USC."
Conway passed on to Agholor the lessons he learned during a career in which he produced 594 catches and 55 touchdowns.
"It was almost like a big-brother, little-brother relationship we developed," Conway said.
Conway wasn't the only USC connection that Agholor turned to for counsel.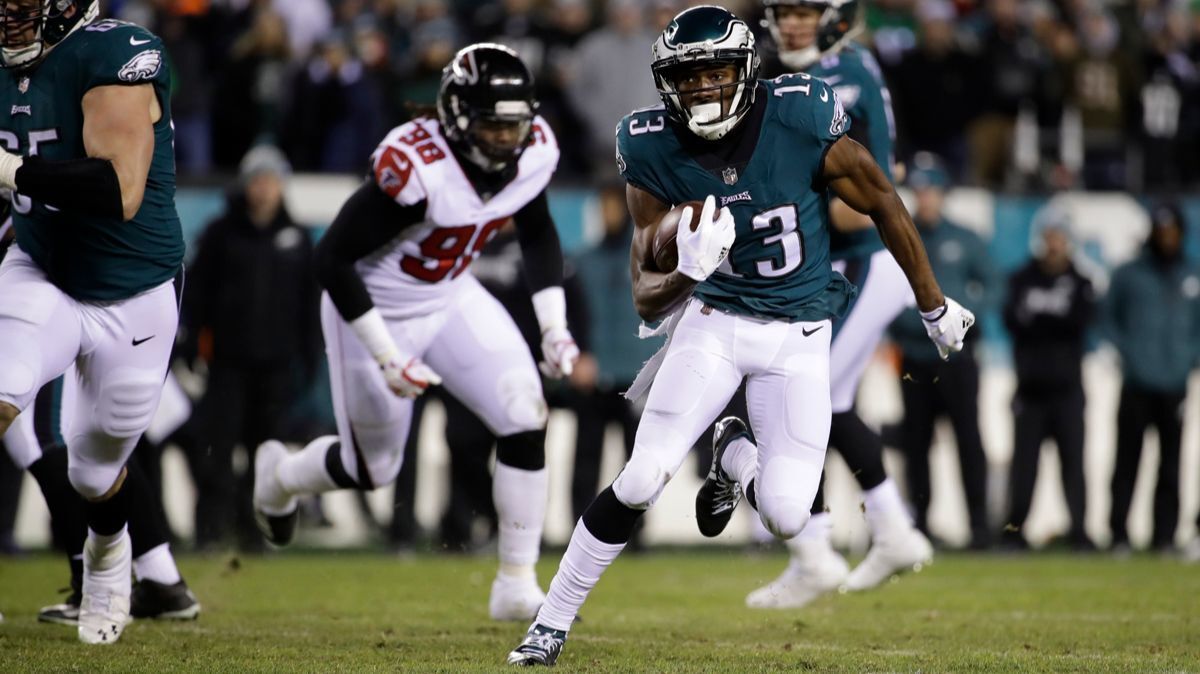 What he's doing now, it's not even close to what he's capable of
— Philadelphia Eagles receiver Alshon Jeffery
Rams receiver Robert Woods and Jacksonville Jaguars receiver Marqise Lee were Agholor's college teammates when he arrived at USC from Florida.
"Those two were like my brothers," Agholor said.
Woods worked out with Agholor on the track, and told him to remain positive and trust his ability. USC offensive coordinator Tee Martin, the Trojans' receivers coach when Woods, Lee and Agholor played for the Trojans in 2012, did much the same.
Jeffery's and Smith's arrivals in Philadelphia took the spotlight — and pressure — off Agholor. He had known Jeffery since he was in high school, had worn No. 17 his first two seasons in a salute to him, and changed to No. 13 this season so Jeffery could reclaim it.
"Not only do you have somebody that you're close with, but you also have somebody that's done it," Agholor said of Jeffery. "So every day I practiced alongside him I wanted to make sure I had the same habits as him, or better, no matter what I had to do.
"He's a great guy to compete with each day, and so is Torrey Smith."
But Agholor benefited most from a move to the slot. Receiver Jordan Matthews had sat out offseason workouts and a minicamp because of a knee injury and was traded to the Buffalo Bills during training camp.
Agholor caught touchdown passes in five of the first seven games. He continued to produce during the Eagles' run to a 13-3 finish and two playoff victories.
"He's not afraid in there," offensive coordinator Frank Reich said of Agholor's move to the slot. "And because he's so quick and fast … [opposing] teams don't always think about getting beat down the middle from a slot receiver. And he can do that to you — and that's what he's done this year."
Jeffery is not surprised by Agholor's success.
"What he's doing now, it's not even close to what he's capable of," Jeffery said.
Smith also sees more good things ahead for Agholor.
"I always drop on to him, 'Hey, know who you are,' " Smith said. " 'You go drop a ball, you fumble, whatever. ... OK, you made a mistake. Just know who you are and you'll be fine.' "
Woods and Martin remain in touch with Agholor by text and occasional phone calls. But they don't have to speak with him to assess the difference from a year ago.
"Just seeing him run, that's what I see now," Woods said. "When I see that ball is in the air, it's just like watching those SC days."
Said Martin: "He got his groove back. I can just tell by the way he breaks the huddle sometimes, watching his body language."
Conway will be among those watching and rooting for Agholor on Sunday.
But the result of one game won't matter. The lessons imparted were meant to endure.
"For me and Nellie," Conway said, "our offseason was way bigger than his play on the football field."
Follow Gary Klein on Twitter @latimesklein
Get our high school sports newsletter
Prep Rally is devoted to the SoCal high school sports experience, bringing you scores, stories and a behind-the-scenes look at what makes prep sports so popular.
You may occasionally receive promotional content from the Los Angeles Times.