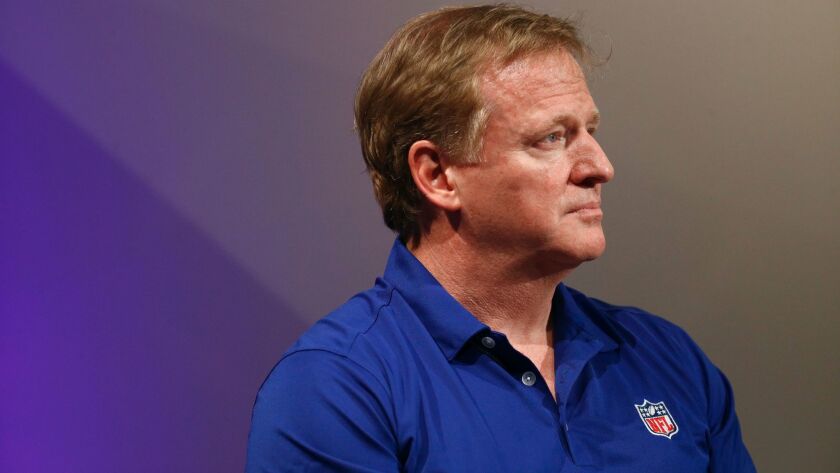 NFL Commissioner Roger Goodell made an interesting remark during an interview Wednesday on FS1:
"I'm not a football expert."
Seems like a strange thing for Goodell to say, considering he gets paid more than $34 million a year to run a football league.
Of course, that quote is lacking context. The topic of conversation was Colin Kaepernick, with Goodell stating that he thought teams aren't hiring the former San Francisco 49ers quarterback because he doesn't fit their particular systems and not because he protested during the national anthem last season.
"I want to see everyone get an opportunity, including Colin, but those decisions are made by football people," Goodell said. "When teams have a need and teams feel like they can get better by a particular individual, whether they know the system, or whether they have more talent, or whatever it may be, that's what they do. And I'm still convinced that he'll get that opportunity when the right opportunity comes along. That's what our league's all about."
Goodell was then asked if he thought Kaepernick is good enough to play in the NFL this year, based on his play last season.
"I'm not a football expert," Goodell said. "I'm a huge fan. I have a role as commissioner also, but for me I watch the games and enjoy and I let the football people make those decisions. And the reality is there's 32 different decisions, and multiple decisions within an organization, so there's always a dispute. The idea of who can play, who can't play, who's best for our system and not best for our system are decisions that should be made by those 32 teams."
OK, so now we have context. In an effort to deflect responsibility for one of the biggest controversies in his sport to the owners, Goodell says he's not a football expert but simply a "huge fan" who happens to also be commissioner.
Still seems like an odd thing to say. Wonder how all the other "huge fans" out there feel about their beloved league being run by a guy who says he doesn't know much about the sport.
Twitter: @chewkiii
ALSO
Ray Lewis: Colin Kaepernick's girlfriend played role in him not getting Ravens' quarterback job
Seahawks' Michael Bennett claims police used excessive force against him for 'being a black man'
Dallas Cowboys running back Ezekiel Elliott's six-game suspension is upheld
---