The Minnesota Vikings had their heart broken by Philadelphia last season, losing to the Eagles in the NFC championship game and falling one win short of their first Super Bowl since the 1977 season.
A lot more went into the Vikings signing Kirk Cousins to a mega-deal this offseason, a quarterback who has had significant success against Philadelphia, but it's worth noting that the Vikings also acquired a coach who was instrumental in grooming Eagles star quarterback Carson Wentz.
Hours after the Eagles had their Super Bowl victory parade, the Vikings hired their quarterbacks coach, John DeFilippo, to replace Pat Shurmur as offensive coordinator. Shurmur had been announced as head coach of the New York Giants.
It was DeFilippo who helped mold Wentz into the leading most-valuable-player candidate until the second-year quarterback suffered a season-ending knee injury last December. Nick Foles then took over as the starter and helped the Eagles to their first Super Bowl victory.
"Coach Flip, he's a grinder," Foles said at the time the Vikings hired him. "Barely sleeps. Fundamentals, giving us the game plan, giving us all our checks, extremely detailed. I'm grateful for him. He's done an amazing job this year. It's not easy when your franchise quarterback goes down."
Five weeks later, the Vikings signed Cousins to an $84-million deal, handing the keys of the offense to him and parting ways with last season's three quarterbacks, who signed with other teams: Case Keenum (Denver), Teddy Bridgewater (New York Jets), and Sam Bradford (Arizona).
Cousins, coming off three consecutive 4,000-yard passing seasons in Washington, is joining a team that's strong on both sides of the ball and has a host of offensive threats, including receivers Stefon Diggs and Adam Thielen, tight end Kyle Rudolph, and running backs Latavius Murray and Dalvin Cook.
He's joining a division that includes two of the NFL's most prolific passers in Green Bay's Aaron Rodgers and Detroit's Matthew Stafford, and a promising young leader in Chicago's Mitchell Trubisky, who started last season as a backup to Mike Glennon.
NFC West preview: Bradford can sling with the best of them — if he's not hurt »
NFC East preview: Redskins hope Smith's postseason experience pays off »
NFC South preview: Fitzpatrick will start while Winston serves suspension »
Incidentally, although some of Cousins' career numbers are gaudy against Philadelphia (16 touchdowns, five interceptions, 99.7 passer rating), his overall record as a starter is a ho-hum 26-30-1, counting 0-1 in the playoffs.
"Is there pressure to play in this league? Yes," Cousins told reporters recently. "There always has been. I felt a great deal of pressure as a rookie just fighting to make the team and wonder if I even was going to have a career as a professional. There's pressure for every guy who's out there.
"It's a competitive league, small margin of error. And you've got to recognize the pressure for what it is, then put it on the shelf and go to work and not let it get in your way."
In Chicago, Trubisky begins his second season with a new regime in place. The No. 2 pick had 12 starts as a rookie, with seven touchdowns and seven interceptions. He showed some encouraging flashes.
Former Kansas City offensive coordinator Matt Nagy takes over as Bears coach, and has implemented a West Coast system similar to the one he learned in Philadelphia in 2008 as an intern under then-coach Andy Reid.
Rodgers, a two-time NFL MVP, was knocked out of last season in Week 6 when he suffered a broken collarbone at Minnesota. He's back now, as is former Packers offensive coordinator Joe Philbin.
A couple of significant changes to Green Bay's offense: Jordy Nelson, Rodgers' longtime favorite receiver, is now playing for Oakland, and five-time Pro Bowl tight end Jimmy Graham is with the Packers.
There have been significant changes in Detroit too, with former New England defensive coordinator Matt Patricia taking over as coach. But he kept the team's offensive coordinator, Jim Bob Cooter, who helped breathe life into the offense since taking over play-calling duties midway through the 2015 season.
The reliable (and durable) Stafford is back for his 10th season, riding a streak of 112 starts, third-longest among active quarterbacks.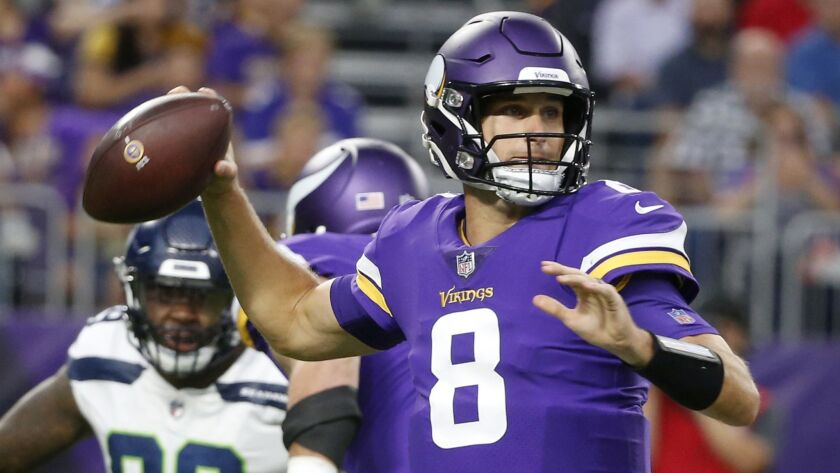 NFC NORTH CAPSULES
1 | MINNESOTA
2017 | 13-3, 1st in North
Last year in playoffs | 2017
THREE PLAYERS WHO MUST COME THROUGH
QB Kirk Cousins: The Vikings signed Cousins to a three-year, $84-million deal and sent packing their three quarterbacks from last season — Case Keenum (Denver), Teddy Bridgewater (New York Jets), and Sam Bradford (Arizona).
WR Stefon Diggs: Who can forget the "Minnesota Miracle"? Diggs' last-gasp playoff touchdown against New Orleans is firmly entrenched in Vikings lore. But now that he has his massive contract, can he prove that he's among the NFL elite? Teammate Adam Thielen was better last year.
LB Anthony Barr: Now that the Vikings have signed their quarterback and extended defensive end Danielle Hunter, linebacker Eric Kendricks and Diggs, Barr is next in line for a monster contract. He is a wrecking ball.
THREE PLAYERS TO WATCH
C Pat Elflein: A second-round pick last season who was hurt in the NFC championship game, Elflein is the linchpin to Minnesota's offensive line and makes all the calls.
RB Dalvin Cook: Cook suffered a knee injury early last season, opening the door for Jerick McKinnon. This year, the Vikings see Cook and Latavius Murray forming a devastating 1-2 punch at running back.
QB Trevor Siemian: Why is a backup such a big deal? Well, coach Mike Zimmer has had only one season in which he ended with the same quarterback who started the season.
FANTASY SLEEPER
TE Kyle Rudolph: He's got everything you want — great hands, size and an ability to get open, especially in the red zone. Look what Cousins did in Washington; he likes throwing to his tight end.
AFC West preview: Chiefs finally found a starting quarterback in the draft »
AFC East preview: Rookies Sam Darnold and Josh Allen could be ready to start »
AFC South preview: These quarterbacks are aiming for validation »
AFC North preview: Arrival of Baker Mayfield gives Browns fans hope »
2 | GREEN BAY
2017 | 7-9, 3rd in North
Last year in playoffs | 2016
THREE PLAYERS WHO MUST COME THROUGH
QB Aaron Rodgers: For the Packers to get where they want to go, Rodgers will need to play like an NFL most valuable player. He has sat out chunks of two seasons because of broken collarbones.
TE Jimmy Graham: Besides Davante Adams and Randall Cobb, the Packers are young and inexperienced at receiver. Graham is an experienced, sure-handed target.
CB Kevin King: He started five games as a rookie before suffering a shoulder injury. King is tall (6 feet 3) and athletic with outstanding range. He needs to bolster a suspect secondary.
THREE PLAYERS TO WATCH
ILB Oren Burks: A third-round pick who looks as if he'll be a starter, Burks will help improve the Green Bay pass coverage in nickel and dime packages.
DL Muhammad Wilkerson: Wilkerson had 12 sacks three years ago, and Green Bay is hoping he can get back to that type of production. It could help that Packers defensive coordinator Mike Pettine was Wilkerson's first coordinator when they were with the New York Jets.
RB Aaron Jones: One of three running backs drafted by the Packers last year, Jones is clearly the team's best runner. He suffered injuries to both knees last year and battled a hamstring injury this summer. Can he stay injury-free?
FANTASY SLEEPER
WR Davante Adams: Adams is clearly Rodgers' No. 1 target. The receiver has improved a lot in the last two years and, although he's not always going to make huge plays, he'll catch a lot of passes.
3 | CHICAGO
2017 | 5-11, 4th in North
Last year in playoffs | 2010
THREE PLAYERS WHO MUST COME THROUGH
QB Mitch Trubisky: The Bears are banking on Trubisky taking another step up after a promising rookie season. Trubisky has a young, innovative, QB-minded staff around him in coach Matt Nagy, offensive coordinator Mark Helfrich and quarterbacks coach Dave Ragone.
OLB Leonard Floyd: When injury-free, Floyd is a fierce pass rusher. But avoiding injuries is the operative. He has yet to play a 16-game season.
TE Trey Burton: He came on strong for Philadelphia late last season and was the passer on the "Philly Special" touchdown to Nick Foles. Nagy, who came from Kansas City, is hoping to turn him into Chicago's version of Travis Kelce.
THREE PLAYERS TO WATCH
LB Roquan Smith: The No. 8 pick held out for much of training camp. (He's represented by the same people who repped rookie holdout Joey Bosa.) He has to get up to speed quickly because the Bears are hoping he'll handle a lot of the calls, checks and pre-snap diagnoses for the defense.
WR Anthony Miller: A second-round pick from Memphis, he's a great route runner, a tireless worker and overflowing with confidence. He should be excellent in the slot.
RG Kyle Long: Long, who made the Pro Bowl in each of his first three seasons, is coming off three offseason surgeries (back, shoulder, elbow). He's still bothered by an ankle injury that required surgery in 2016. The Bears need him to solidify the interior of their line.
FANTASY SLEEPER
RB Tarik Cohen: Although he's listed as a running back, Cohen lines up all over and figures to spend a lot of time at receiver. He's nicknamed the "Human Joystick."
4 | DETROIT
2017 | 9-7, 2nd in North
Last year in playoffs | 2016
THREE PLAYERS WHO MUST COME THROUGH
DE Ziggy Ansah: When it comes to rushing the passer, the Lions don't have a lot of firepower. The oft-injured Ansah is the best they have, and he had 12 sacks last year, nine of which came in three games.
QB Matt Stafford: If Stafford doesn't play well, the Lions don't have a chance. He's 30, and in the first year of a five-year contract extension.
RB Kerryon Johnson: The Lions haven't had a running back gain 100 yards rushing in a game since Reggie Bush did so on Thanksgiving Day in 2013. They're piling a lot of hope and expectations on the shoulders of this rookie from Auburn.
THREE PLAYERS TO WATCH
LB Devon Kennard: Signed as a free agent from the Giants, this former USC standout can pressure passers from the strongside linebacker position.
TE Luke Willson: A onetime fixture in Seattle, the 6-foot-5 Willson provides Stafford with a big target who also can do some blocking.
CB Jamal Agnew: Agnew can play defense, yes, but he might be most valuable as a punt returner. He ran two punts back for touchdowns last season and led the NFL in average yards per return.
FANTASY SLEEPER
WR Kenny Golladay: Although he's the third receiverbehind Marvin Jones and Golden Tate, the 6-4 Golladayis a significant threat in the red zone.
Follow Sam Farmer on Twitter @LATimesfarmer
---